The Benefits from External Funding
Faculty Compensation
External funding can be a source of supplemental compensation to faculty. In FY2020 over $395K was distributed to faculty engaged in research, mostly during the summer when they were "off contract".
Student Support
Students also benefit from external funding. In FY2020 nearly $60K was received by students supporting faculty research during the academic year and the summer.
Kudos!
The University received nearly $110K in funding from the City of Hartford in the form of two Community Development Block Grants. Congratulations to Marilyn Risi (Upper Albany Main Street) and Fred Wergeles (Entrepreneurial Center) for their efforts in supporting economic development in the region!
Requested Funds
Over $12M is requested each year from private and public sources to support faculty research and University programs, such as Upper Albany Main Street (Marilyn Risi), and the Entrepreneurial Center/Women's Business Center (Fred Wergeles and Milena Erwin).
Number of Submissions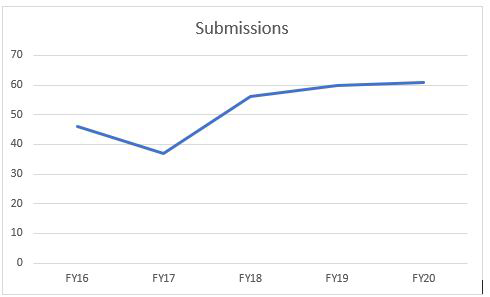 The number of submissions are a reflection of faculty interest, and OSP's workload, though small grant applications are given the same representation as large ones. Faculty interested in external funding should contact OSP for more information. They can also take advantage of networking opportunities such as the Junior Faculty Research Group.
Newly Awarded Funds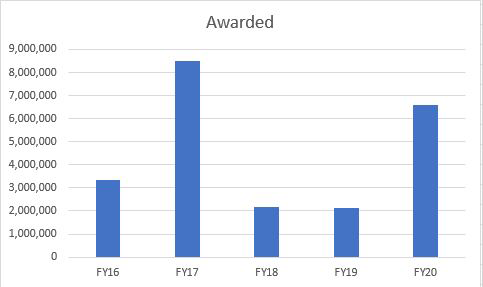 New awards can fluctuate year-to-year, but average a little over $2M annually with large programmatic funding periodically awarded, such as from the Walton Family Foundation, which supported the development of a Bachelor of Arts degree for Early Childhood and Elementary Education with a Montessori Education (2017), and funding in response to the COVID pandemic (2020).
Number of Awards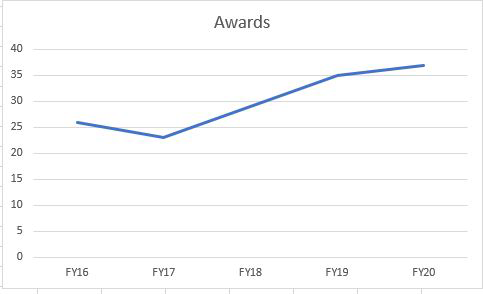 The number of awards received can represent an increase of faculty seeking grant funding, and their growing experience in the application process.