The Presidents' College connects the curious with a wide range of offerings to enrich the mind and enhance personal perspectives.
We are excited to announce a new round of enriching, engaging, and exciting programming for Fall 2022. Explore the breadth and depth of our course and lecture offerings by browsing classes and registering, all in the same place!
For a printable list of courses, click here.
Featured Fall Events
The Jews of the Forest: A Story of Holocaust Resistance and Survival
Thursday, September 29, 4-5:30 p.m.
Wilde Auditorium
Free!
New York Times best-selling author and West Hartford native, Rebecca Frankel, is best known locally for recording the inspiring story of the Rabinowitz family who narrowly escaped the Nazi ghetto in their Polish town by fleeing to the forbidding Bialowieza Forest. Into the Forest: A Holocaust Story of Survival, Triumph, and Love was named a 2021 National Jewish Book Award finalist and one of Smithsonian Magazine's "Ten Best History Books of 2021." Over five years, Frankel interviewed family members—including the Rabinowitzes' eldest daughter: Ruth Lazowski of West Hartford—to understand how they made it through brutal winters, typhus, and merciless Nazi raids before liberation in 1944 by the Red Army. She also researched the story behind their story: discovering how both Jewish partisan fighters and other families like the Rabinowitzes struggled to overcome the elements of the woods. Join Frankel as she recounts this little-told forest history, and the bravery and resilience of one family in wartime and afterwards, as they sought to find their place—and new happiness—in a post-Holocaust world. The talk will be followed by book sales and book signing.
Co-Sponsored by the Greenberg Center for Judaic Studies at the University of Hartford, The Center for Judaic Studies and Contemporary Jewish Life at the University of Connecticut, and The Avon Free Public Library.
Rebecca and her work were recently featured in the Hartford Courant.
Finding Zora Neale Hurston: Then and Now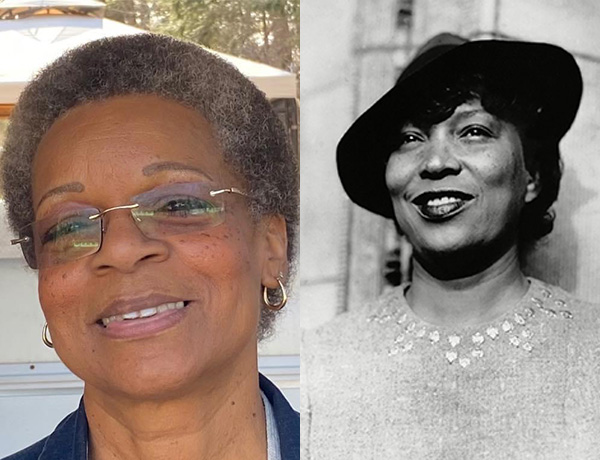 Wednesdays, October 12 and October 19, 10:30 a.m.-12:00 p.m.
KF Room in the Harrison Libraries
$40
Ground-breaking 20th century author Zora Neale Hurston is best known for her novel Their Eyes Were Watching God, an American classic read in high schools, colleges and book clubs across the country. But there are many other "Zora"s to find, among them, the ethnographer and social commentator. We invite you to meet these "Zora"s with sociologist Lucy Anne Hurston, Hurston's niece, as your guide.  Bringing her trained eye to her aunt's nonfiction, she will get us talking about the important question: how and why might Hurston's writing still speak to us today.
If you're interested in learning more about Zora Neale Hurston's observations about race and racial dynamics, you might also enjoy the Rogow Lecture proudly presented by UHart's Office of Diversity, Equity, Inclusion, and Social Justice (DEIJ): The Experiences of Zora Neale Hurston: The Complexities and Intricacies of Race, an Examination by Lucy Anne Hurston.
Missed a Program?
The Future of the News with John Dankosky
The crisis in print news is upon us – and not just because of the digital revolution. NPR media personality, John Dankosky, lead a round-table with journalists from the Hartford Courant and the CT Mirror to learn how we got here and what challenges and threats journalists face as they fight to protect the objectivity and relevance of the news for our democracy. 
The Two Connecticuts: Conversations about Race and Place
Over four sessions, panels of informed experts examined the racism that surrounds us, in housing, schools, and the structure of our government. Learn more about the disparities that exist in our state, and what you can do about them. Listen as the experts talk about initiatives enacted in other states and proposed here in Connecticut.
Need Help?
Course Registration Help
For all registration help please contact Louise Melanson by phone at 860.768.4495 or by email at melanson@hartford.edu
ITS Help Desk
Phone: 860.768.4357
Email: helpdesk@hartford.edu
The Help Desk provides assistance with your technology needs. Their hours are Monday to Friday 7:30 a.m.–10:30 p.m..