Learn more about the latest student accomplishments, successful alumni, and our innovative faculty in the College of Arts and Sciences! 
For more news about the University of Hartford,
click here
.
Featured News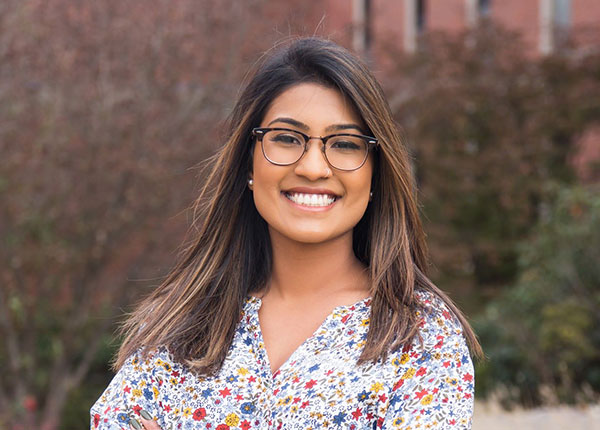 Yavana Ganesh '20 Lands Dream Job 
When Yavana Ganesh first declared her dual degrees in chemistry and politics and government, along with an environmental studies minor, she was unsure of what her future career would be. She is now putting her education to work as a research associate in the Chemical and Biological Weapons group at the Pacific Northwest National Laboratory, a part of the National Security Department.
Olaleye Onikuyide '20 Receives John G. Lee Award
From organizing political campaigns to designing an outreach program for Hartford's homeless population, Olaleye Onikuyide '20 shows his commitment to community service. The University is recognizing this dedication by presenting him the John G. Lee Award, given annually to an exemplary graduating senior based on three criteria: academic excellence (based mainly on cumulative grade point average), community service, and a home address in one of 30 designated towns in the Greater Hartford area.
Watch Now
Assistant Professor of Communication Adam Chiara was interviewed by a television news reporter about advances in technology that are making it more difficult to spot fake social media videos. The story aired on television news stations in Alabama, Tennessee, Kentucky, Texas, Georgia, Maryland, Nevada, Pennsylvania, and Oregon. Chiara says the danger of these deep fake videos, that pick up the likeness of a person down to their mannerisms, is that they can be shared millions of times before being flagged as fake.
More News from the College of Arts and Sciences
Associate Professor Katharine Owens elected to serve as president-elect of the Association for Environmental Studies and Sciences (AESS) Board, Read more.
Assistant Professor Abe Hefter has found a way to create an on-air studio with a virtual master control room "vitrually." Read more. 
Cinema Students Host Online Film Fesitval, "Films in Isolation." Learn more. 
Biology and Chemistry Departments Donate PPE. Read more.
Inside the Press Box: UHart's Hands-On Sports Beat Course. Read more.
History Alumna Applies Research and Analytical Skills to Newman's Own Fellowship. Read more. 
Bonaparte Triplets Ready for Their Future. Read more. 
From Lab to Operating Room, Summer Experience Leads to Ideal Career Choice. Read more. 
 Assistant Professor Adam Chiara's Op-ed Looks at How Changes at Facebook Can Impact Business. Read more. 
Associate Professor Katharine Owens Named Director of The Governor M. Jodi Rell Center for Public Service. Read more. 
Cinema and Digital Media and Journalism Students Film International Documentaries. Read more. 
New Minor in Data Science. Read more. 
Professors and Students are Researching the Role of Recovery Residences in the Opioid Problem in Northwest Connecticut. Read more. 
Share Your News
If you are a University of Hartford student, faculty/staff member, or alumni and have news to share, we'd like to know!

If you want to promote an event or make an announcement, please submit it to UNotes here.
If you have an idea, a story suggestion, or need help, please contact our marketing team here.