Read the latest news and stay up to date about the exciting programs and activities happening at the College of Arts and Sciences. You'll be sure to find a presentation, lecture, or event that interests you.
A&S In the News
Our faculty and students are making headlines. Read just some of the latest news here:
Breast Cancer Biomarker
Assistant Professor of Chemistry, Colleen Krause, teams up with UHart students on development of a disposable test strip that detects Human Epidermal Growth Factor Receptor 2, a breast cancer biomarker.
Watch Rell Center Director Associate Professor Katharine Owens on Capitol Report 'After Hours'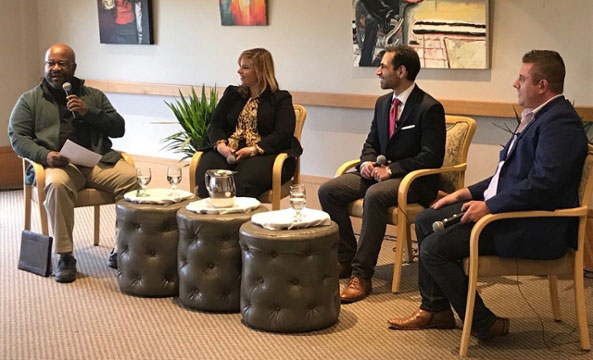 Watch Rell Center Discussion on Social Media and Public Service
Here and Now: Social Media and Public Service, hosted by the Rell Center for Public Service on April 16, can be seen in its entirety on the Connecticut Network's (CT-N) website.
Taking part in the discussion were Connecticut Democratic Party Executive Director Jacqueline Kozin, Connecticut Republican Party Digital Director Patrice Thibodeau, and University of Hartford Applied Assistant Professor of Communication Adam Chiara.
Bilal Sekou, associate professor of Political Science, moderated the panel.
Math Student Kristina Olenick '20 Featured in Insurance Business Publication
Mathematics major Kristina Olenick '20 is seeking a minor in Actuarial Science and was featured in AdvisorSmith, a leading industry resource for business insurance. Kristina was interviewed about her experiences at UHart and the Actuarial Science program, as well as what it's like being president of UHart's Actuarial Science Club.
Assistant Professor Adam Chiara Discusses Facebook Headlines on The Stan Simpson Show
Assistant Professor of Communication Adam Chiara appeared in two segments of The Stan Simpson Show on Fox 61 to discuss HUD's lawsuit against Facebook, and the social media platform's willingness to pay publishers for "high-quality" news.
A&S Events
Connecticut Supreme Court's On Circuit Program 
Two real cases were argued before theState's Supreme Court in Lincoln Theater on Wednesday, Oct. 16, as part of the State Surpreme Court's On Circuit Program.
A&S Express Newsletter
In the A&S Express Newsletter, you'll find some exciting happenings in the University of Hartford's College of Arts and Sciences. The University of Hartford prides itself on high-quality teaching, research, and creative activity.  Read about the wonderful accomplishments of our students, faculty, and alumni. You'll see themes of engagement, leadership, innovative uses of technology, cultural exploration, and real-world applications of research.
Spring 2019
When I think of spring, I think of renewed energy. At the University of Hartford, our energy is channeled into innovation and cutting-edge work. As you read through these stories, you will see examples of that work being conducted by faculty, students, and alumni. Indeed, they are trying to eradicate some of the most vexing problems facing our world, such as cancer and pollution. They are helping us to better understand and document our history, lest we forget the lessons of the past. They are working to encourage women to pursue STEM careers. The list goes on and on.
In this time of renewed energy and rejuvenation, we hope you are proud of what the University of Hartford is doing to better our world. Best wishes to you and your family.
Katherine A. Black
Dean
aandsdean@hartford.edu
Student Spotlight: Kyle Conti '20 Cinema
Kyle Conti's hands-on experience in Lithuania helped him find his passion for documentary filmmaking. Last summer Conti joined Assistant Professor of Communication Susan Cardillo, cinema major Taylor Ugrinow '18, and a team of archaeologists in Lithuania to tell the story of Matilda Olkin. She was a young poet and Holocaust victim who is known as the Anne Frank of Lithuania. While Professor of Jewish History Richard Freund, history students Abigail Dunkin '19 and Justin Lockhart '19, and international studies major Dima Karakitukova '19 searched for Matilda's burial site, Conti and Ugrinow documented their work. Their film, Finding Matilda, is set for release this spring.
This winter, Conti traveled back to Lithuania to film Lockhart and other researchers. The team used ground-penetrating radar to locate the lost Jewish village of Rumsiskes at the bottom of Lake Kaunas on the campus of the Rumsiskes National Open Air Living Museum. The village was flooded by the Soviets after WWII because the Jews who lived there had died in the Holocaust. Conti is returning to Rumsiskes this summer to lead a team of digital media and journalism students to further document the research team's work.  
Conti says the experiences in Lithuania changed his career path. "Documentary filmmaking has become a large part of my life," he explains. Instead of working for a big movie production like he'd always thought, Conti can now see himself working for the History or Discovery channels.
Student Spotlight: Jessica Lopez '19 Criminal Justice
Jessica Lopez spent the fall semester studying at the Autonomous University of Barcelona in Spain. While there, she completed a minor in Spanish and fulfilled some general education requirements. Lopez says she's always dreamed about studying abroad and decided to take a chance and "just go for it." It definitely paid off as she wound up travelling to two continents, six countries, and 12 cities.
"I encourage everyone to take the opportunity to study abroad, whether it be for a week, a semester, or even a year," she says. "There is so much beyond our borders waiting to be seen and appreciated. You can pay for the trip, but the memories and experiences are priceless!"
Studying abroad has given Lopez an advantage in her career path. By taking Spanish classes and being able to speak the language every day, she is now able to communicate better with people who only speak Spanish. She also feels she is now able to make more meaningful connections with others because she is culturally more aware. Because she is leaning toward a career in criminal law with a focus on prosecution, she believes that being bilingual and culturally aware will help her become more open minded.
Lopez says her study abroad experience got her out of her comfort zone. She conquered her fear of heights by riding on the London Eye, hiking the mountain range of Montserrat in Barcelona, hiking Tibidabon, one of the highest points of Barcelona, and by climbing to the rooftop of the Barcelona Cathedral.
After graduation, Lopez is planning to work for a year before taking the LSAT and applying to law school. She hopes to intern with an intellectual property law firm in Washington D.C., this summer.
Faculty Spotlight: Colleen Krause, PhD, Chemistry
Department of  Chemistry
Assistant Professor of Chemistry Colleen Krause, along with UHart students and colleagues from another university, has developed a disposable test strip that detects Human Epidermal Growth Factor Receptor 2, a breast cancer biomarker. The test strip is a simple, inexpensive way to catch breast cancer early and would revolutionize personalized diagnosis. It is hoped that with early detection, physicians can tailor treatment approaches on the spot.
Last year, Krause's research was published by top biosensor journal Biosensors and Bioelectronics. Students Susanita Carvajal '19 and Samantha Fera '19 were co-authors on the manuscript. "My students and I are working on engineering a portable output device for an electrochemical readout that is similar to the glucose meters you can buy in a local pharmacy," says Krause. The current research team includes Adonica Simpson '19, Aleksander Marczuk '19, Estelleta Hackshaw '20, and Mikaila French '20.
The students are engaged in interdisciplinary research that incorporates engineering, synthetic chemistry, electrochemistry, and biochemistry. "They work year round to gather meaningful, publishable results that can be presented at local scientific conferences, and they gain essential skills in becoming independent problem solvers. This will propel them into their prospective careers," Krause explains.
You can read more about the research in an article published by the National Institute of Biomedical Imaging and Bioengineering.
Faculty Spotlight: Katharine Owens, PhD, Politics, Economics, and International Studies
Associate Professor Katharine Owens is researching marine debris in Thiruvananthapuram, India, through a Fulbright Foreign scholarship. Owens is training students at the University of Kerala to collect data and make important connections between science and environmental policy. Her work in India is modeled after a UHart course she designed during which her students gathered about 1,600 pieces of trash from Connecticut beaches and then shared their findings with state officials and lawmakers.
Owens recently learned she was awarded a National Geographic Exploration Grant under the Reducing Ocean Plastic Pollution program. The project, Experiential Learning with Indian Educators: Collecting Local Data to Share with Politicians and Scientists, is a collaboration with a University of Kerala faculty member. This grant will bring 100 teachers from across India to Kerala for a training workshop on how to engage students in marine debris collection.  
Read Owens's
blog
to follow her research and experiences, and to see photos of her travel adventures.
Staff, Faculty, and Alumni Awards
The College of Arts and Sciences recently presented the Barbara Cooke Staff Appreciation, Outstanding Faculty, and Board of Advisors Alumni Awards.
Barbara Cooke
worked for the University from 1989-2004. She generously provided the funds to establish the annual award which is presented to staff in recognition for and appreciation of their contributions to the College of Arts and Sciences and the University community. This year's recipients are:
Anne Marie Cirullo
, Office Coordinator in the Department of Sociology and Criminal Justice.
Nancy Fields
, Office Coordinator in the School of Communication
The Outstanding Faculty Awards recognize extraordinary achievements and outstanding contributions in any of or all three categories: teaching, scholarship, and/or service. Recipients are:
Mala L. Matacin
, PhD, Associate Professor, Department of Psychology
Beth Richards
, MFA, Assistant Professor, Department of English and Modern Languages
Fei Xue
, PhD, Associate Professor, Department of Mathematics
Board of Advisors Alumni Awards celebrate the value of a liberal arts education and recognize the significant achievements of Arts and Sciences alumni who make a difference in their profession and/or their community. This year's awardees are:
Yvonne Renee Moss Davis '91
, President and CEO, Davis Communications
Stephen F. Moseley '67, Hon. '89
, President, United Nations Association of the National Capital Area
Alumni representing various professions and areas of study came to campus on April 5 to participate in the College's annual Career Readiness Academy. They offered job search strategies and career advice to students who are enrolled in the College's career preparation course. The class helps them explore career choices and learn job interviewing, networking, and résumé writing skills.
Students came prepared with questions for the alumni who participated in a panel discussion before networking and meeting face-to-face with students.
Alumna Spotlight: Amanda Schoen '14, English major, Deputy Director, Connecticut League of Conservation Voters
Amanda Schoen is working to protect Connecticut's environment as the deputy director of the Connecticut League of Conservation Voters (CTLCV). She identifies key environmental bills during each legislative session, educates lawmakers about the impacts those bills will have on the environment, tracks legislators' votes, and scores their performance at the end of each session. She learned quickly that there are very few typical days in her office.
"When the Connecticut General Assembly is in session, I spend part of my day speaking with lawmakers, attending public hearings, and alerting CTLCV members about opportunities to testify on environmental bills," she says. "I am also one of the public faces of CTLCV, so I spend time speaking with reporters and doing interviews. When session ends, my days are very much focused on preparing our Scorecard, which provides an in-depth look at the environmental votes our lawmakers take." During election seasons, Schoen also runs the political operations for CTLCV, and works on developing strategies for targeted races, as well as overseeing the messaging and communications.
While at UHart, Schoen got involved in politics when she completed an internship for Congressman John Larson's re-election campaign. That led to a job after graduation as his press secretary and director of communications in his Hartford office. She also was a preceptor for a First-Year Seminar course with Professor of English Mark Blackwell, and she was selected as one of five undergraduates for the Connecticut Poetry Circuit Student Poets Tour.
Alumnus Spotlight: Rickie Reilly '16, Computer Science major, Software Engineer, edX
Rickie Reilly's experiences at UHart are having a lasting effect on his career. While a student, he was co-founder, secretary, and treasurer of UHart's Computing Club, the teaching assistant (TA) for Professor Carolyn Rosiene's Introduction to Computing course, a computer science tutor, a coder for the Harrison Libraries' online catalog, an ambassador for the College of Arts and Sciences, and an intern at The Travelers. Currently he is a software engineer at edX, a nonprofit online learning and massive open online course (MOOC) platform company in Cambridge, Massachusetts.
Reilly says UHart's computer science program prepared him for the real world by giving him opportunities for hands-on experiences outside of the classroom. "The computer science program provided me with a breadth of knowledge, including studies in computer theory and practical skills such as computer programming," says Reilly. He also completed a minor in Multimedia Web Design and Development which, "built upon the broad skill set I gained from my CS-focused course load. It gave me depth into what I would eventually base my career on." Reilly says the foundational skills he acquired qualified him for his internship at The Travelers, which led to his first job as a software developer.
But his experience as a TA for Rosiene was the most impactful. "Learning to teach others about computer science really solidified my own understanding of the subject. And more importantly, Dr. Rosiene's mentorship was vital to my success."
A typical day for Reilly now starts with a brief team meeting to collaborate on ideas and identify any roadblocks. He spends most days writing code and running automated tests for that code, identifying product requirements and coming up with high-quality technical solutions to meet those requirements, and going over website designs with his coworkers. "Working at edX has some wonderful perks such as free lunch every day, a free T pass for the Boston subway system, and I am hoping to take advantage of education reimbursement for graduate school in the near future."
Reilly shared that he recently applied to the University of Texas at Austin's Online Master of Science in Computer Science, which will be hosted on the edX platform in the fall.
Annual First-Year Seminar Symposium Winners
Students enthusiastically presented the results of their First-Year Seminar (FYS) projects at the Annual FYS Symposium in December. All A&S students take an FYS course in their first semester to help them develop and enhance their writing, speaking, teamwork, problem-solving, and research skills. Semester topics included the Broadway show Hamilton, The Science of Star Wars, The Problem of Evil, and Reality TV in Pop Culture and Society.
Select faculty and members of the A&S Advisory Board served as judges and rate the presentations in a variety of categories. The following were selected as this year's winning presentations:
Best Demonstration of Critical Thinking—Creative Media taught by Associate Professor Lauren Cook
Creative Thinking—23 and Me taught by Assistant Professor Yingcui Li
Best Interdisciplinary Project—Matter of Black Lives taught by Associate Professor Bryan Sinche
Most Professional Presentation—Colleges and Crime taught by Assistant Professor Kelly McGeever
Audience Choice Award—Beauty, Body Image, and Feminism taught by Associate Professor Mala Matacin
Beyond the Binary 2019 Conference
Beyond the Binary, an inclusive conference designed to promote gender diversity in mathematics and help students explore math-related careers, is being hosted by the Department of Mathematics on Saturday, April 27, from 8:30 a.m. to 4:30 p.m. in the University's Gengras Student Union and Dana Hall.
According to the U.S. Bureau of Labor Statistics, as of 2017, women hold only 25 percent of math-related jobs even though women make up almost half of the workforce.
"We want to increase awareness of the variety of math-related careers and provide everyone, in particular gender minorities, with access to role models who are working in math-related fields," says conference organizer and Assistant Professor of Mathematics Alicia Marino. "Our panelists and guest speakers will address current and future academic and corporate work opportunities in mathematics."
Additional conference organizers are Assistant Professor of Mathematics Hwayeon Ryu and mathematics undergraduates Zaria Santos '20, I'ana Johnson '21, and Kelly Insalaco '22.  
To see a full conference schedule and to register, visit
beyondthebinary2019.com
.
Fall 2018
This year, the College of Arts and Sciences instituted a new requirement beginning with this fall's incoming class. All students now engage in at least one Learning Beyond the Classroom (LBC) experience. LBCs range from internships and research to study abroad and service learning, among several other options. The purpose of these experiences is for students to apply the knowledge and skills they are learning in the classroom in a real-world, independent manner. It is here we often see extensive growth in students' problem-solving, leadership and teamwork, and communication skills. Such experiences not only enhance our students' personal development but their career readiness as well because these are exactly the skills employers say they are looking for.
This newsletter, and the accompanying links, are full of stories of engaging courses where learning begins as well learning that extends far beyond the classroom. We also feature alumni stories, illustrating how their University of Hartford education enabled their success. If you have a story to share about your time at UHart, we'd love to hear it!
Katherine A. Black
Dean
Student Spotlight: Olaleye Onikuyide '20 Economics, and Politics and Government
Olaleye Onikuyide of West Hartford, Connecticut, says his summer internship at Hartford's Hinckley Allen law firm has helped him improve his critical thinking skills. "Many of the cases I was involved with in the litigation practice were like a puzzle," he says. It was up to us to make sense of all the pieces and see how they fit together into a broader argument for our client." Olaleye says it's not unlike the work he's doing now in his Politics of War class where students are asked to analyze the arguments of many different authors who theorize on the subject of war.
Olaleye says the internship, through the Lawyers Collaborative for Diversity pipeline program (LCD), affirmed his interest in pursuing the legal field. He says he continues to receive support from the network he established. "The attorneys, judges, and others I worked with encouraged me to stay in touch and reach out for advice. A judge who played a prominent role in the program reached out and invited me to see proceedings in a case he's presiding over." He also continues to talk with the other interns. You can read more about his LCD summer internship.
Outside of coursework, Olaleye serves as an ambassador for the College of Arts and Sciences where he helps personalize prospective students' visits to campus. "I advise those who are interested in economics and politics and government to look for ways to find and enjoy those subjects in their everyday lives. If you only engage in them in the classroom, there's a disconnect." Olaleye says he keeps up with state and national politics daily, and uses his free Wall Street Journal subscription available through the University, to find connections with what he's learning in his economics classes. In addition, he is a member of the Economics and Finance Club, Brothers and Sisters United community service organization, and intramural flag football.
Student Spotlight: Jade Baker '20 Cinema
"My experience studying abroad in Prague, Czech Republic, has truly been liberating," says Jade Baker of Danbury, Connecticut, who is spending this semester   studying film directing at the Film and TV School of the Academy of Performing Arts (FAMU). "The thing I enjoy the most about studying abroad is that I'm doing something I love. Something I'm truly passionate about each and every day."
Jade is currently preparing to direct her own short film project. She is taking classes in film language, cinematography, sound, the realm of montage, directing, and acting theories. "Every course is directly affiliated with helping me and my team make the most creative and thought out short film we've ever worked on." She says the students feel as if they are in a mini Hollywood and they even throw a release party for them to celebrate and watch their films.
Last summer, Jade worked as a wardrobe assistant with Associate Professor of Cinema Justin Liberman, on the set of television spots for the Connecticut Department of Transportation's See Something? Say Something. ad campaign. Jade credits that experience with giving her the confidence to prepare and direct her own film at FAMU. "Without a doubt, I wouldn't be this relaxed or prepared to direct my film if it weren't for that opportunity."
Jade says she is most excited about taking the skills that she's learning at FAMU back to the U.S. "Getting out of my normal routine has made me realize that if I can successfully study abroad, I can master and do anything I put to mind to. I feel that I've become more independent and focused on my studies and my goals in life more than ever."
Faculty Spotlight: Susan Cardillo, DCS, Assistant Professor of Communication
Assistant Professor of Communication Susan Cardillo is working with students to create a documentary, "Finding Matilda," about a young Holocaust victim who is known as the Anne Frank of Lithuania. Cardillo and cinema students Kyle Conti '20 and Taylor Ugrinow '18, traveled to Lithuania in July to interview local residents and film the work of an international research team to locate the burial site of poet and writer Matilda Olkin and her family. UHart A&S students Abigail Dunkin '19, Dima Karakitukova '19, and Justin Lockhart '19 were part of the research team led by archaeologist and Professor of Jewish History Richard Freund.
Shortly after the team returned to the U.S., Cardillo went to the Anne Frank Museum in Amsterdam to interview its director for the documentary. She explains that many college students are familiar with Anne Frank and it can help them understand Matilda. "We'll include a brief update on Anne and talk about what kind of girl she was. Now that the museum director knows Matilda's story, he can help us show how they are alike and how they are different." Watch the Finding Matilda documentary trailer and read an article the University's involvement in the discovery that appeared on the front page of the Hartford Courant.
In the spring, Cardillo is teaching a History of Hartford course that enables students to produce video shorts about some aspect of the City that may be aired on Hartford Public Access Television. Outside of the class, Cardillo says she would like to organize a student video journalist team that would film and create stories about the University. "It will give students the experience of working with a client and help them build their video portfolio before they graduate."
Faculty Spotlight: James McDonald, PhD, Assistant Professor of Physics
Students in the new University Interdisciplinary Studies (UIS) course The Martian Way are examining not only the mechanics of human space travel to Mars, but also the physical, psychological, social, environmental, legal issues, that come along with it. Taught by Associate Professor of Physics James McDonald, PhD, the course lets students decide on what areas or topics to explore and challenges them to think beyond their own skill set.
McDonald explains that if humans were to colonize Mars, there are so many questions that need to be answered, such as, "Who should we recruit for the mission? Do we live on Mars, or do we live in Mars? What do we do if we find life? What kind of government should we have? Should we worry about our impact on the environment? Do we change the environment to make it more inhabitable?"
Part of the idea of studying Mars, says McDonald, is that it is roughly the same age as earth, but smaller. "Because Mars is smaller, it goes through its life cycle quicker," he says. "So all that's happened so far to Mars, without human interaction, will eventually happen to Earth."
Faculty Spotlight: Brian Wells, PhD, Associate Professor of Physics
Associate Professor Brian Wells, PhD, is teaching the First-Year Seminar (FYS) Science of Star Wars course; where students are exploring the science and physics of the Star Wars movies, cartoon series, comic books, and novels. "I give students journal entries for every movie, reading, or topic and prepare lectures to help prompt discussion," says Wells, who likes that the students are taking the lead on what they find interesting and what is relevant to current science. Some of the questions the class is examining are, "Is it possible to achieve light speed? "Can a light saber really melt through a door?," and "How does hyper drive work?"
He says that since the students are in different programs of study within the College of Arts and Sciences, he keeps class discussions open ended and flexible. So far Wells is impressed with the proposals students are submitting for the FYS Symposium presentations at the end of the semester. Topics include the possibility of making a real light saber, the geology of the Star Wars planet Naboo, and the biology of the clone troopers.
One of the positive outcomes of the course is that more students are exposed to physics through the Star Wars theme. "I have one student in particular who is now interested in adding physics as a major," says Wells.
Alumni Spotlight: Kevin Seguin '18, Psychology major, Organizational Strategy Analyst, Korn Ferry
Kevin Seguin credits the research and work experience he had at UHart with helping him succeed in his position as an organizational strategy analyst at Korn Ferry, a global organizational consulting firm located in New York City. "I pull my research skills from my toolbox every day," he says.
At Korn Ferry, Seguin helps organizations synchronize their strategy with current and future talent. He says he was surprised to find that although he's new to the company, he has been given more responsibility than he initially expected. "I'm grateful that my team trusts me to establish strong relationships with our clients and values me as a thoughtful contributor, and expects me to propose solutions."
He says no two days are alike. One day he may help facilitate a client workshop, and the next he'll be creating content, or doing data analysis. "It's rewarding to be on the side of business that's focused on optimizing employee motivation, effectiveness, satisfaction, and development."
While at UHart, Seguin says he had an incredible mentor who gave him opportunities to assist with and spearhead research for the University's Department of Psychology, as well as the Center for Social Research. He advises current students to find a mentor, ask for help, and take advantage of the benefits that a small university community like UHart offers. "If you raise your hand when opportunities pop-up and demonstrate an interest, it's easy to connect with University leaders. My mentors have become my biggest sponsors."
Alumni Spotlight: January Welks '06 Criminal Justice major, Psychology and Sociology minors U.S. Probation Officer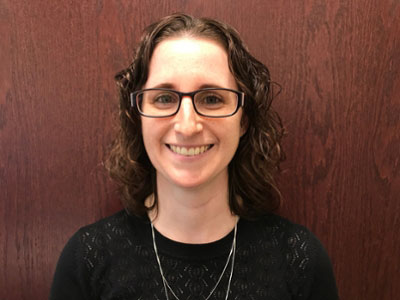 January Welks is dedicated to the education and training of her colleagues. A probation officer with the Bridgeport U.S. Probation Office since 2009, Welks recently began a three-year term on the Federal Judiciary Center Advisory Committee for Probation and Pretrial Service Education. In that role she is helping to develop educational programming and teaching materials for U.S. probation officers throughout the country.
While at UHart, Welks studied criminal justice, psychology, and sociology. She completed three internships before graduation, including one at the state probation office in Hartford. It is no wonder that today Welks is co-leader of the Internship Committee for the U.S. Probation Office in Connecticut. She encourages students to speak with professors about their experience and to do as many internships as possible. "You may learn from a book, but in the field you develop a network and mentors who are going to help you along the way in your career."
Welks says the UHart criminal justice students who intern at her office are very well prepared. "We get a lot of interns who do everything. It's an all-inclusive, real-world experience."
The College of Arts and Sciences started the academic year with two new majors, Computer Science and Engineering, and Digital Media and Journalism.
Offered by the Department of Computing Sciences, the Bachelor of Science in Computer Science and Engineering combines aspects of both computer science and computer engineering, and focuses on hardware-software integration. Students choose from two tracks; Software Design & Development and Systems & Networks.
In addition, the Bachelor of Arts in Multimedia Web Design and Development is now part of the Department of Computing Sciences. The change from University Studies was made to better reflect the program, which combines computing technology and graphic design aesthetics that are used to deliver engaging multimedia content for the web, mobile apps, or video games.
Watch a video about all the programs the Department offers.
The School of Communication started a new major in Digital Media and Journalism for those interested in a career in digital media production, broadcast journalism and sports media, or as a media business professional. The School offers a new TV studio set that can be customized for news and talk show programming, and the computer-based classrooms and editing labs in Abrahms Hall have been upgraded with new technology and furniture.
Students gain professional experience through an individual internship and by working in one of the media-oriented student firms:
The Agency – Students create video productions for a range of clients that include profit and nonprofit organizations.
The Studio – TV shows and web series are produced by students for the student-run television network (STN) and the School of Communication website.
The Newsroom – Here students generate online news content about the University and the Hartford area.
Hartford Hawks Productions – Students can produce live University sports programming for real clients like ESPN3.
Read about The Sports Beat<The Sports Beat> summer course, where students covered the Hartford Yard Goats baseball team for six weeks.
Outstanding Faculty and Alumnus Award
The College of Arts and Sciences presented its Outstanding Faculty and Board of Advisors Alumni Awards in April. The Outstanding Faculty Award recognizes outstanding contributions in any or all of the three categories: teaching, scholarship, and/or service. The Board of Advisors Alumni Award celebrates the value of a liberal arts education and recognizes the significant achievements of Arts and Sciences alumni who make a difference in their profession and/or their community.
Award recipients are from left, Donald Jones, associate professor, Department of English and Modern Languages; Anne E. Pidano, professor, Department of Psychology; Milton Speid '04, director of Development for the Eastern Region, Silicon Valley Community Foundation; and Natasha Segool, associate professor, Department of Psychology.
Ten successful A&S alumni who are working in various professions participated in a panel discussion for the College's annual Career Readiness Academy attended by more than 50 students enrolled in last semester's career preparation course. Students asked questions and received career advice from the panelists before being given the opportunity to network with them. Discussion topics included job interview preparation, networking techniques, and how to get an internship.
Panelist Wendy Aarons-Corman '86, M'90, who studied mathematics and computer science, is president of global insurance technology company OneWorld Instech. She told students how important it is to network. "Everyone you've ever met, always connect with them and keep them on your database," she said. "Just in case you have to look for something else, you'll be able to network again and find opportunities."
Matthew Gilbert '09 is a poetry and short fiction writer who also works as a threat security analyst for Aetna, a company he started working for while he was studying English and creative writing at UHart. He advised the students to do their research on a company before the job interview. "If you are going for a job, you need to know what the job entails and what the company does," he says.
Maurice Greenberg Center Opening
The Maurice Greenberg Center for Judaic Studies is now located in a newly renovated space on the second floor of the Harry Jack Gray Center.
The new Center includes a Holocaust research library with more than 5,000 books and videos, as well as a special collections room with artifacts and thousands of books about Jewish civilization throughout the world. The research library also serves as a quiet study space for students.
Known around the world for its work in archaeology, Holocaust studies, and Jewish literature, the Center offers classes in Judaic studies, archaeology, the Holocaust, Hebrew, and Arabic. Students, faculty, staff, and community members are welcome to attend the Center's programs, lectures, and workshops throughout the year. Visit the Greenberg Center's web page for more information about upcoming events.
Welcome New Faculty and Staff
The College of Arts and Sciences welcomed nine new faculty and two new staff members for the 2018-19 academic year.

Monica Rivera and Sarah Harmon are the new managers of student services.

Melinda Miceli was appointed associate professor of sociology, and will continue in her role as an associate professor with Hillyer College.

The Department of Computing Sciences welcomed Assistant Professors Changyong "Andrew" Jung and Zhuojun Duan.  

The Philosophy Department appointed Donovan Cox as a visiting instructor.

Michelle Rabideau and Andrew Starnes are new assistant professors in the Department of Mathematics.

Dan Liu is a new assistant professor in the Department of Physics.

Rachel Walker has joined the College as an assistant professor of history.

Ahmad Wais Wardak is a new visiting assistant professor in the Politics, Economics, and International Studies Department.

Jennifer McLeer joins the Department of Psychology as an assistant professor.