With dedicated spaces in the Hursey Center, United Technologies Hall, Harry Jack Gray Center, and Dana Hall, there is a place for you to bring your imagination to life!

The average class in CETA is 24 students, though many classes run with far fewer students. Those classes are held in these classrooms, labs and studios equipped with digital and overhead projectors, television equipment regularly maintained by Media Technology Services, as well as computers. We also regularly update our teaching labs and studios so you can learn on the latest technology with new software and equipment supported by an in-house staff of computer and technology specialists. In addition, through CETA's Open Lab Program, you have the ability to use the labs and studios outside of regularly scheduled hours, and even work as lab and studio monitors in the program.
Discover Our Makerspace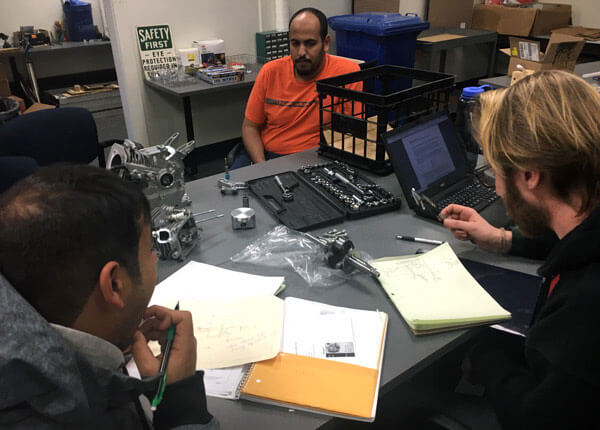 University of Hartford's Makerspace, given by Paul '76 and Sharon Oliva, is equipped with power- and hand- tools, 3D printers, scanners, CNC (computer numeric control) machines, and lockers for CETA students to create, design, and store their prototypes. Bring a 2D image to life on one of our 23 3D printers in our newly added dedicated space within the Makerspace. Take projects apart and put them back together in our second machine shop on campus, given by Bauer, Inc., and the Auletta Family, located within the updated Makerspace. The open floor plan with power from the ceiling (literally!) allows students to collaborate better than ever before!

Visit the Makerspace on the second level of the Hursey Center in Room 216!
Hursey Center
| Location (HC) | Name |
| --- | --- |
| Hursey Center 110 | High-Bay Structural Engineering Laboratory |
| Hursey Center 110A | Strength of Materials Laboratory |
| Hursey Center 112 | Concrete and Surveying Laboratory |
| Hursey Center 210 | Mechatronics Laboratory, given by Kevin E. Grant '82, M'86 |
| Hursey Center 212 | Robotics Laboratory, given by Charles E. Pagano Jr. '84, M'07 |
| Hursey Center 216 | Makerspace, given by Paul '76 and Sharon Oliva |
| Hursey Center 216A | 3D Printing Laboratory |
| Hursey Center 216B | Supply Room |
| Hursey Center 216D | Machine Shop, given by Bauer, Inc., and the Auletta Family |
| Hursey Center 218 | Pratt & Whitney Aerospace and Turbomachinery Laboratory |
| Hursey Center 309 | Cybersecurity Laboratory |
| Hursey Center 311 | Hartford Steam Boiler Internet of Things Laboratory |
Dana Hall
| Location (Dana) | Name |
| --- | --- |
| Dana Hall 101 | Biomedical Engineering Laboratory, given by Nancy and Frank Hursey '77 |
| Dana Hall 102 | Pratt & Whitney Manufacturing and Metrology Laboratory |
| Dana Hall 103 | Mechanical Engineering Research Laboratory I, given by Wallace Barnes Hon '84 and Barbara Hackman Franklin Hon '88 |
| Dana Hall 109 | Machinery and Power Systems Laboratory |
| Dana Hall 111 | Smart Grid and Renewable Energy Systems |
| Dana Hall 113 | Faculty Research |
| Dana Hall 115 | Transportation Engineering Laboratory |
| Dana Hall 119 | Audio System Laboratory |
| Dana Hall 120 | Digital Audio Laboratory |
| Dana Hall 122 | Multitrack Recording Laboratory |
| Dana Hall 123 | Acoustical Engineering II |
| Dana Hall 126 | Acoustical Engineering I, Paul S. Veneklasen Research Foundation Anechoic Chamber (Est. 2015) |
| Dana Hall 127 | Geotechnical Engineering Laboratory |
| Dana Hall 129 | Faculty Research |
| Dana Hall 133 | Machine Shop |
| Dana Hall 313 | Electrical and Computer Engineering Research Laboratory II |
| Dana Hall 315 | VLSI Laboratory |
| Dana Hall 319 | Digital Signal Processing Laboratory |
| Dana Hall 320 | Computer Classroom II |
| Dana Hall 321 | Electrical and Computer Engineering Instrumentation Laboratory II |
| Dana Hall 322 | Samuel I. Ward Laboratories Circuit, Electronics, and Digital Laboratory II |
| Dana Hall 323 | Automation Systems Laboratory |
| Dana Hall 324 | Samuel I. Ward Laboratories Circuit, Electronics, and Digital Laboratory I |
| Dana Hall 325 | Samuel I. Ward Laboratories Circuit, Electronics, and Digital Laboratory III |
| Dana Hall 402 | Microprocessor Laboratory |
| Dana Hall 420 | Computer Classroom III |
| Dana Hall 424 | Mechanical Engineering Research Laboratory II |
| Dana Hall 426 | Mechanical Engineering Research Laboratory I |
Harry Jack Gray Center
| Location (HJGC) | Name |
| --- | --- |
| Harry Jack Gray Center W101 | Architecture Studio |
| Harry Jack Gray Center W108 | Open Computer Laboratory |
| Harry Jack Gray Center W114 | North Studio |
| Harry Jack Gray Center W114A | Wood Shop |
| Harry Jack Gray Center W114B | Fabrication Suite |
United Technologies Hall
| Location (UT) | Name |
| --- | --- |
| United Technologies 103 | Biomedical Engineering Instrumentation Laboratory |
| United Technologies 104 | Energy Engineering Laboratory |
| United Technologies 105 | Thermal Systems and Fluids Laboratory |
| United Technologies 106 | Structural and Transportation Engineering Computer Laboratory |
| United Technologies 108 | Computer Laboratory I |
| United Technologies 111 | CETA Laboratory/Computer Classroom I |
| United Technologies 116 | Computer Laboratory II |
| United Technologies 116M | Tissue Engineering |
| United Technologies 320 | Classroom |
Biology-Chemistry (BC) Building
| Location | Name |
| --- | --- |
| Biology-Chemistry (BC) Building 251 | Environmental Engineering Laboratory |