College of Engineering, Technology, and Architecture
MEng in Civil Engineering
The Master of Engineering (MEng) in civil engineering program emphasizes applied design and stresses the development of oral, visual, and written communication skills in civil engineering to promote career advancement for civil engineering professionals.
Quick Facts
Fall 2023 enrollment is OPEN!
7-week courses.
100% asynchronous online option for non-international students.
International students must be in-person.
Request Information
Questions? Email cetagrad@hartford.edu.
About the Major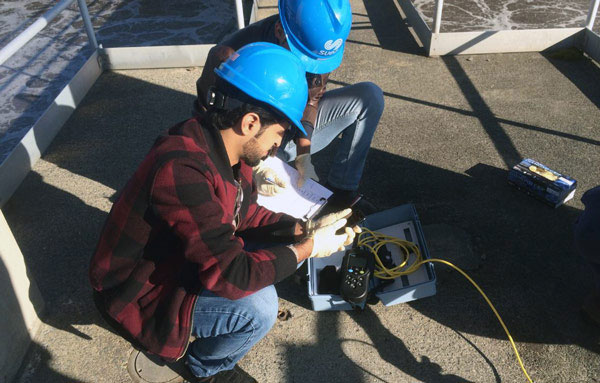 Strengthen your knowledge in design, construction, and maintenance of the physical and naturally built environment in our Masters of Engineering in Civil Engineering program! During this program, you will work with our accomplished faculty to conduct purposeful research through one of three tracks offered, based on your interests. 
Now accepting applications for Fall 2023!
Learn more about the application process.
Why UHart?
Our program was intentionally designed to provide you with the flexibility of advancing your education at your convenience. You will have the flexibility to take research-based courses through one of three tracks offered based on your interests. Personalize your educational experience by choosing a concentration in civil engineering, structural engineering, or transportation engineering. Working professionals will be able to obtain a master's degree by taking our evening classes on a part-time or full-time basis. At CETA, time and balance are on your side.
Program Highlights:
100% online asynchronous class option, meaning classes can be taken in person OR remotely.

30 credits
Part-Time or Full-Time
Rolling Admission
Fall and Spring Semester Start
Degree Requirements and Options
The following courses and requirements are recommended for those pursuing the Master of Engineering in civil engineering program.
For more information, and to see a complete list of degree requirements, visit the Course Catalog.
M 515 | Methods of Applied Mathematics I or M 517 | Applied Engineering Statistics (depending on concentration)

EM 601 | Engineering Program Management
Explore the three different tracks offered under the Master of Engineering in civil engineering program. Learn more below:
E2M is a unique, three-way partnership between the Barney School of Business and the College of Engineering, Technology, and Architecture. Coursework includes applied projects, such as formulating marketing and business plans for area companies. The Engineering Applications Center assists local businesses and industries in applying new techniques, and you will become involved through application projects, symposia, and forums. You may complete either program and receive your degree immediately, without waiting to complete both.
This partnership between the Barney School of Business and the College of Engineering, Technology, and Architecture (CETA) provides a broader focus for engineers moving into management and leadership tracks. The program requires a total of 60 credits – that's 6 fewer credits than if you pursued the degrees separately. Students can earn both a Master of Engineering (MEng) and Master of Business Administration (MBA) within the framework of Excellence in Engineering and Management (E2M) Program.
Program Highlights
Below is a list of research thesis topics and projects students in the master of science in civil engineering program have completed.
Investigation, Analysis, and Rehabilitation of Large Reinforced Concrete Beams for the Original, Deteriorated, and Rebuilt Conditions
Application of Geographic Information System (GIS) to Pavement Management Systems
Design of a Chamber for Safe Disposal of PEN Explosive Caps
Highway Capacity, Traffic Operational Analysis Simulation, and Modeling of Transportation Systems
Computational Intelligence, Optimization, and Stochastic Process in Transportation Engineering
Adaptive Traffic Signal Control
A Fuzzy Logic Based Integrated Interchange Ramp Metering Signal Control
Evaluation of Fuzzy Logic Based Ramp Metering Algorithms Using Microscopic Traffic Simulation
Selection of Highway Interchange Types
Traffic Accident Data Mining Using a Machine Learning Model
A Survey of Advanced Traveler Information Systems (ATIS)
Comparison of Capacity Estimations Due to Downstream Link Queues at Signalized Interchanges
Structural Engineering Laboratory
State-of-the-art computational facilities are used for the application of structural design and finite element analysis in structural components.
Transportation Engineering Laboratory
Provides a variety of traffic simulation, planning, and signal control programs for analyzing, evaluating, and designing transportation system components.­
Admission Requirements
Interested in enrolling in the Master of Engineering in civil engineering program under the College of Engineering, Technology, and Architecture (CETA)? Here is what you need to submit your application.
Tuition


Summer 2022, fall 2022 and spring 2023 tuition rates for the Civil/ Environmental Engineering, MS, MEng program are below:

| | Per Credit Rate |
| --- | --- |
| Civil/ Environmental Engineering, MS, MEng | $907.00 |