College of Engineering, Technology, and Architecture
MS in Environmental Engineering
The Master of Science (MS) in environmental engineering program emphasizes research-oriented courses for you to gain new skills and knowledge to meet today's industry demands and advance your career.
About the Major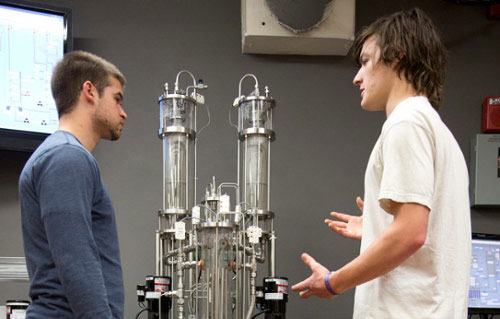 The Master of Science (MS) in environmental engineering program is a research-oriented program that focuses on the advancement of the fundamental body of knowledge in environmental engineering while also fostering the development of skills in design and analysis. This program lets you study an area of interest as part of a graduate thesis. Work towards solving a contemporary problem and become a technical expert. This program is also ideal for those who endeavor to eventually pursue their doctoral degree in an area within engineering. You will be ready to conduct research more analytically and purposefully in the industry and in academia.

Degree Requirements
The following courses and requirements are recommended for those pursuing the Master of Science in environmental engineering program.
For more information, and to see a complete list of degree requirements, visit the Course Catalog.
M 515 | Methods of Applied Mathematics I

 or

 

M 517 | Applied Engineering Statistics
CE 615 | Graduate Thesis in Engineering
Electives (credits, see Course Catalog for more information)
Enrolled students may submit a proposal for admittance to the Master of Science degree program. Contact Laurie Granstrand, Manager of Graduate Programs, for more information.
Program Highlights
Environmental Engineering Laboratory: Study the advancement of physical, chemical, and biological processes for developing innovative solutions to current issues and challenges facing municipal water and wastewater treatment facilities.
Fundamental as well as design-oriented specialty coursework in the areas of air, water, and hazardous waste management.
Individualized curriculum through core environmental engineering courses, environmental elective courses, and thesis or independent project.
Esteemed faculty with decades of experience in the field.
Admission Requirements
Interested in enrolling in the Master of Science in environmental engineering program under the College of Engineering, Technology, and Architecture (CETA)? Here is what you need to submit your application.
Tuition


Summer 2022, fall 2022 and spring 2023 tuition rates for the Civil/ Environmental Engineering, MS, MEng program are below:

| | Per Credit Rate |
| --- | --- |
| Civil/ Environmental Engineering, MS, MEng | $907.00 |