College of Engineering, Technology, and Architecture
BS in Aerospace Engineering
The only program of its kind in Connecticut, the aerospace engineering program offers students the opportunity to learn technical concepts relevant to aerospace engineering and design.
CETA's project-based curriculum will prepare you to master specialized skills that are essential to creating, developing, and improving aircraft and spacecraft.
Quick Links
Ready to take the next step?
Apply today.
Questions?
Contact Program Director Paul Slaboch for more information.
About the Major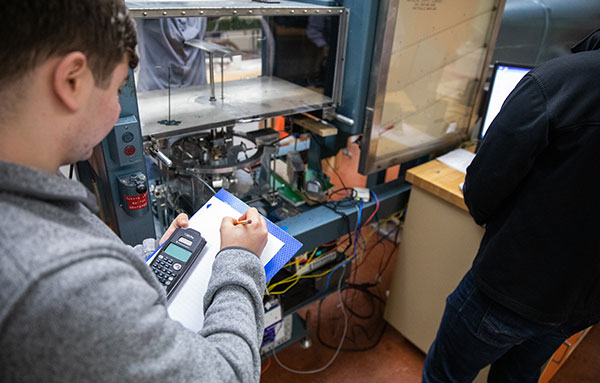 The aerospace engineering program exposes students to different aspects of the aerospace industry. Students will have the opportunity to explore which part of engineering complements their passions, interests, and skillset.
On the aeronautics side, the coursework focuses on aeroacoustics and noise problems, vertical take-off, landing systems (drones or helicopters), and aircraft engine research. Students will finish the semester with a design-build-fly (DBF) capstone project that requires them to build their own remotely piloted vehicles.
By graduation, students will be able to apply the fundamentals of engineering analysis and design to the formulation and solution of emerging technical problems within their discipline of choice.
Why UHart?
Our program offers industry-standard equipment and collaborative spaces for students to engage in hands-on learning. These resources include:
Pratt & Whitney Turbomachinery Laboratory: Equipped with wind tunnels for testing speed, movement, and airflow.

Large-scale turbomachinery cascade tunnel

Boundary layer tunnel

Low-speed tunnel with 6-axis force balance

Water table

Materials and structures testing equipment

Controls instrumentation

Thermal/fluids experimental setups 
UHart also shares close ties with Pratt & Whitney, and NASA. Many of our distinguished faculty have conducted research projects at NASA research centers.
About the Minor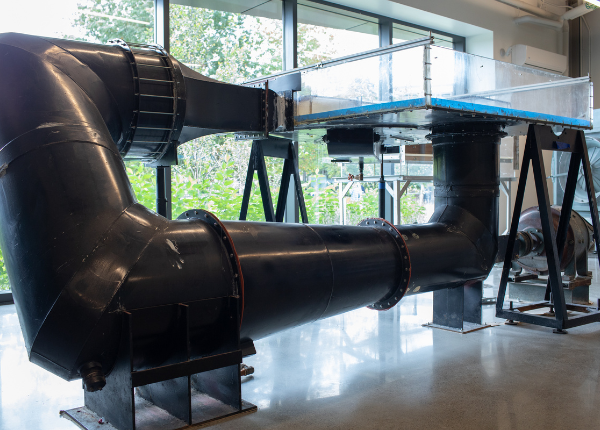 The minor in aerospace engineering provides students matriculating into other degree programs at the University of Hartford with an introduction to the discipline of aerospace engineering. The minor in aerospace engineering consists of three required courses and three courses from the list below for a total of 18 credits.
Degree Requirements
For more information, and to see a complete list of degree requirements, visit the Course Catalog.
ME 343 | Aerodynamics

ME 230 | Flight Mechanics

ME 420 | Gas Dynamics

ME 421 | Gas Turbine Analysis

ME 423 | Aerospace Dynamics, Stability, and Control

ME 424 | Aerospace Structures

ME 425 | Orbital Mechanics
ME 422 | Fundamentals of Turbomachinery

ME 423 | Aerospace Dynamics, Stability, & Control

ME 455 | Applied Computational Fluid Dynamics

ME 500 | Convective Heat and Momentum Transfer

ME 506 | Principles of Combustion

ME 533 | Turbomachinery Noise Control

ME 554 | Advanced Fluid Mechanics

ME 564 | Aerodynamic Design of Turbines and Compressors
Program Educational Objectives (PEOs)
The Aerospace Engineering program seeks to prepare our graduates for productive, rewarding careers in the engineering profession. During their careers, our alumni
1. will become successful practicing engineers in a wide range of aerospace engineering fields and will advance professionally by accepting responsibilities and, potentially, pursuing leadership roles (PEO1);
2. will advance their knowledge of engineering, both formally and informally, by engaging in lifelong learning experiences (PEO2); and
3. will, as contributing members of multidisciplinary engineering teams, successfully apply the fundamentals of engineering analysis and engineering design to the formulation and solution of emerging technical problems (PEO3).
Career Outlook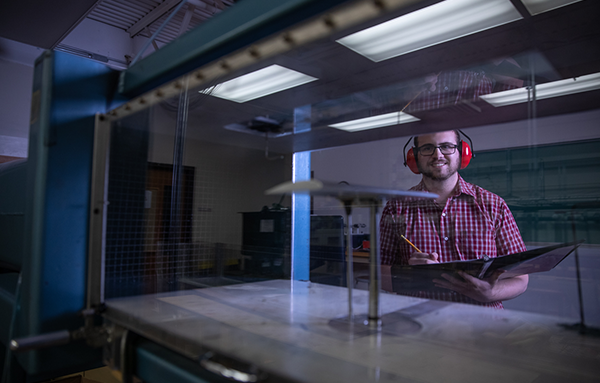 Connecticut ranks fourth nationally in terms of Aerospace & Defense (A&D) workers, offering an overwhelmingly positive career outlook for aerospace students. Numerous industry leaders such as Lockheed Martin, Sikorsky, Kaman Aerospace, Pratt & Whitney, Collins Aerospace, Raytheon Technologies, and more are within 50 miles of Hartford, CT, providing a solid industry network for UHart graduates to pursue.
Alba Marcelin
BS in Aerospace Engineering, 2023
Alba Marcelin '23, an aerospace engineering major, became interested in airports and planes at an early age. As she got older, she realized she could make a career out of this interest.
My ultimate dream is to become a commercial airline pilot. A degree in aerospace engineering is a great way to bridge and open doors to many possibilities in the aerospace industry in particular. Being able to work with airplanes and/or improving their systems for the environment is my main career goal.