College of Engineering, Technology, and Architecture
BS in Aerospace Engineering
Students pursuing the aerospace engineering program will develop in-demand skills in the fundamental science and technologies to create, develop, and improve aircraft and spacecraft.
About the Major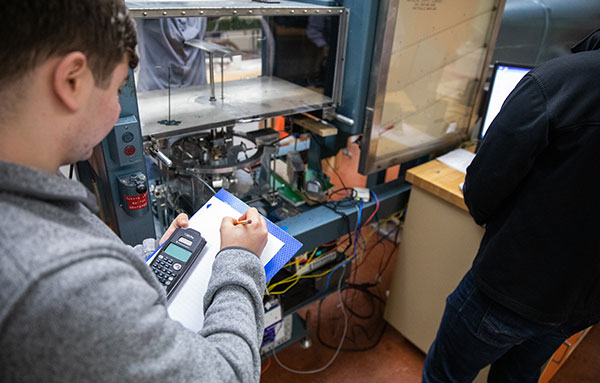 The only program of its kind in Connecticut, UHart's new aerospace engineering undergraduate program offers students the opportunity to learn technical concepts relevant to aerospace engineering and design, utilizing the current equipment and facilities in the Department of Mechanical, Aerospace, and Acoustical Engineering. Spaces include:
wind tunnels, including:

large-scale turbomachinery cascade tunnel
boundary layer tunnel
low-speed tunnel with 6-axis force balance
water table

materials and structures testing equipment
controls instrumentation
thermal/fluids experimental setups
Explore broad engineering principles needed to develop the specialized skills that are essential for careers in aerospace engineering, including fundamentals in mechanical and electrical engineering. Through multi-disciplinary curricula and faculty-led research, you will apply what you learn with these state-of-the-art facilities and tools readily available to you. This program focuses on aerodynamics, aerospace materials and structures, aircraft design, flight stability and control, orbital mechanics, and propulsion systems.
About the Minor
The minor in aerospace engineering provides students matriculating into other degree programs at the University of Hartford with an introduction to the discipline of aerospace engineering. The minor in aerospace engineering consists of three required courses and three courses from the list below for a total of 18 credits.
Degree Requirements
For more information, and to see a complete list of degree requirements, visit the Course Catalog.
ME 343 | Aerodynamics

ME 230 | Flight Mechanics

ME 420 | Gas Dynamics

ME 421 | Gas Turbine Analysis

ME 423 | Aerospace Dynamics, Stability, and Control

ME 424 | Aerospace Structures

ME 425 | Orbital Mechanics
ME 422 | Fundamentals of Turbomachinery

ME 423 | Aerospace Dynamics, Stability, & Control

ME 455 | Applied Computational Fluid Dynamics

ME 500 | Convective Heat and Momentum Transfer

ME 506 | Principles of Combustion

ME 533 | Turbomachinery Noise Control

ME 554 | Advanced Fluid Mechanics

ME 564 | Aerodynamic Design of Turbines and Compressors
Career Outlook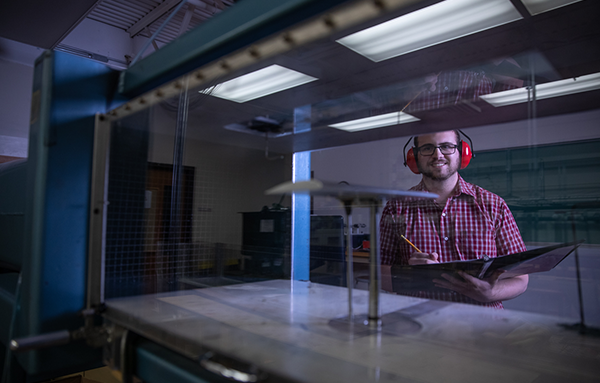 The newly added aerospace engineering program comes at a time when the field of aerospace engineering is growing. According to Bureau Labor of Statistics, with a 3-percent job outlook projected growth on the national level and a 7.3-percent job outlook projected growth locally in Connecticut over the next decade, students will be able to explore rewarding careers as practicing engineers in a wide range of aerospace engineering fields. This is because there is a growing industry around aerospace that continues to service suppliers around the world. Professionals in this field can earn an average median salary of over $116,500.
Program Director Paul Slaboch Interviewed By NBC Connecticut on Aerospace Program
Explore Your Options
Aerospace engineers can also work in a large number of fields besides aerospace, including:
Automotive (vehicle aerodynamics)
Sporting (everything from race cars to golf balls)
All other forms of transportation (trains, boats, cycling, etc.)
Construction and building design for aerodynamic loads
Drones and autonomous air vehicles
During their careers, graduates of this program may go on to work at well-renowned aerospace companies*, including:
Raytheon Technologies and its subsidiaries
Pratt & Whitney
Lockheed Martin
Sikorsky
NASA
Kaman Aerospace
*all, with the exception of NASA, are located right here in Connecticut
Alba Marcelin
BS in Aerospace Engineering, 2023
Alba Marcelin '23, an aerospace engineering major, became interested in airports and planes at an early age. As she got older, she realized she could make a career out of this interest.
My ultimate dream is to become a commercial airline pilot. A degree in aerospace engineering is a great way to bridge and open doors to many possibilities in the aerospace industry in particular. Being able to work with airplanes and/or improving their systems for the environment is my main career goal.
Hands-On Learning Experiences
Inside the Aerospace and Turbomachinery Labs
Students pursuing the aerospace engineering program will have dedicated spaces housed in the University's new state-of-the-art academic building scheduled to open this fall. Check out some of our spaces below: