The Pediatric Balance Lab at the University of Hartford aims to improve the postural stability, functional capacity and community participation of children with motor impairments.
We pioneer multidisciplinary research, offer clinical training in the Segmental Assessment of Trunk Control (SATCo), promote a segmental approach to postural dysfunction, and strive to make our methods and resources accessible so they can be widely shared and applied. Our approach is designed to be collaboratively delivered by practitioners and families—maximizing autonomy and meaningful progress of each child our work reaches.
About the Lab
For children with severe motor impairments, it can be very difficult to reach for a toy, sit upright, or even turn their head. The focus of our research is to develop a better understanding of the underlying mechanisms contributing to postural dysfunction and thus opening pathways for improved therapies for these children.
 
The Pediatric Balance Lab at the University of Hartford is known internationally for its work in the Segmental Assessment of Trunk Control (SATCo). We have collaboratively designed trainings, tools and resources to help clinicians and families assess and support upright control for children with postural dysfunction. 

The Lab seeks to raise awareness and expand the application of our work, which can benefit children with a range of conditions—such as cerebral palsy, Down syndrome, muscular dystrophy and spinal cord injury. We invite multidisciplinary research collaborations, present regularly, offer clinical training in SATCo and the segmental approach to postural dysfunction. Recent projects have included design of custom devices to promote participation in home and community settings for children with the most severe disabilities.
Research
Our research has three primary legs.  First, we conduct studies aimed at understanding the sensory and motor mechanisms underlying the emergence of upright postural control. These studies rely on collaborations with engineers to assess and model changes in system dynamics as children gain trunk control. This research has been funded by the National Science Foundation and the National Institutes of Health.
Second, translational studies regarding the Segmental Assessment of Trunk Control (SATCo) and a segmental approach are in collaboration with a knowledge translation researcher and clinical partners who are exploring the challenges and paradigm shifts necessary to implement a segmental approach in clinical settings and across school districts. 
Finally, we are dedicated to translating laboratory research for clinical application to enhance function and participation of children with the most severe postural dysfunction. These studies include collaborations with researchers in special education and neuromotor recovery and engineering.  These are primarily proof of concept studies which we hope to develop in the future for intervention studies.
Book Chapters
Saavedra S, Goodworth AD (2018), "Posture control therapy in children and youth with cerebral palsy" in Cerebral Palsy, edited by Dr. Freeman Miller, Stephan Bachrach, Nancy Lennon and Margaret O'Neil. 
Peer Reviewed Publications
Adam Goodworth and Sandra Saavedra, Postural mechanisms in moderate-to-severe cerebral palsy, Journal of Neurophysiology, May 6, 2021
Goodworth AD, Kratzer A, Saavedra S. (2020) Influence of visual biofeedback and inherent stability on trunk postural control. Gait & Posture (80):308-314
Goodworth AD, Tetreault K, Lanman J, Klidonas T, Kim S, Saavedra S. (2018) Sensorimotor control of the trunk in sitting sway referencing. J Neurophys 120(1):37-52.
Duncan K, Goodworth A, Da Costa C, Wininger M, Saavedra S. (2018) Parent handling of typical infants varies segmentally across development of postural control. Exp Brain Res,236(3), 645-654.
Santamaria V, Rachwani J, Saavedra S, Mansell W, Woollacott MH. (2017). The impact of segmental trunk support on posture and reaching while sitting in healthy adults. J Motor Behav pp 1-14.
daCosta CSN, Saavedra SL, Rocha ACF, Woollacott M. (2016) The effect of biomechanical constraints on neural control of head stability in children with moderate-to-severe cerebral palsy. Physical Therapy Journal 97(3):374-385. 
Curtis DJ, Woollacott M2, Bencke J, Lauridsen LB, Saavedra S, Bandholm T, Sonne-Holm S. (2016). The functional effect of segmental trunk and head control training in moderate to severe cerebral palsy: a randomized controlled trial. Dev Neurorehabil Dec 26, pp 1-10.
Wu Y, Duncan K, Saavedra S, Goodworth AD (2016). Segmental trunk and head dynamics during frontal plane tilt stimuli in healthy sitting adults. J Biomech 49(13):2831-2837.
Goodworth AD, Wu Y-H, Felmlee D, Dunklebarger E, Saavedra S. (2016). A trunk support system to identify posture control mechanisms in populations lacking independent sitting. IEEE 25(1):19-27.
Santamaria V, Rachwani J, Saavedra S, Woollacott M. (2016) Effect of segmental trunk support on posture and reaching in children with cerebral palsy. Pediatr Phys Ther 28(3):285-293.
Saavedra S, Woolacott MH. (2015) Segmental contributions to trunk control in children with moderate-to-severe cerebral palsy. Arch Phys Med Rehab 96(6):1088-1097.
Rachwani J, Santamaria V, Saavedra SL, Woollacott MH, (2015) The development of trunk control and its relations to reaching in infancy: a longitudinal study.  Frontiers in human neuroscience, 9.
Curtis D,  Hansen L, Bencke J, Saavedra S, Woollacott M, Luun M, Steenberg G, Sonne-Holm S. (2015) "Measuring postural sway in sitting- a new segmental approach." J Motor Behav 47(5):427-435.
Curtis DJ. Butler P. Saavedra S. Bencke J, Kallemose,T, Sonne-Holm S, Woollacott, M. (2015), The central role of trunk control in the gross motor function of children with cerebral palsy: a retrospective cross-sectional study. Dev Med Child Neurol. 57(4), 351-357
Rachawani J, Santamaria V, Saavedra S, Wood S, Porter F, Woollacott MH, (2013) Segmental Trunk Control Acquisition and Reaching in typically Developing Infants.  Exp Brain Res 228(1):131-139
Saavedra S, van Donkelaar P., Woollacott M H, (2012) Learning about gravity: segmental assessment of upright control as infants develop independent sitting. J Neurophysiol 108: 2215-2229. PMC 3545022
Saavedra S, Teulier, C, Butler B, Kim BJ, Smith BA, Martin B, Ulrich BD. (2012) Behavioral and Step Changes in Infants with MMC due to Intermittent Vibration.  Phys Ther, 92:537-550. PMC3317481
Butler PB, Saavedra S, Sofranc M, Jarvis S,Woollacott M. (2010) Reliability and validity of the Segmental Assessment of Trunk Control. Pediatr Phys Ther 22(3):246-57, PMC2927393
Saavedra S, Woollacott M, van Donkelaar P. (2010) Head stability during quiet sitting in children with cerebral palsy: effect of vision and trunk support. Exp Brain Res 201(1): 13-23. PMC2821460
Saavedra S, Woollacott M, van Donkelaar P. (2009) Eye-Hand Coordination in Children with Cerebral Palsy. Exp Brain Res. 192(2): 155-165, PMC2800126
Reilly D, van Donkelaar P, Saavedra S, Woollacott MH (2008) Interaction between the development of postural control and executive function of attention. J Motor Behav 40(2):90-102
Reilly D, Woollacott MH, van Donkelaar P, Saavedra S. (2008) Dual task effects on postural control in children with cerebral palsy: static stance. Arch Phys Med Rehabil. 89:834-842
Van Donkelaar P, Saavedra S, Woollacott MH (2007) Multiple Saccades are more automatic than single saccades.  J Neurophysiol.  97:3148-3151.
Saavedra S, Woollacott MH, van Donkelaar P (2007) Effects of Postural Support on Eye Hand Interactions Across Development, Exp Brain Res. 180(3): 557-567, PMC2744857 
Invited Commentaries:
Saavedra S, (2015) Trunk control in reaching: growing into or out of dysfunction? Invited commentary on "Development of postural adjustments during reaching in infants at risk for cerebral palsy from 4 to 18 months".  Dev Med Child Neurol 57(7):598-599.
Saavedra S, (2015) Trunk control in cerebral palsy: are we ready to address the elephant in the room? Invited commentary on "The relationship between trunk control in sitting and during gait in children and adolescents with cerebral palsy".  Dev Med Child Neurol  57(4): 309-310
Saavedra S, Bellows D, (2014) Commentary on "Sitting Postural Control Affects the Development of Focused Attention in Children with Cerebral Palsy".  Pediatr Phys Ther  27(1):23
Saavedra S, Bellows D, DaCosta C, (2014) Commentary on "Analysis of postural stability in children with cerebral palsy and children with typical development: an observational study".  Pediatr Phys Ther 26(3):331
Unraveling posture control in severe cerebral palsy
Funded by: National Science Foundation Disability and Rehabilitation Engineering (DARE) #1803714
Researchers: Adam Goodworth and Sandra Saavedra
For this study children come to the Pediatric Balance Laboratory. We provide segmental postural support for children and entertain them with videos while administering a series of postural perturbations.  For the children it feels like they are riding in a car on a bumpy road. From an engineering perspective we are able to extract specific information about the child's postural control system and distinguish between sensory motor noise and the child's underlying mechanisms and strategies for maintaining upright control.
Data collections are currently on hold for this study due to concerns about covid 19.  While waiting for the next round of data collections we have been analyzing data and preparing the first manuscript to examine underlying postural mechanisms in children with severe cerebral palsy.
Information will be posted soon.
Training, Tools and Resources
Dr. Saavedra co-authored the refinement and publication of the Segmental Assessment of Trunk Control (SATCo) and presents nationally and internationally on the SATCo and the segmental approach to postural dysfunction. The SATCo is now included in the NINDS core data elements for cerebral palsy and spinal cord injury and it has been shown to be valid and reliable for a number of additional pediatric diagnoses including premature infants, children with Down syndrome and muscular dystrophy.  Students, clinicians and researchers wanting more information about upcoming workshops, online training opportunities and opportunities for collaboration on research can find current resources here. 
Webinars with ApplyEBP
Online Training with Neurorecovery Learning
Online SATCo training for researchers or clinicians who require more extensive training. This course introduces the SATCo assessment, its development and psychometric properties, how to administer and score the SATCo, and application for postural control in the clinic, school, home and research settings.  Information and Registration
Online Training with Optimi.org
Optimi.org.uk is an online training source for researchers, clinicians and families who are interested in SATCo and Targeted Training for upright control. See more
Check back for upcoming presentations.
Sit to Stand Box
Children with disabilities that interfere with their ability to walk independently miss hundreds of opportunities every day for strengthening their muscles and bones through weight shifting and transitions from sit to stand. They depend on other people in their lives to assist them to stand, walk or change position. This places a burden on their caregivers and deprives the children from having choices about how much and how often they move. Caregiver support also reduces the range of control and exploratory movements the children can make.
The task of practicing sit to stand has been used for decades to help strengthen adults and children and has been shown to improve balance and functional skills in ambulatory children with cerebral palsy. However, this opportunity is denied to non-ambulatory children unless their caregivers take time out to help them practice every day.
Our goal in designing sit to stand boxes was to provide non-ambulatory children an opportunity for independent exploration of posture and lower extremity weight bearing, weight shifting and freedom of choice while also allowing their caregivers some level of respite.
We are sharing these instructions with parents, clinicians and researchers so that you can provide the same opportunity to children in your home, clinic or research studies.
As with all professional practice, clinicians must use caution and care to assure the safety of the child and take responsibility to train the caregivers and educational staff in proper use of the equipment.

Please check your professional organization and state practice acts with regards to modification or creation of adaptive equipment.

Additional information related to sit to stand:

Two studies that showed improved balance and function in ambulatory children with CP used sit to stand activities as part of their intervention. The Sit to stand boxes allow non-ambulatory children the opportunity to practice sit to stand movements with as many repetitions as they desire during a day.  More research is needed to demonstrate the effect of this practice on posture and function.
Citations:

1. Katz-Leurer M, Rotem H, Keren O, Meyer S. The effects of a 'home-based' task-oriented exercise programme on motor and balance performance in children with spastic cerebral palsy and severe traumatic brain injury. Clin Rehabil. 2009;23(8):714-724.
2. Salem Y, Godwin EM. Effects of task-oriented training on mobility function in children with cerebral palsy. NeuroRehabilitation. 2009;24(4):307-313.


Videos
These videos show the changes in the sit to stand performance of one child who participated in the pilot study. The first video was taken during the first week of the study, while the second video was taken three weeks later and shows improvement in his ability to stand.
Adjustable height of bolster:
Some children find the traditional 90-degree angle of hips and knees as the starting point of sit to stand too overwhelming.  Studies of sit to stand in adults have shown the benefit of raising the seat height, and we have found this to be very effective for some children in helping this to be an enjoyable activity with hundreds of repetitions per day. 
In these videos, a child in the pilot study was more successful in the Sit to Stand box from an elevated height rather than a traditional 90-90 alignment. Consider using a slightly higher bolster to give the child more ease of movement.
Click here to read the voluntary consent and liability form and download a PDF of the Sit to Stand Box instructions.
Student Research Opportunities
The Pediatric Balance Lab (PBL) offers a variety of research opportunities for graduate and undergraduate students. All PBL research projects are grounded in an interest to better understand how humans learn to deal with gravity in order to function and participate in life. 
Most studies involve some aspect of upright postural control, exploring interactions between the neural and musculoskeletal systems in our bodies and how they are influenced by an external environment that is governed by constant gravitational acceleration. The influence of gravity on function can be altered by specific environmental contexts (external support or alignment) and these can dramatically influence movement capacity and performance.  Some studies involve mathematical or engineering analyses of typical and atypical development of upright postural control, while other studies are more applied and examine how contexts of external support influence function across different types of tasks and settings. 
Most work involves interacting with children who are non-ambulatory and often non-verbal.  We are open to new ideas and concepts for research and we also have a variety of ongoing projects that may have roles available for student involvement.
Before you contact us, take a minute to think about your interests and experiences.  What kind of research opportunity are you looking for? What do you hope to gain from your experience and what strengths can you bring to our projects?  What do you love to do for hobbies or what kinds of things excite you and make you feel fulfilled at the end of the day?  (For example, do you like building things, helping people, solving and understanding complex problems, organizing things, making appointments and schedules, working with spread sheets and checking data?)
Group, graduate research course series in the Doctor of Physical Therapy (DPT) / Master of Science in Prosthetics and Orthotics (MSPO) programs. At the end of the first year of graduate school, DPT and MSPO students have an opportunity to request assignment to a project in the PBL for the Scientific Inquiry and Doctoral Research Course series (DPT 601, 602 and 704 or MSPO 620, 621.).
Extensive independent research study as an alternative to the traditional graduate student research course series (for DPT or MSPO students). These opportunities are most often granted to students who had previously completed research in the Pediatric Balance Laboratory and require extended time to complete data analysis and manuscript submissions.
Master's degree students in affiliated graduate programs at University of Hartford may request the opportunity to conduct research in the PBL. First, find an affiliated graduate program that meets your background and interests. Next, speak with your graduate program advisor and with Dr. Saavedra about the possibility of collaborating to fulfill your research requirements in the PBL.
Affiliated Master's programs (more may be available)
One important skill to learn as a student researcher is how to seek external funding. Writing the application allows you to sharpen you research focus.  If you are able to acquire the funding it will increase the flexibility and independence with which you can complete the study.
Opportunities for external funding may be explored through the Office of Sponsored Research.
CT Space Grant offers graduate and undergraduate research and travel funding opportunities
Dorothy Goodwin Scholars Program for undergraduate students conducting innovative research
Here is a list of previous graduate and undergraduate research funding awards:  
Quimby Wechter, Dorothy Goodwin Scholars Program, 2019-2020, project title: "Determining the reliability of an axial rotation measure for children".
Linda Tran, Dorothy Goodwin Scholars program, 2017-2018, project title: "Monitoring movement patterns in children with severe cerebral palsy."
Alysha Kaminiski, CT Space Consortium graduate research award 2015-2016, project title: "A longitudinal description of sensorimotor adaptations for postural control"
Undergraduate Honors thesis students may apply to do their research project in the PBL. We also welcome undergraduate applicants who are not in the honors program but who have an interest in research. 
Undergraduate students interested in gaining research experience may apply to complete two semesters or more for credit, volunteer and occasionally paid work in the lab. 
Guidelines for undergraduate research
Opportunities to participate in research projects for undergraduate students at University of Hartford:
Student qualities include being curious, hard-working, conscientious and attentive to detail. You need to be consistent about completing all tasks, able to follow instructions and proceed with work without requiring reminders. 
You are not expected to know anything ahead of time, but you are expected to ask questions and consistently make progress towards learning the skills we need you to perform.
Sophomores and juniors are preferred, freshmen and seniors may be considered.  However, freshmen must complete at least one full semester at the University before they become eligible to apply to join a research project.
Research is not like a class; it requires self-scheduling and follow-through. Students usually require at least one semester to get oriented and acquire the basic knowledge and skills to contribute meaningfully to a project. Therefore: a minimum of 2 semesters is required.  Summer work is encouraged. The first semester is probationary; if things are not working well after 1 semester, the student can be dismissed from the requirement of completing a second semester.
Students may volunteer, receive academic credit or in some cases, students may be considered for paid work in the lab.  However, paid positions are offered only after 2 exemplary semesters working in the lab.
Grades for research credit will be based on information such as completion of predetermined research goals. Activities such as: final presentation at a lab meeting, completing specific data collection, data reduction or data processing, or completing a literature review are evaluated quantitatively.  Grades are also determined by qualitative review of the student's rigor, attention to detail, clarity of purpose and communication skills. Consistent, thoughtful progress over the course of the semester is more important and weighed more strongly than intense work at the end of the semester.
In many cases, undergraduate students will be assigned to a graduate student research mentor who will directly supervise their contribution to a project.
Read through the projects presented on the PBL webpages to develop an understanding of typical types of studies. If work in this area is interesting to you, please send an e-mail with the following information to Dr. Saavedra. 
Your name and contact information
Your major, cumulative GPA (min 3.5 required), and expected graduation date
A short essay (1-2 pages) explaining why you want to do research and what kind of research you are interested in participating doing. For example, what type of strengths or interests would you bring to the project (building things, organizing, assisting with data collections, literature review, previous experience working with children with or without disabilities)
Describe at least one project from the website that is most interesting to you. Why? Do you have any comments or questions about the projects?
How would this research experience relate to or benefit your future goals?
Name at least two academic references and their contact information.
Is there anything else you think we need to know when considering your request to be considered for an undergraduate research opportunity?
Stories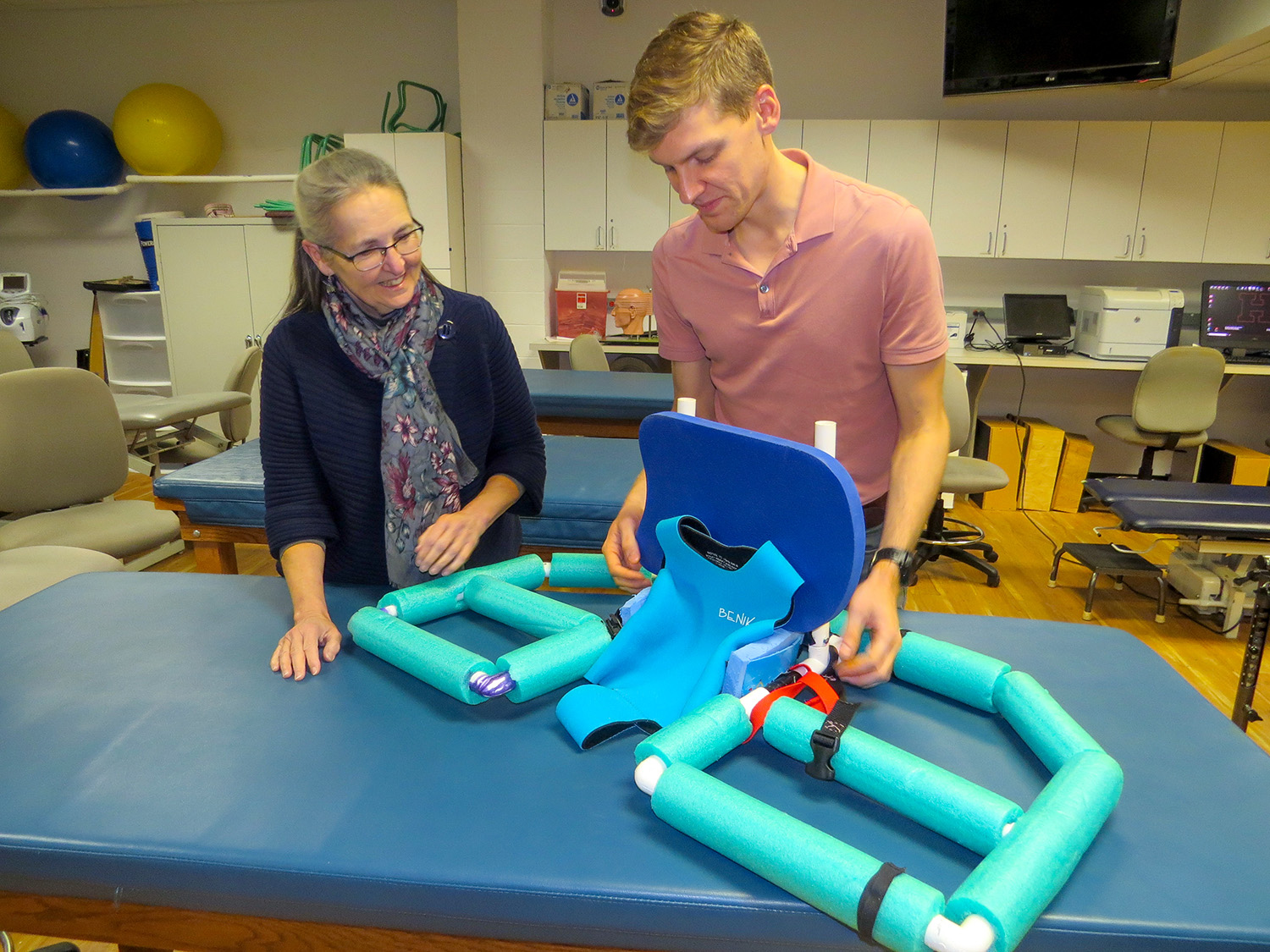 Student's Invention Gives Children With Cerebral Palsy Freedom in the Pool
Physical Therapy student Josh Breighner '20 has developed the Water Strider, a device that allows children with cerebral palsy to play independently in the pool. Tests of the Water Strider have been so successful that Josh and the University have filed a patent application and hope to locate a company to make it commercially available.  Read more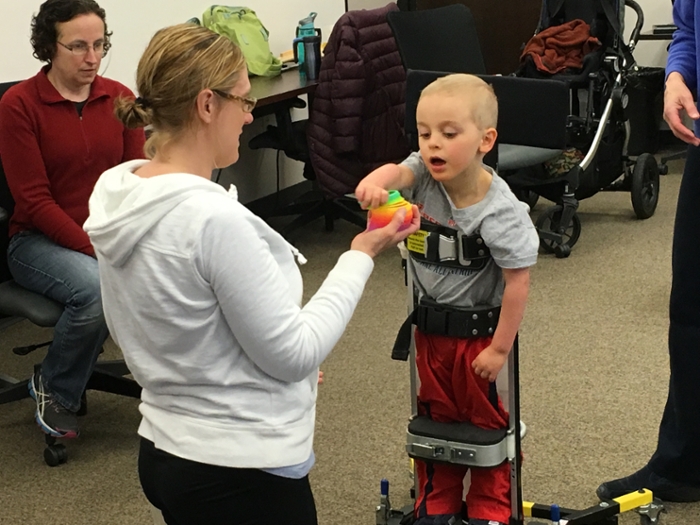 Cutting-edge Research Improves the Lives of Children with Cerebral Palsy
When five-year-old Brayden Starr was diagnosed with cerebral palsy as a baby, his parents struggled to find ways to give him the best quality of life. There are few treatment options for children with moderate-to-severe cerebral palsy (CP), a brain injury that affects body movement and muscle coordination. When the Starrs met Assistant Professor Sandra Saavedra, they found a new option. Saavedra is currently the only physical therapist in the United States who offers a treatment that has dramatically improved Brayden's capabilities. Read more
Contact Information
Sandra Saavedra
Adjunct Faculty
Department of Rehabilitation Sciences
University of Hartford
200 Bloomfield Ave.
West Hartford, CT 06117
saavedra@hartford.edu