The sustainability of our children's dreams is paramount. I am a mentor, a mother, and a former student who would have never stood a chance without the monetary support and mentorship of others, including generous alumni. With that in mind, each year I give what I can to the University.
By Nicole Pielli '12
I am a first-generation college graduate. For so many families like mine, having the opportunity to graduate from college is monumental to our success and to that of our cultures and future generations. UHart has been a defining part of my identity, and my time there showed me what was possible. I took that vision and ran with it.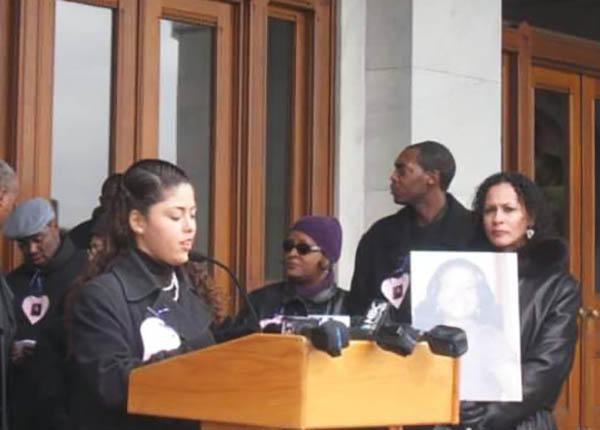 I remember back in 2009 being struck by the tragic news of Tiana Notice '07, murdered by her ex-boyfriend against whom she had a restraining order. Then Professor Harald Sandstrom introduced me to Tiana's father, Alvin Notice; I had never organized an event of this magnitude before, yet Professor Sandstrom believed so much in my ability to galvanize our community in the name of Tiana. On Feb. 14, 2010, hundreds gathered for the Rally Against Domestic Violence at the State Capitol, including then Attorney General Richard Blumenthal, who spoke in support of our efforts; House Speaker Chris Donovan; and Harvard Law School Professor Diane Rosenfeld, who, along with her class drafted the proposed GPS tracking law after its success in Massachusetts. Connecticut later ran a highly successful pilot program that put GPS ankle-monitoring devices on domestic violence offenders, and as a result, women's lives were saved.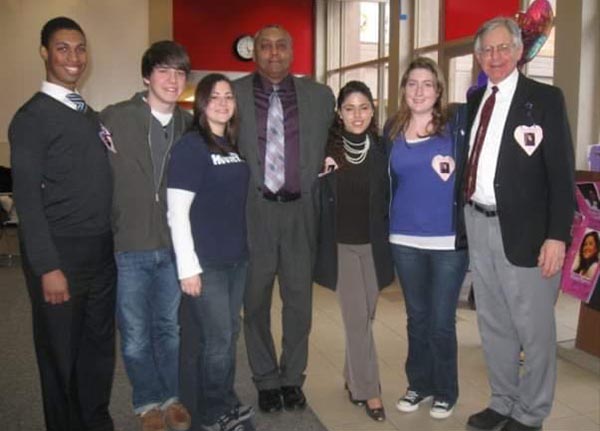 That Rally is the most important memory of my college career—and one of the most meaningful of my professional life. It was the first time that I actually realized I was capable of doing something that was greater than me or any personal purpose of mine. I never knew Tiana Notice; she graduated before I matriculated into the University. Nonetheless, with the support of the UHart community, I was able to help her family and sow lasting change in her legacy. Each of the many times I've doubted myself since 2010, that Rally has come to mind.
(Pictured: People gathered in GSU after the Rally, including Alvin Notice (middle), and the Roosevelt Institute Policy Think Tank's UHart Chapter, which Tiana founded. Nicole was president at the time.)
After UHart, I continued my studies at Penn State Dickinson School of Law, where I was the only of a few categories in my class: the only Puerto Rican, the only person with lesbian parents, and the only one from Brooklyn. There were, however, a few tokens in the class, as though the school was trying to hit some diversity quota—there was one Black woman, one Asian man, and one Saudi. The rest of the class was very White, and at least a quarter of them were legacy students. It was evident that I didn't "belong" there, and many of my classmates, as well as most of the law school administration, never let me forget it. A classmate once asked me to open a locked library door, asking "Well, you're street, don't you know how to use a bobby pin or a credit card or something to get it open?"
With my law school days behind me and two state Bar licenses later, I realize I spent far too much time and attention on others telling me I didn't belong. Women are often told they don't have a place at the table, and women of color are especially undermined, disregarded, and doubted, often reminded that they are there to fill a quota, to simply fill a seat—if they get a seat at all. I hope it's been less isolating for the young, intelligent women who came after me. I want more "assertive, edgy" women from Brooklyn, as the Hartford Courant once described me, to march into the places where they've earned their way without a single doubt about what they are there to do or why they are there to do it. I want all women—Puerto Rican, Black, LGBTQ+, Muslim, Jewish, Asian, mixed race/ethnic women, inner city—to unapologetically take their seats at the table the moment they realize they're the only ones in the room.
Because UHart showed me what is possible, I give back. The motivation is simple: I want this University to keep doing for others what it did for me, and if possible, to do it even better.
The sustainability of our children's dreams is paramount. I am a mentor, a mother, and a former student who would have never stood a chance without the monetary support and mentorship of others, including generous alumni. With that in mind, each year I give what I can to the University. For me, it's not about the amount I give, but the consistency in giving. I hope there is another young student benefiting from my contribution—one who comes from modest means, working to support themselves, whose family dreamed of the possibility they might be on a college campus tirelessly pursuing their goals. And for my daughter, I relish the prospect that one day she matriculates into UHart's class of 2033. That motivates me to do what I can and to encourage others to make their best efforts to sustain the University, its campus, and its incredible programs.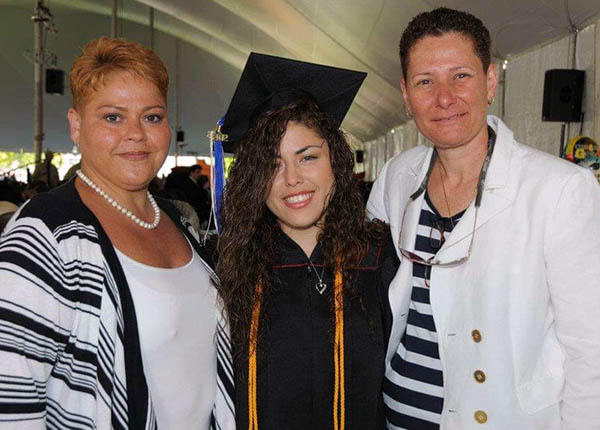 "A legacy is planting seeds in a garden you never get to see." That's my favorite line from Hamilton, and it is so true. I rarely think of my legacy, because its intangible to me. Instead, I think about the next generation, and I hope they can look back and see how far the University has come, and how its alumni—particularly its alumni of color—continue to usher its progress. This next generation is developing during a time when women are taking office, when minorities are being heard, and when communities are coming to a reckoning. I hope this helps them focus their efforts to do even more than we alumni ever thought possible. And for my daughter, I think about the opportunities she might have because her mother had the nerve to pursue more than the statistics afforded her. I think about my mother, Sara, who grew up a ward of New York State. She didn't have half the opportunities I did, and overcame double the adversities just to be my mom. She aspired more for me than she ever did for herself. I think of my late stepmom, Rosemarie, who contrasted so much from my mother—she was privileged, educated, and yet still marginalized by her sexual orientation and the family she raised.
Of all the titles I've earned, "Mother" has by far been the most important. How will my daughter remember me, and how will she portray me to the world? I think about her first day of college 13 years in the future, and how that is a surety to my family now, where it may not have been before. I suppose my legacy is raising my girl child to dream even bigger than all the women before her.
With Professor Sandstrom at Commencement 2012.
With Walter Harrison, former University of Hartford president; and Mala Matacin, associate professor of psychology.
Nicole on her wedding day with her daughter.
With Mala Matacin, associate professor of psychology.