Beginner or advanced, child or adult, classical or contemporary–The Hartt School Community Division has the vocal opportunity for you. Browse through our offerings below to learn more.
Connecticut Children's Chorus
Connecticut Children's Chorus (CCC) unites the youth of greater Hartford through our unparalleled choral training program. We create life-changing musical experiences for highly passionate and skilled young musicians in a supportive, community-centered environment where students' enthusiasm and love for music is nurtured. Our singers transcend social barriers, make meaningful connections, and build important life skills while celebrating global awareness. 
Founded in 1991 within The Hartt School Community Division, CCC has grown from one 60-voice choir to seven choirs encompassing over 220 students (grades 1 through 12) from 40 Connecticut communities. Through a variety of musical experiences guided by dedicated, accomplished directors, choir members have the opportunity to:
Develop comprehensive musicianship skills including reading music notation, healthy vocal production, ear training, movement, and musical interpretation
Engage in music making through a rich repertoire of choral music from different time periods and different cultures
Perform with professional musical organizations such as the Hartford Symphony, the Hartford Chorale, the New Haven Chorale, the Hartt Symphony, other outstanding children's choirs from around the country, and professional tour artists that come through Connecticut
Develop self-esteem and a sense of musical accomplishment
Interact with other passionate and skilled peers from different towns in the Hartford area
Travel to choral festivals and conferences in the U.S. and abroad
Work with professional composers and guest directors
For students in grades 2–5
Trey Pratt - Guest Instructor from New Orleans
Irene Idicheria - Guest Instructor from Boston!
13 Weeks: Feb. 2–April 27, 2021
Tuesdays, 5:30–6:30 p.m.
Tuition: $215
In Spring 2021, the Youth Choir hosts guest artists Irene Idicheria and Trey Pratt for thirteen sessions of music, movement, and storytelling. We'll sing stories of dreams and courage, and discover how their meanings unfold in our daily lives. The semester ends with a multimedia video project that highlights the civic and artistic voices of our young people: "My Story. Our Strength." 
Register by January 26, 2021!
For students in grades 6–8
Led by Jennifer Fijal-Brevik
4 Weeks: Oct. 6–27, 2020
Tuesdays, 6:00–6:45 p.m.
Tuition: $60
Join Jennifer in a 4-week online choral experience focusing on encouraging young thinkers and future leaders. We will learn songs focusing on empathy and bravery, ending with a Virtual Choir experience.
For students in grades 8–12
Led by Meredith Neumann
8 Weeks: Oct. 6–Nov. 24, 2020
Tuesdays, 7:00–7:45 p.m.
Tuition: $140
Interested families should contact the main office at 860.768.4451 or harttcomm@hartford.edu. 
Led by Mark Singleton
8 Weeks: Feb. 1–March 23, 2021
Tuesdays, 7:00-7:45 p.m.
Tuition: $140
This spring Primi will continue their fall work, building on four-part choral/virtual choir skills with another composition by Mark Singleton. Primi singers will also begin to focus on the audio component of their virtual ensemble - both in choral singing and in post-production.
 Contact the main office at 860.768.4451 or harttcomm@hartford.edu for more information.

Adult Choir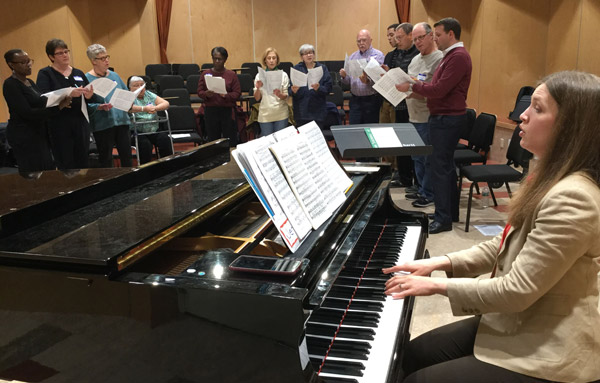 The Adult Choir is an ensemble where adults can experience great choral music and come together as a community, with a focus on vocal health and freedom in a light-hearted and educational setting. With membership as diverse as its repertoire, ACC is made up of parents of young Hartt Community School students, recent graduates looking for a rewarding creative outlet, working professionals, and seniors who have always loved singing and finally have the time to enjoy it! Join Jennifer for an online choir experience that culminates in a Virtual Choir collaboration! Conducted by Jennifer Fijal-Brevik. 
Listen In
Placements for the upcoming academic year are held at our annual Audition Festival in June, or by appointment any time during the year. Please feel free to contact the main office with questions regarding audition guidelines and expectations.