Composition and Musicianship
The Composition and Musicianship Department offers group classes and private lessons that deepen students' understanding of how music works and fosters their ability to express themselves musically. The Musicianship programs give students a strong foundation in reading music, ear-training, and analysis. The Composition programs provide instruction on the techniques and processes of creating music in a variety of styles and genres, while allowing students to develop their skills through hands-on workshops and performances. Browse through the C&M offerings below to learn more
Young Composers Project | Musicianship Group Classes | Conducting Basics | Composition/Theory Private Lessons 
Conducting Basics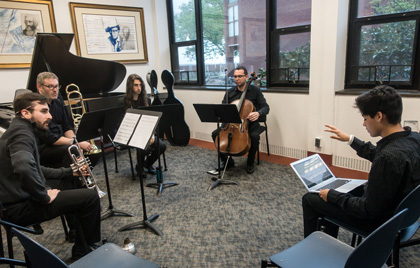 This 6-week introduction to the fundamentals of conducting will allow students to receive hands-on instruction from HCD faculty member Scott A. Provost Switzer on aspects of successful ensemble leadership. Topics include conducting technique, score reading, and musical interpretation. At the end of the course, students will have an opportunity to apply their newfound skills by conducting an instrumental ensemble.
Students must be in grades 9 through 12 with a minimum of 3 years of musical study on their instrument of choice. They must read music, and have a solid understanding of time and key signatures. This course is open to all instrumentalists as well as vocal students.
Please contact department head Jessica Rudman at rudman@hartford.edu to be placed on our interest list.
Musicianship Group Classes
Musicianship classes allow students to build skills and gain knowledge relating to music theory, ear training, and music history. These engaging classes are filled with opportunities for listening, discussion, and active participation. Students will apply concepts through performance, analysis, and composition. Both in-class and at-home activities will help students master the covered material and grow as musicians. For the convenience of our students, these classes are offered both in-person and online.
Classes and Tuition
| Class | Tuition for HCD Private Lesson Students | Tuition for All Others |
| --- | --- | --- |
| Fundamentals I (Online) | Free | $125 |
| Fundamentals I (In-Person) | $200 | $475 |
| Fundamentals II | $200 | $475 |
| Advanced | $200 | $475 |
Young Composers Project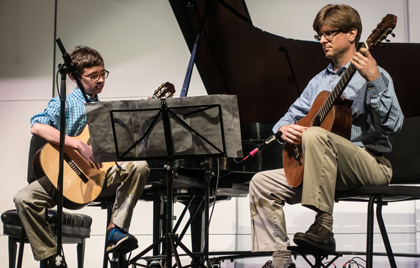 The Young Composers Project (YCP) inspires students to express themselves creatively in music. This unique program is designed for students of all experience levels, and will provide each student with the skills necessary to develop their own voice as a composer. The course of study found in YCP not only helps prepare students for future compositional work (such as collegiate study or a career in composition), it also deepens their understanding of music.
Click here to learn about YCP Summer Edition.
YCP participants work with a faculty composer in one-hour classes from October to May. The small class size fosters a collaborative environment and allows students to spend a considerable amount of time on personal projects. Class time is typically divided between instruction on various compositional techniques and group discussion of the students' in-progress pieces.
In addition to the regular class meetings, YCP also includes a number of special activities for the students. In the past, these have included master classes with visiting composers, behind the scenes visits to rehearsals of local ensembles, and a special reading/recording session in which advanced students performed each others' works.
YCP is for students in grades 7–12 with an interest in:
Learning to express themselves through music
Gaining a deeper understanding of how music works
Sharing their music with other students
Studying with active and enthusiastic mentor composers
Working with professional musicians
Hearing their music realized in live performance
Students of all levels are welcome. Previous composition experience is not required, though students should be comfortable reading music. Intermediate/advanced students are welcome in YCP, and/or are encouraged to consider private composition lessons.
Classes will be offered at the following days/times:

Tuesdays at 7:30–8:30 p.m.
Saturdays at 10-11 a.m.
Saturdays at 2:35-3:35 p.m.
Tuition: $475
Interested in starting mid-year? Please e-mail department head Jessica Rudman at rudman@hartford.edu. 
Hearing one's music realized by live performers is essential to growing as a composer, so YCP has partnered with the Hartford Independent Chamber Orchestra for an exciting residency. YCP students will have the opportunity to participate in reading sessions with HICO musicians during the fall and winter, and a subset of the ensemble will be available to perform students' compositions at our annual final concert in May. Students receive recordings of all reading sessions and the final concert for their own personal use.
Participants will use relevant music software to communicate their ideas.  Access to a computer to complete work outside of class is required. If you would like recommendations on software (including free options for those starting out) or have questions about the use of technology in this program, please contact Dr. Rudman at rudman@hartford.edu.