Hartt Preparatory Academy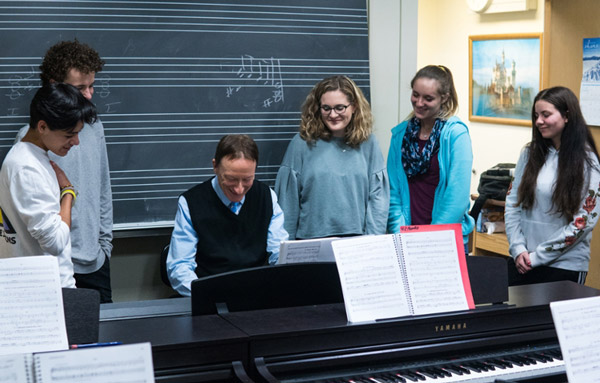 The gateway to an accelerated Bachelor of Music program.
Core classes meet Mondays and Thursdays, 6–8:40 p.m., September–May at The Learning Corridor, 15 Vernon St. Hartford. 
The Hartt Preparatory Academy (HPA) is a two-year, comprehensive pre-college music training program for high school juniors and seniors. The program includes music theory, ear training, keyboard studies, performances, advanced ensemble, private instruction, and other classes. Students fulfill academic and musical requirements that prepare them for an accelerated undergraduate music degree at The Hartt School. This is an unprecedented curricular pathway approved by the University of Hartford.
Students interested in the program are encouraged to speak with director Jessica Rudman and observe a class before applying. Merit-based and need-based scholarships are available.
Candidates must meet the following criteria:
plan to major/minor in music after high school
demonstrate exemplary skill with their primary instrument or craft
should have previous private music instruction experience
should understand basic musicianship and music theory principles
must have a track record of commitment, academic excellence, and a passion for the performing arts
Students apply for the program during their sophomore year in high school for entrance in the following fall. Applicants must complete an online application form, audition on a primary instrument/voice, and interview with program directors. 
Details about auditions will be here posted in early spring. Students are encouraged to submit their HPA application by May 31 so their interview can be scheduled prior to the audition. After that date, applications and auditions will be considered on a rolling basis as space allows.
Audition requirements for different instruments/voice are given below. In addition to these requirements, scales and/or sight-reading may be required.
Piano: perform three contrasting pieces of different historical periods/styles. At least one of the pieces must be performed from memory.
Voice: Sing one aria or art song with or without accompaniment. Submit through the vocal audition submission form. This will serve as both your audition for HPA and your audition for placement in the HCS choirs. 
Classical Guitar: You will audition through an individual meeting with a member of the collegiate guitar faculty at a mutually convenient time. Once your HPA application has been received, Dr. Rudman will contact you about setting up an audition. You perform one prepared piece of your choice. You may also be asked to play music you are currently learning, perform scales, and/or do sight-reading.
All other instruments: perform one movement of the student's choice unaccompanied.
Classes meet on Mondays and Thursdays, 6–8:40 p.m., September–May.
Please note: Beginning next year, classes will be meeting on Mondays and Wednesdays.

HPA students are assigned to one of two learning cohorts. Cohorts include up to eight students each, for a total of 16 students per class year. Core classes meet two evenings per week from 6–8:40 p.m., in addition to private lessons and ensemble work. Students receive 28 one-hour weekly lessons during the school year as part of their HPA tuition package.
YEAR I CORE CURRICULUM
First-year students attend the following classes:
Diatonic Harmony
Elementary Ear-training 1
Piano Keyboard Class 1 (an alternative is provided for piano performance students)
University Interdisciplinary Studies or Academic Writing 110 (offered in alternating years)
Information Literacy in the Performing Arts
SUMMER I CORE CURRICULUM
Students complete an online University Interdisciplinary Studies (UIS) class through HPA.
YEAR II CORE CURRICULUM
Second-year students attend the following classes twice weekly:
Chromatic Harmony
Elementary Ear-training 2
Piano Keyboard Class 2 (an alternative is provided for piano performance students)
University Interdisciplinary Studies or Academic Writing 110 (offered in alternating years)

YEAR I AND II REQUIREMENTS

Students must complete the following performance requirements:
Four semesters of private lessons with an approved HCD faculty member
Four semesters of an HCD advanced performing ensemble:

Connecticut Youth Symphony,
Greater Hartford Youth Wind Ensemble
Connecticut Children's Chorus (Primi Voci, Women's, and/or Men's Choir)
Advanced Chamber Ensemble (for pianists)
Guitar Ensemble (for classical guitarists) 
Composers Ensemble (for composers)

Composition students will register for two years of the Young Composers Project or a comparable composition private lesson experience
Complete a performance jury at the end of year one
Present a culminating recital at the end of year two
At the completion of the program, HPA students may audition and apply for entrance to University of Hartford and The Hartt School. Pending acceptance, students may complete select undergraduate music degrees in three years or an otherwise reduced period of study. These degree programs include:
BM Performance - Orchestral Instruments
BM Performance - Voice
BM Performance - Piano
BM Performance - Guitar
BM - Composition
BM - Theory
BM Music Education - Instrumental*
BM Music Education - Vocal*
BM History - Performance Practice Emphasis
BM History - Scholarship and Research Emphasis
BA in Music
* Because of the course requirements and student teaching, students pursuing music education degrees may be able to complete their degrees in 7 semesters.
2021-2022 Tuition: $5,000 per year ($10,000 in total) 
Tuition includes HPA coursework, 28 one-hour weekly private lessons, advanced ensemble enrollment, and texts for core classes. Additional fees for field trips and additional activities or workshops may apply.
Savings for HPA students
Fees for enrollment in these courses and activities outside of HPA total over $11,000 per year.