HCD offers several summer programs for students grades 7–adult. Browse through the offerings below to learn more:
American Saxophone Academy 2023
June 24-July 1, 2023
Now in our 11th year, the American Saxophone Academy was designed by five American saxophonists with the goal of providing an exceptional solo and chamber music experience for advanced saxophonists. This one-week program includes lessons, master classes, quartets, and saxophone ensembles as well as some dedicated social time to bond with fellow saxophonists from around the world. This program is for advanced college students (sophomores, juniors, seniors, graduate students) and above, including professional players. Participants must have completed one year of university-level studies or the equivalent. Existing quartets and international students are encouraged to apply! If you have questions, please contact Carrie Koffman at koffman@hartford.edu.
Please note: The American Saxophone Academy is limited to 40 participants, which will be selected on a "first-come, first-served" basis. Participants must have completed one year of university-level studies or the equivalent to participate in the program.
Registration Deadline: May 1, 2023
Tuition: $845.00 per participant; this tuition does not include housing or food.
Location: Alfred C. Fuller Music Center 
Additional Program Details
9:00–10:25 a.m. - Group Lessons
10:30 a.m.–12:30 p.m. - Private Lessons/Individual Practice
12:30–2:00 p.m. - Lunch Break
2:00–3:20 p.m. - Private Lessons/Individual Practice
3:35–5:00 p.m. - Quartet Rehearsal/Coaching
5:00–6:30 p.m. - Dinner Break
6:30–8:00 p.m. - Saxophone Ensemble Rehearsal
8:00 p.m. - Social Hour
*Participants will receive one 40-minute lesson with each of the five faculty over the course of the program. 20 participants will be selected to perform in the masterclass with Susan Fancher, though all participants are invited to observe.
Convenient and affordable on-campus housing is available to American Saxophone Academy participants. 
Park River Apartments are fully furnished apartments with 2-4 bedrooms, 1 bathroom (with separate toilet, sink, and shower areas), a kitchen and a living room. Each apartment houses 2-4 total guests. Apartments include basic table service, cooking supplies, paper starter kit (tissues, paper towels, and toilet paper), and cleaning supplies.  
Single-occupancy bedroom            $60 per night 
Double-occupancy bedroom           $45 per night 
Apartments are air conditioned and include access to complementary laundry facilities, 30 cable channels (guest device required) and reliable and secure campus WIFI. All utilities are also included.   
Linen packages are available for $45 and include 2 bath towels, face cloth, fitted sheet, flat sheet, pillowcase, pillow, and blanket (must be reserved in advance).  
Questions? Contact Jill Engel-Hellman.
If you are staying on campus in Park River Apartments, they include kitchens, so you can bring or order groceries and cook as you wish.
The University of Hartford will be offering a limited breakfast and lunch dining option on campus that will be open Monday-Friday over the summer at Gengras Student Union. This is available for purchase with credit or cash on site.
Off-campus restaurants are within a 15-minute drive from campus, either at Bishop's Corner, West Hartford Town Center, or in Bloomfield.
The American Saxophone Academy will be catering dinner for all 7 nights on our campus. This must be paid for separately at a total cost of $150. Faculty and students will dine together each night. Please note that while this is not required, it is encouraged, both to make access to evening meals more convenient, and for the opportunity to better get to know each other and enjoy one another's company.
Music Industry 2023
JULY 10-14
This program is cancelled for Summer 2023.
Rising Sophomores through recently graduated seniors in high school will engage in a series of workshops that focus on Songwriting, Music Production, Recording Techniques, and Music Business led by Hartt faculty in the Music Production & Technology Department, the Music and Performing Arts Management Department, and famed singer-songwriter Javier Colon, our 2023 guest artist in residence. In this dynamic program, students work collaboratively to compose original music, learn how to record their ideas in Hartt's world-class recording studio, and how to market their music in today's multi-faceted entertainment industry. This program is ideal for any student who loves to create music, wants to meet other creative young people, and is curious about what a career in the music industry is all about. 

Register by may 1, 2023
Students will engage in week-long programming that focuses on the ins and outs of what the business while working on their own creative projects. Throughout these workshops, students will engage in seminars consisting of both Music Industry and Music Production techniques and methodologies.
Students will work with singer-songwriter Javier Colon to develop a custom piece of music to be recorded during the program. Along the way, students will learn the business elements that describe how a song is brought to market including copyright issues, how the music will fit into a larger marketing campaign, how the music will be packaged and distributed through physical and digital delivery systems.
In afternoon sessions, students will work with professional producers and engineers as they learn the basics of how a song is constructed, how demos of the song are recorded, the basics of how microphones are used to record music, mixing and mastering.
The culmination of the week will include a presentation of student work, and collected feedback from faculty and guest artists.
Young Composers Project: Summer Edition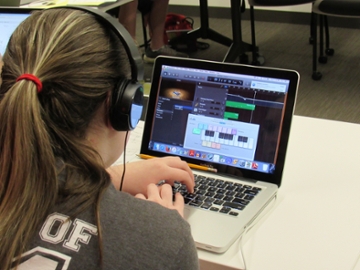 July 17-21, 9:30 am-4:30 pm 
This intensive program is designed for students in grades 7–12 who are passionate about writing music. Students will learn composition techniques, approaches to media scoring while actively developing music for film, TV, and/or video game scenes. Students will share a sampling of their projects in a presentation for family and friends on the last day of the program.
AUDIENCE
The YCP Summer Edition is for students with interest in:
Creating music for film, TV, and/or video games.
Working with computer software to compose electronic music.
Learning to express themselves through music.
Gaining a deeper understanding of how music works.
Sharing their music with other students.
Studying with professional mentor composers.
Faculty 
2023 Faculty Includes:
Register by JuNe 1, 2023
Students in the in-person program will meet daily from 9:30 a.m. – 4:30 p.m. at the Allen Library. The day will be divided between group instruction, guest workshops and talks, and independent work time. Students will receive feedback on their projects in group sessions and in short 1:1 discussions during work time. 
Students should plan to bring headphones and a bagged lunch or lunch money. More details will be sent no later than one week before the start of the program.
Sample Schedule:
Monday
9:30 – 10:30   Welcome, Listening Session and Discussion
10:30 – 11:30  Music & Meaning: Architypes, Orchestration, and Leitmotif
11:30 – 12:30  Scoring in GarageBand: Introduction and Lab
12:30 – 1:30    LUNCH
1:30 – 2:30      Writing a Character Theme
2:30 – 3:30      LAB: Creating a Character Theme from a Still Image
3:30 – 4:30      Critique
Tuesday
9:30 – 10:30    Morning, Afternoon, and Night Music: Setting a Scene
10:30 – 11:30  LAB: Setting the Scene from a Still Image
11:30 – 12:30  LAB: cont.
12:30 – 1:30    LUNCH
1:30 – 2:30      Composing and Action Cue: Hooks, Hits, Layering, Ostinato, & Pacing
2:30 – 3:30      LAB: Action Cue or Gaming Sequence
3:30 – 4:30      LAB: cont.
Wednesday
9:30 – 10:30    Critique all works in progress
10:30 – 11:30  Spotting Session: Scoring to Picture "Lift-Off"
11:30 – 12:30  Composition: Lift-Off
12:30 – 1:30    LUNCH
1:30 – 2:30      Pixar Shorts
2:30 – 3:30      LAB: continue projects
3:30 – 4:30      LAB: cont.
Thursday
9:30 – 10:30    "Mickey Mousing" & Cartoon Scoring
10:30 – 11:30  LAB: Cartoon Short
11:30 – 12:30  LAB: cont.
12:30 – 1:30    LUNCH
1:30 – 2:30      Scary Scoring
2:30 – 3:30      LAB: Spooky Cue
3:30 – 4:30      Critique all works in progress
Friday
9:30 – 12:00    LAB: finishing touches
12:00 – 1:00    LUNCH
1:00 – 2:30      Q & A with Jason & Nolan Livesay
2:30 – 3:00      Sound Check
3:00 – 4:30      Concert: each student will get to present 1 – 3 pieces set to picture
This program is designed for students using Garageband, though students with experience in another acceptable software program may use that (see below for details).
All recent versions of Garageband for Mac are capable of scoring video and can be used for this program. NOTE: Garageband for iOS is not capable of scoring video, and so using Garageband on an iPhone or iPad will not be sufficient for this program.
A limited number of Mac laptops with Garageband are available for students to use. If you would like to borrow a computer, please indicate that when registering. Laptops will be allocated on a first-come basis. Requesting a laptop on the registration form does not necessarily mean one is still available. Someone will contact you within 1 week of registering if there are no longer any laptops available for loan. 
In-person participants will use the laptops on campus during class time. Remote program participants will borrow a laptop for the duration of the program. Families who borrow laptops will need to sign an agreement and will be held financially responsible for any lost or damaged equipment. Details about loan agreements and equipment distribution will be sent after a laptop has been assigned to a student.
If a student already has experience with another software and has access to that program on their computer, they can use that program. Aside from Garageband, acceptable software includes recent versions of: Logic Pro, ProTools, and Cubase. FL Studio may be used if the Video Player 2 extension has been installed (note: the demo version will only allow 30 seconds of video and will not be sufficient for this program). Noteflight may be used as a supplemental software, but on its own it not sufficient for this program.
Students planning to use a software other than Garageband should confirm with Dr. Swanson before registering for the program.
The theme for YCP Summer changes each year, so the recordings below may feature different performing forces than are available this year. 
Meredith Wickles: The First Snow Fall
Joseph Hayes: Satellites
Summer Vocal Institute (SVI)
August 7-11: 9:00 a.m. - 5:30 p.m.*
*Final Showcase Performance: Friday, August 11 - 7:00PM 
Program Overview:
The Summer Vocal Institute is a new vocal performance program for high school singers ages 14-18. This week-long immersive experience provides private voice lessons, repertoire coachings, group classes, and masterclasses led by members of the distinguished Hartt Vocal Studies Division and guest artists.  SVI's program provides students with the opportunity to both polish their current vocal repertoire, as well as to learn new pieces. The program will take place at the Handel Performing Arts Center, University of Hartford, located at 35 Westbourne Pky, Hartford, CT. In addition to private voice lessons and coachings, students will also take part in daily acting, movement, and career focused group seminar-style classes.  SVI focuses on the process of not only finding and nourishing a singer's individual voice, but also strives to increase each student's skill set, help make meaningful connections to professionals in the field, and create pathways for each student to grow on their own musical journey . This program will be ideal for student singers who want to explore the possibility of vocal performance as a college major, but is also valuable for any singers who want the experience of delving into the process of advanced vocal study. SVI culminates in a live performance Friday, August 11th at 7 p.m. in Roberts Blackbox Theater. This performance will feature both solo and full group pieces that will showcase and celebrate the work and growth the students have experienced during the program.  The final performance will be open to parents and family members as well as live streamed by the Hartt School.
REGISTER BY JUNE 1, 2023
Note:
You will be prompted during online registration to upload a video link of yourself singing. This piece should be a classical or legit musical theater piece that reflects your current level of vocal education and skill. We want to know you as a singer! This video is not an audition. It will simply allow the faculty to place you into the correct vocal class and with a private teacher. If you do not have your video at the time of registration, please email your video link to harttcomm@hartford.edu labeled "SVI 2023" and include the applicant's name.
Sample Daily Schedule:
9-10  Morning Meeting; Physical Warm Up; Movement for Singers 
10:10-11:20 Voice class
11:30-12:30 Private lesson or Coaching; Daily Topic I
12:30-1:00 Lunch 
1:00 -2:00 Masterclass or Intro to Diction/IPA
2:10-3:20 Acting
3:30-4:30 Private Lesson or Coaching; Daily Topic II
4:30-5:30 Ensemble Rehearsal; Daily Wrap-up