Virtual American Saxophone Academy 2021
June 28-July 2
Faculty:
Carrie Koffman, The Hartt School & Yale School of Music
Chien-Kwan Lin, Eastman School of Music
Timothy McAllister, University of Michigan
Otis Murphy, Indiana University
Kenneth Tse, University of Iowa
The American Saxophone Academy was designed by five American artist-teachers with the goal of providing an unparalleled experience for advanced saxophonists. Participants in this year's virtual ASA program will receive 45-minute private lessons with all five faculty members and attend two group classes with each of our faculty for nearly 14 hours of instruction during the 5-day experience.
Young Composers Project: Summer Edition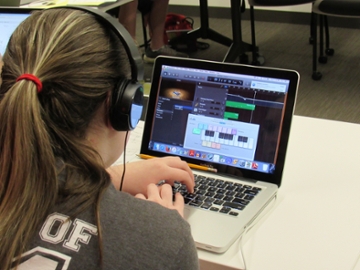 August 2–6 and 9–13, 2021
One session for both new and returning students.
This remote two-week intensive is designed for students in grades 7–12 who are passionate about writing music. Learn composition techniques, approaches to media scoring while actively developing music for film, TV, and/or video game scenes. The online program includes synchronous instruction (approximately 1.5-3 hours per day) and supplemental online content for students to watch on their own. Students will participate in remote classes, small group breakout sessions, and 1:1 mentoring. Additional, Asynchronous material will be provided for students to watch on their own.
Register by July 1, 2021
We encourage you to contact our administrative team with questions by e-mailing Program Director, Jessica Rudman or calling 860-768-4451.
The online YCP Summer Edition will provide students with a mix of pre-recorded videos, live group instruction, small group breakout sessions, and short one-on-one sessions. All real-time activities will be scheduled in the afternoon Eastern Time (ET) Monday through Friday of the two weeks the program runs. Students will also work on assignments and individual projects outside of the scheduled activities. Students should expect to spend at least 2 hours per day outside of dedicated meeting times to work on their projects.
Pre-recorded videos will include tutorials for using Garageband and mini-lectures on other topics related to composing music for film, tv, and/or video games. There will be up to approximately one hour of pre-recorded videos posted per class day (M-F). Students should watch these prior to the live sessions for each day, and videos will be posted in advance to allow for students time for viewing. 
Live group instruction will include sessions by program faculty on spotting and scoring a film clip, how to compose music for cartoons, profiles and discussion of prominent film composers' music, and more. Talks by one or more guest artists will also be presented. All live group sessions will be recorded and made available so students can refer back to them later.
Additionally, YCPSE faculty will lead breakout sessions for small groups of students (typically 4-5 per session) to give feedback on students' work and go deeper into the material from live and/or pre-recorded lessons. Breakout sessions will be approximately 60 minutes in length. Group membership will rotate so students get a chance to interact with different members of the class and faculty throughout the program.
Students will also receive multiple 15-20 minute individual lessons to discuss their work and course material with a faculty member. Break-out sessions and private lessons will be scheduled individually, and students will receive a personalized schedule at least 1 week prior to the start of the program.
NON-REFUNDABLE REGISTRATION FEE:
$25
Program Tuition: 
$775 
AUDIENCE
The YCP Summer Edition is for students with interest in:
Creating music for film, TV, and/or video games.
Working with computer software to compose electronic music.
Learning to express themselves through music.
Gaining a deeper understanding of how music works.
Sharing their music with other students.
Studying with professional mentor composers.
Faculty 
2020 Faculty Included:
View what a student's sample schedule for 2021. On days with breakout sessions, students will be assigned to attend one such such session. 1:1 appointments will also be assigned during such blocks on the schedule.
No activities are scheduled for Saturday and Sunday 8/7-8/8, though students are expected to work on their projects
Throughout YCPSE, the program director and/or assistant will be available via e-mail and/or virtual office hours to assist as needed with any trouble-shooting or other questions that arise during the program.
Class materials will be housed in Google Classroom. Live instruction will be completed via Zoom, and details will be made available at least one week prior to the start of the program. Students will have access to class materials through the end of 2021.
This program is designed for students using Garageband, though students with experience in another acceptable software program may use that (see below for details).
All recent versions of Garageband for Mac are capable of scoring video and can be used for this program. NOTE: Garageband for iOS is not capable of scoring video, and so using Garageband on an iPhone or iPad will not be sufficient for this program.
A limited number of Mac laptops with Garageband are available for loan to local families. If you would like to borrow a computer, please indicate that when registering. Laptops will be allocated on a first-come basis. Requesting a laptop on the registration form does not necessarily mean one is still available. Someone will contact you within 1 week of registering to confirm that a laptop is available, and our staff will update this website as soon as possible once all laptops have been assigned. 
Families who borrow laptops will need to sign an agreement and will be held financially responsible for any lost or damaged equipment. Details about loan agreements and equipment distribution will be sent after a laptop has been assigned to a student.
If a student already has experience with another software and has access to that program on their home computer, they can use that program. Aside from Garageband, acceptable software includes recent versions of: Logic Pro, ProTools, and Cubase. FL Studio may be used if the Video Player 2 extension has been installed (note: the demo version will only allow 30 seconds of video and will not be sufficient for this program). Noteflight may be used as a supplemental software, but on its own it not sufficient for this program.
Students planning to use a software other than Garageband should confirm with Dr. Rudman before registering for the program.
The theme for YCP Summer changes each year, so the recordings below may feature different performing forces than are available this year. 
Meredith Wickles: The First Snow Fall
Joseph Hayes: Satellites
Summer Musical Theatre Intensive: Preprofessional
Summer Musical Theatre Intensive: Preprofessional will not run for the Summer of 2021.