Check back often for information about visiting music instructors, workshops, and master classes available through the Hartt School Community Division.

Suzuki String Workshop | Sousapalooza
March Suzuki Workshop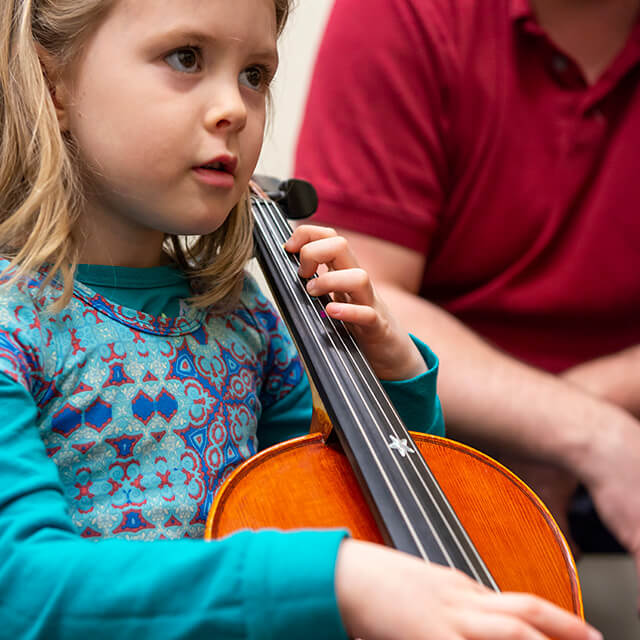 Friday, March 13
Guitar, Violin, Viola (HCD Only)
Saturday, March 14
Violin, Viola, Cello (HCD and Public)
Sunday, March 15
Cello, Teacher Development (HCD and Public)
Join us for a weekend of intensive instruction, motivation, and fun with some of the most creative clinicians in North America! Events vary by day, and include diverse offerings such as personalized master classes, repertoire classes, technique classes, enrichment classes, and teacher development.
Violin, Viola, and Guitar Intermediate and Advanced Master Classes
Friday, March 13 (by invitation only to HCD students)
Friday afternoon/evening is dedicated to master classes with our innovative guest clinicians. Master classes give students the unique opportunity to not only be coached by our distinguished guest clinicians, but also to be inspired by their peers.
All master classes are one-hour in duration. Intermediate master classes will have 3 students per hour, and advanced master classes will have 2 students per hour. Students can expect to receive one-on-one coaching with a guest clinician as well as the opportunity to observe the clinician work with other students during this hour. Families will be notified in advance regarding their assigned time and asked to attend the full hour.
LOCATION
Universalist Church of West Hartford, 433 Fern St., West Hartford, Conn.
ADVANCED FRIDAY MASTER CLASSES
Violin, Viola, and Guitar students should be in Book 6 or above and be recommended by their HCD Suzuki teacher.
INTERMEDIATE FRIDAY MASTER CLASSES
Violin, Viola, and Guitar students should be in Books 2-5 and be recommended by their HCD Suzuki teacher.
Violin and Viola Workshop
Saturday, March 14
Saturday format consists of repertoire, technique, and enrichment classes of varying sizes and levels. Students are scheduled for three to four hours of classes (depending upon level/instrument), held from 9:00 a.m. to 2:30 p.m. with a break for lunch*. The workshop culminates with a guest recital at 2:30 p.m. by clinician Scott Conklin. Join us in Lincoln Theater for this special, free concert!
Schedules will not be available before the workshop. Please fill out your online registration carefully with complete information. Confirmation of receipt of payment will be sent by e-mail.
Check-in and classes will take place at The Hartt School in the Fuller Music Center on the University of Hartford campus. Upon entering the Bloomfield Avenue campus of the University, continue until you reach Parking Lot D. Park in non-desiganted spot in Lot D and enter The Hartt School, which is directly across the street. Signs will be posted to help you find the registration station.
TIMES
Please arrive 30 minutes prior to your first class. Exact start time (9:00 a.m. or 10:00 a.m.) will be listed in your informational e-mail to be sent one week prior to event.
Note: All classes finish at 2:20 p.m. followed by a guest recital at 2:30 p.m. in Lincoln Theater. Free and open to the public!
Saturday violin/viola schedule is open to all students currently studying with a Suzuki teacher. Students should be at least 4 years of age and able to play the fourth piece in Book 1 to participate in the weekend violin/viola workshop.
Cello Workshop
Saturday, March 14 and Sunday, March 15
More information to come!
Free Time
Students may not be scheduled every hour. It is suggested that during the child's free time observation of more advanced students occur. Feel free to observe any class as room allows. There are also plenty of practice rooms available on the lower level of The Hartt School (Fuller Music Center).
*There are no lunch facilities available on the University campus on the workshop weekend. Please bring a bag lunch and visit with friends. A space will be provided where lunch can be eaten.
Teacher Development Sessions
Sunday, March 15
9:30–11:30 a.m. 
Presenter: Carey Beth Hockett
*All strings welcome
Group Class Techniques 
Join clinician Carey Beth Hockett in a two-hour cross-instrument session as she discusses group class techniques, including how to creatively engage students of all levels! Bring your instrument for this fun hands-on teacher workshop!
1:00–5:00 p.m.
Presenter: Carol Dallinger
*All strings welcome, though two topics are more violin-specific
Hidden Gems of Suzuki    
Come explore the forgotten exercises of Dr. Shinichi Suzuki! Carol Dallinger will share various gems that she learned from Dr. Suzuki's Talent Education Journals, his annual reports, and his various visits to Suzuki conferences. Please bring your violin to try out old and new ideas!
Etudes: connecting outside materials to our repertoire
Ever wonder what etude would help your student with their violin repertoire? Interested in locating an etude that address the proper left hand work or bowing technique that a piece requires? Matching of proper outside material will be explored by clinician Carol Dallinger as she masterfully weaves her way through the violin literature.
Teachers have the option of registering for morning only or afternoon only OR both at a bundled, discounted rate!
LOCATION
The University of Hartford's The Hartt School, 200 Bloomfield Ave., West Hartford, Conn.
Praised as "passionate and elegant" by The New York Times, cellist Amy Sue Barston has performed as soloist and chamber musician on stages all over the world, including Carnegie Hall, Alice Tully Hall, Ravinia, Caramoor, BargeMusic, Haan Hall (Jerusalem), the Power House (Australia), the International Musicians Seminar (Cornwall, England), Symphony Center (Chicago), the Olympic Music Festival, and the Banff Centre (Canada). At age seventeen she appeared as soloist with t he Chicago Symphony on live television, won Grand Prize in the Society of American Musicians' Competition, and won First Place and the Audience Prize in the Fischoff National Chamber Music Competition.
Starting cello at age 3, Miss Barston studied with Nell Novak at The Music Institute of Chicago. She continued with Eleonore Schoenfeld at the University of Southern California and with Joel Krosnick at The Juilliard School, where she earned her Masters degree and was Class Assistant to Mr. Krosnick. She has also worked with Yo Yo Ma, Rostropovich, David Geringas, Bernhard Greenhouse, Robert Mann, Ralph Kirshbaum, Timothy Eddy, Gary Hoffman, Mannheim Pressler, Tabea Zimmerman, and Pinchas Zukerman, among many others.
Miss Barston has premiered many works written for her by living composers across the United States. In 2000 she performed as soloist with the Prometheus Chamber Orchestra in the world premiere of a concerto written for her by Juilliard professor Kendall Briggs. In 2001 she toured the US and Australia and performed Osvaldo Golijov's Omaramor for solo cello in twenty cities, receiving twenty consecutive standing ovations. In 2002 she performed the world premiere of Ned Rorem's Aftermath at the Ravinia Festival; The Chicago Sun-Times wrote: "the deep, rich tones of Barston's cello haunted the vocal line like a sorrowing vision."
Miss Barston has performed as soloist with the Chicago Symphony, the Chicago Chamber Orchestra, the Prometheus Chamber Orchestra, the Rockford Symphony, the Denison Symphony, the USC Symphony, the Westchester Symphony, the Pasadena Orchestra, the Intermountain String Orchestra, the Orchestra of the Southern Finger Lakes, and the University of Michigan Symphony Orchestra, among many others. She made her first solo appearance with orchestra in Guelph, Canada when she was twelve.
Miss Barston is the cellist of two critically acclaimed chamber ensembles: the Corigliano Quartet and Divahn. Strad magazine hailed the "abundant commitment and mastery" of the Corigliano Quartet. Divahn is a unique all-female quartet comprised of voice, percussion, violin, and cello that specializes in Middle Eastern music and improvisation. Miss Barston has also performed sonatas and chamber music with many of the world's leading musicians, including Leon Fleisher, Jon Kimura Parker, Arnold Steinhardt, Bernard Greenhouse, Leila Josefowitz, Peter Oundjian, Ralph Kirshbaum, Ani Kavafian, Mark O'Connor, Danny Phillips, the Ying Quartet, the Orion Quartet, and the Lark Quartet, among many others. She is also Co-Artistic Director of the Canandaigua Lake Chamber Music Festival.
Above all, Miss Barston is a devoted teacher: in her home, at the New York School for Strings, as a guest teacher at Juilliard, and at numerous summer festivals. Many students commute for lessons from hundreds of miles away, some from as far as Alaska, Brazil, and Japan.
Miss Barston's upcoming schedule includes solo and chamber music performances in England, New Zealand, Sydney, Seattle, New York, Los Angeles, Salt Lake City, Wisconsin, Rochester, Denver, Chicago, and Germany, as well as giving classes for young cellists in nine cities in the US, Europe, and Australia.
Amy Barston will present a special cello recital on Sunday, March 15 in Lincoln Theater.

-


Commended by The Strad for "brilliance of tone and charismatic delivery," violinist Scott Conklin regularly appears as a recitalist, soloist, chamber musician, orchestral player, and teaching clinician throughout the United States and abroad. He is associate professor of violin at the University of Iowa School of Music and a violin teacher at the Preucil School of Music. Conklin has performed as a soloist with numerous orchestras, including the Louisville, Nashville, and Berlin Symphony Orchestras. He is a recipient of the Iowa String Teachers Association Leopold LaFosse Studio Teacher of the Year Award and has been a featured artist/clinician at the conferences of the Music Teachers National Association and the Suzuki Association of the Americas. Conklin has also been a presenter at the American String Teachers Association Conference.
As an active recording artist, Conklin frequently collaborates on a variety of recording projects. In 2019, Conklin is featured on the album Ich Denke Dein: Songs & Chamber Works By Nikolai Medtner (Albany Records) with soprano Rachel Joselson and pianist Sasha Burdin as well as oboist Courtney Miller's album Portuguese Perspectives: Music for Oboe, Piano, and Strings (MSR Classics), featuring a four-movement Quintet for Oboe and String Quartet by Sergio Azevedo. Conklin will soon release an album of Hans Gál's music with violist Christine Rutledge, oboist Courtney Miller, and composer/pianist David Gompper.This ensemble recently performed two concerts of Hans Gál's music at the Edinburgh Festival Fringe on a tour of Scotland. Conklin performed Carlo Taube's music in a 2016 album Songs of the Holocaust on Albany Records with soprano Rachel Joselson and pianist Réne Lecuona. American Record Guide said the album was "sure to please any fan of violin and piano who is looking for something new." Conklin's recording of A Tempered Wish for Solo Violin and Chamber Orchestra by Ching-chu Hu was released on the album Vive Concertante! He has also recorded works by Luke Dahn, Franco Donatoni, D. Martin Jenni, and Jeremy Dale Roberts. Conklin and Huckleberry performed on the Suzuki Association of the Americas album Celebrating Excellence 2009, which featured the Albers Trio, Cavani String Quartet, Rachel Barton Pine, and Orion Weiss among others. A devoted supporter of music education, Conklin was featured on the violin masterclass DVD, Sound Innovations for String Orchestra, directed by Bob Phillips, Peter Boonschaft and Robert Sheldon. As an orchestral musician, Conklin performed on the Chandos release Prokofiev: War and Peace with conductor Richard Hickox, the Spoleto Festival Orchestra (Italia), and the Russian State Symphonic Cappella—an album listed in The Penguin Guide 1000 Greatest Classical Recordings.
In addition to performing from the heart of the standard repertoire, Conklin is a champion of new music.  Ching-chu Hu wrote and dedicated The Hope Moment (2011) to Conklin along with Hu's Violin Concerto No. 3: Water Spirit, which was premiered in 2015. Composer Joel Puckett wrote and dedicated the BMI award-winning composition Colloquial Threads for Violin and Piano (2003) to Conklin as well as "Infinite Morning" for Violin and Piano (2015) and a four-movement violin concerto called Southern Comforts for Solo Violin, Orchestral Winds, Bass, Piano, and Percussion (2008).  
Conklin holds the honorary distinction of being a "Kentucky Colonel," a title given to him by Governor Wallace G. Wilkinson. He is a former faculty member of the University of Texas at Arlington, and he also taught on several occasions as a substitute violin professor at the University of Texas Butler School of Music. During his youth, Conklin was a student of Carol Dallinger, Violin Professor at the University of Evansville. He holds a Bachelor of Music degree from the Cleveland Institute of Music where he studied chamber music with the Cavani String Quartet, Anne Epperson, and Peter Salaff, and was a violin student of David Updegraff. Conklin also earned Master of Music and Doctor of Musical Arts degrees in Violin Performance from The University of Michigan School of Music where he was a teaching assistant under string music educator Robert Culver; there he studied chamber music primarily with Andrew Jennings, Paul Kantor, and Martin Katz, and was a violin student of Paul Kantor.
Scott Conklin will present a special recital with collaborative pianist Frank Viola at 2:30 p.m. on Saturday, March 14 in Lincoln Theater.

-


Natalie Coots began her Suzuki violin studies at age 7 in Manlius, New York, under the loving instruction of Nancy Fennessy. After 11 years of learning from Nancy, Natalie attended Ithaca College where she pursued a double Bachelor's Degree of music education and violin performance, all with the intention of continuing onto her Master's Degree at IC in Suzuki Pedagogy. Sanford Reuning and Carrie Reuning- Hummel were Natalie's mentors throughout her Master's Degree.
Natalie currently teaches at Greenwich Suzuki Academy in Greenwich, CT. Before her family moved to Connecticut, she had the opportunity to teach at Ithaca Talent Education (Ithaca, NY) alongside her mentors Carrie Reuning-Hummel and Sanford Reuning. Before Natalie's second son was born, she had the pleasure of teaching at the Hartt School Community Division (Hartford, CT). Natalie has taught in workshops in Hartt, Fort Lauderdale, and New Zealand, and loves to teach in workshop and institute settings. 
In 2018, Natalie became the co-director of the Ithaca Suzuki Institute, along with Carrie Reuning- Hummel. Natalie hopes to share the incomparable community, mentorship, friendship and musicianship that she received from her Suzuki upbringing with as many students and families as she can.

- 


Carol Dallinger is Professor of Music at the University of Evansville where she has been a member of the faculty since 1972.  She is instructor of violin and viola, Suzuki pedagogy, and is founder and coordinator of the University of Evansville Suzuki Violin Program. In 1995, Ms. Dallinger received the Outstanding Teacher Award at the University of Evansville and in 2000, the Dean's Teaching Award in the College of Arts and Science. In August 2006, she received the Suzuki Chair Award from American Suzuki Institute at the University of Wisconsin- Stevens Point. From 2008-2013 she held the Oramay Cluthe Eades Distinguished Professorship in Music. In 2017 Ms. Dallinger received the Samuel Orr Outstanding Alumna Award from the UE Alumni Association. In addition to her teaching Ms. Dallinger served as Principal Second Violinist of the Evansville Philharmonic Orchestra from 1972 – 2015. She is a registered teacher trainer with the Suzuki Association of the Americas.
-
Nancy Hair,
cellist, lives in the Boston area where she keeps herself busy as a teacher, and a performer as well as having a family. Nancy is on the faculty of the New England Conservatory Preparatory Division, the Suzuki School of Newton, and has a home studio. In addition she can be heard frequently playing in many of Boston's orchestras as well as solo and chamber music. Nancy has been a teacher trainer since 1988 and enjoys traveling and teaching at institutes, workshops, conferences, and festivals. She attended Indiana University, Hartt School of Music, and Ithaca Talent Education. Her teachers include Janos Starker, Raya Garbousova, George Neikrug, and Timothy Eddy.

- 


Seth Himmelhoch is a classical guitarist and teacher based in Teaneck, NJ. Mr. Himmelhoch is the founder and director of the Suzuki guitar program at the JCC/Thurnauer School of Music in Tenafly, NJ. He is director of Classical Guitar Studies at William Paterson University of New Jersey. Mr. Himmelhoch is a Teacher Trainer of the Suzuki Guitar School and he also serves as Chair of the Guitar Development Committee of the SAA. He is a frequent clinician at institutes and workshops, including the Hartt Suzuki Institute.

- 
 

Carey Beth Hockett has been actively involved in the Suzuki world for more than 40 years. She taught at the Ithaca Talent Education School and then for the London Suzuki Group and is now on the faculty of the Colburn School in Los Angeles. She was a member of the International Suzuki Association's Cello Committee and served as repertoire consultant to the Associated Board of Royal Schools of Music in England and the Royal Conservatory in Toronto. She teaches string pedagogy at the Colburn Conservatory and is the Director of the schools' Jumpstart String Program.

- 


Susan Reed is a classical violinist and award winning folk musician, storyteller, author, and recording artist from the Boston area. Susan is a multi-instrumentalist who uses original songs and stories to work magic with families, on local and national stages. Her aim is to inspire a life-long love of music. Common to all of her performances is a trademark sense of humor and optimism, and her conviction that music has the power to broaden people's understanding of the world around them. Susan states, "Music and storytelling, it is my favorite way to encourage people to think about the world around them or the person sitting right next to them. That's what I like to do." Susan performs her songs and stories with orchestras, drawing audiences into the rich world of classical music, connecting audience to ensemble, and strengthening musical communities. She presents family music at its best, inspiring a new generation of classical music and musicians. Susan also performs with her daughters in Tatu Mianzi, a fresh twist on the classical string trio. She is dedicated to education in the arts on every level. In addition to being an active Suzuki teacher she also presents workshops on alternative playing styles and Teach Smart, a teaching workshop for performers. Susan is presently serving as Chair of the Board of Overseers at New England Conservatory of Music, in Boston, MA and she is a member of TED. Susan has recorded many award winning CD's and books. She has been recognized and honored by Parents' Choice, Mom's Choice, Creative Child Magazine, Tillywig, and NAPPA. All of Susan's recordings and books are available on her website www.susanreed.com. 

- 


Violist Sarah Smale attended the Royal Birmingham Conservatoire where she received a BA with honors, continuing postgraduate work at the Guildhall School of Music and Drama in London. Her musical studies eventually took her to the Hartt School where she studied with, and was assistant to, the Emerson String Quartet. Obtaining her MA in viola performance. Ms. Smale has won several awards, including the Royal Birmingham Conservatoire string quartet scholarship and the Herbert Lumby Viola prize. Her experience includes numerous concerts and seminars with talented quartets and orchestras including: Takacs Quartet, European Chamber Orchestra, Russian National Ballet and the Emerson Quartet. Ms. Smale has also played with numerous choral societies as principal viola, recorded television work for the BBC, and recorded extensively for Radio Suisse. She also performs with L'Orchestre des Jardins Musicaux in Switzerland, where she is guest principal viola. Sarah is currently the Associate Director at the Suzuki Music Schools in Westport, CT and Director of the White Mountain Suzuki Institute at Ogontz Camp, NH. She is a frequent guest teacher at educational workshops and events around the country. 
Cello and viola coming soon!
*Early-Bird Registration Deadline: January 31
Final Registration Deadline: March 2
Teacher Registration Deadline: March 10
*Registration Fee: $15 (non-refundable, waived for HCD private lesson students)
*The early-bird discount and the HCD private lesson discount apply automatically on the checkout screen. You do not need a coupon or discount code.
VIOLIN, viola, and guitar master classes
Intermediate Master Class Tuition: $60 Early-bird; $80 Final
Advanced Master Class Tuition: $75 Early-bird; $95 Final
violin and viola workshop
Registration Fee: $15 (non-refundable, waived for HCD private lesson students)
Tuition: $100 Early-Bird; $120 Final
bundle: friday master class + saturday Workshop (violin, viola)
Intermediate Bundle Tuition: $140 Early-bird; $160 Final
Advanced Bundle Tuition: $155 Early-bird; $175 Final
cello workshop
Tuition: $125 Early-bird; $145 Final
teacher workshop
Sunday Morning Only Tuition: $35
Sunday Afternoon Only Tuition: $65
Bundle Tuition: $80
No registration fee for any teacher session.
WHAT ARE THE BENEFITS OF STUDYING WITH A DIFFERENT TEACHER FOR ONE DAY?
Every teacher has a different perspective, different training, and different experiences that influence their teaching. While it is important to have one primary teacher to guide your child, a lot can be learned from working with a different teacher occasionally, either at a workshop or at a summer institute.
TO WHAT EXTENT SHOULD MY STUDENT MASTER THE PIECES ON THE REPERTOIRE LIST?
Review is an important pillar of the Suzuki method. The repertoire list is a guideline of what pieces may be worked on in the repertoire classes in the workshop. Please prepare all of the pieces your child has learned to the best of your ability. If a piece is played that your child is not comfortable playing, they will learn by listening to the piece being played.
Sousapalooza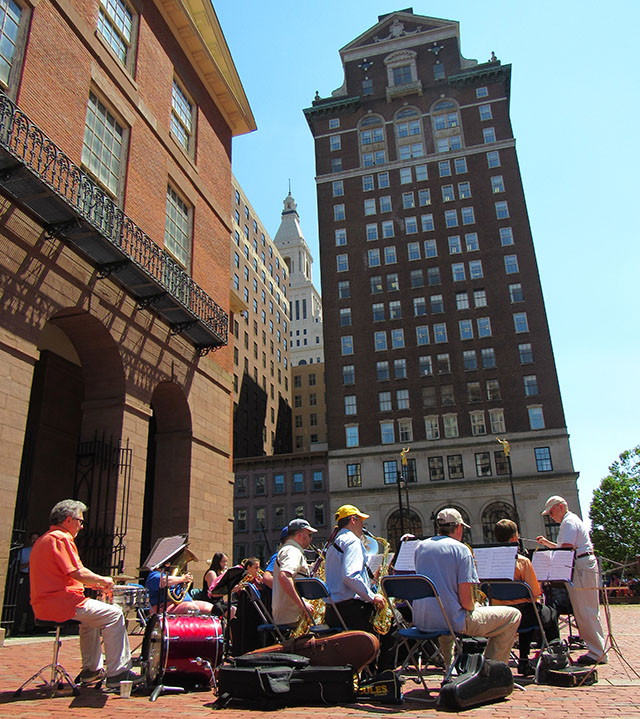 Make Music Hartford
2021 Date TBA
Connecituct's Old State House
800 Main Street, Hartford, Conn.
Make Music Hartford is a part of the international Make Music Day movement, which brings free, community-wide, outdoor musical celebrations to hundreds of cities worldwide! Every year, the celebration is held on June 21, the summer solstice, in more than 800 communities around the world.


Hartt School Community Division clarinet faculty and conductor Alan Francis will lead Hartford's second annual Sousapalooza. Were you in marching band in school or do you play a brass or woodwind instrument? Get together with a group of friends and strangers to play the music of The March King, John Philip Sousa! You won't want to miss being a part of the band or seeing the performance! All are welcome to join. Please register below.

Bring your own music stand (a limited number will be available). Some chairs will be provided. Audience members are welcome to just enjoy the music!

This event is coordinated by the Greater Hartford Arts Council.
Nobles of the Mystic Shrine
King Cotton
Manhattan Beach
Irish Tune from County Derry
El Capitan
The Liberty Bell
Fairest of the Fair
The Stars and Stripes
The Thunderer