In the News: March Madness
The men's basketball team's first trip to March Madness brought widespread attention to UHart and sparked excitement on campus and throughout Connecticut.
The team and the University were featured in dozens of media outlets, ranging from international publications to hyperlocal blogs. These are just a few of the many highlights.
Attention from Across the Country and Around the World
Guard Traci Carter shared the story of losing his brother to gun violence and working to help young people in Philadelphia. Media outlets across the country profiled Carter, including The Washington Post.
The Asian Journal featured guard D.J. Mitchell and the fulfillment of his life-long dream to make the NCAA Tournament.
Hawks in the Spotlight
Head coach John Gallagher and his players were interviewed nearly 100 times by tv, radio, newspaper, and online reporters. Perhaps the most high-profile appearance was Gallagher's guest spot during the First Four on truTV. He spoke with basketball analysts Seth Davis, Clark Kellogg, Greg Gumbel, and Wally Sczerbiak.
"Only one person got to be John Gallagher this week. If he seemed like the luckiest, happiest, most life-loving person on the planet, well, maybe he was."
Dom Amore, Hartford Courant
Excitement in the "Neighborhood"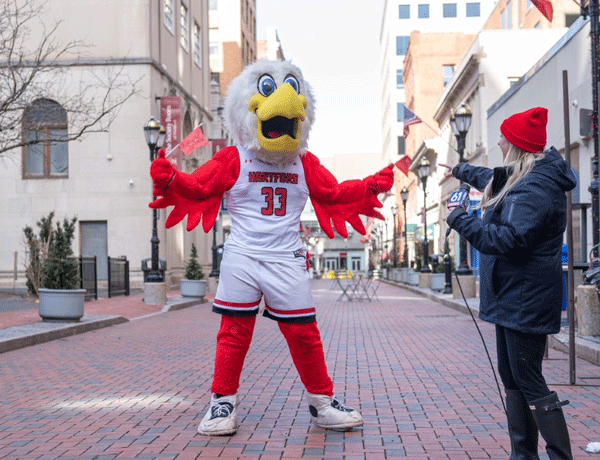 During his multiple media appearances, Coach Gallagher consistently talked about the "neighborhood" and the support of local fans. The excitement was on display in Hartford, from the buildings turning red to the extensive coverage in local media.
Howie was a live guest on Fox 61's morning show on Friday, March 19. With Hawks flag lining Pratt Street as a backdrop, Howie showed off their best dance moves with the station's Lauren Zenzie.
UHart student-athletes Meghan Anderson, Abby Nash, and Nyrik Antoine shared their Hawks spirit with NBC Connecticut's Mike Massaro.  "You could hear all the cheering from across the quads and it's great seeing them do so well especially in these challenging times," Anderson said of the team's America East Championship win.
University of Hartford President Greg Woodward appeared live on WNPR's Colin McEnroe Show on Wednesday, March 17. President Woodward talked about what it means for a smaller university to be in the national spotlight for one week.