Christine Grant to Be Honored at 100 Women of Color Gala and Awards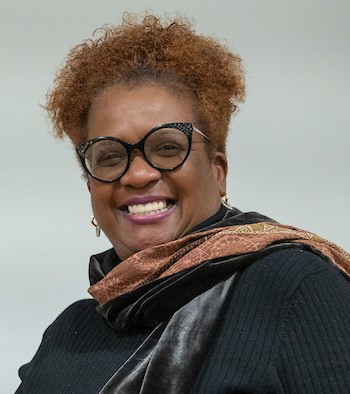 The University of Hartford prides itself on its commitment to diversity and inclusion. One experienced member of UHart's staff who, through oversight and the promotion of practical initiatives, helps the school maintain a steady course on that important road is Christine Grant, executive director of diversity and community engagement.
"We're doing a good job, though it's also true that making significant progress on a continuous basis can be difficult and always takes a lot of work," says the 30-year UHart veteran, who takes on the challenge with complete dedication and unceasing proficiency. Today, the University of Hartford is ranked in the top third of all New England educational institutions for diverse student populations.
It is that same dedication and proficiency that led the organization that sponsors the annual 100 Women of Color Gala & Awards to select Grant as one of its 2022 honorees.
The ceremony, to be held on June 24 in Simsbury, will recognize the contributions that women from the worlds of education, business, entrepreneurship, entertainment, and service throughout Southern New England have made to positively impact people in their communities, particularly young women of color.
One goal of the gala, through its associated nonprofit organization, is to build financial support for many programs that help advance the careers of these young women, which is why Grant has the highest regard for the distinction she is soon to receive. "I am very honored to have been chosen," she says, "because anything that helps young women is a good thing. As an advocate for all people—for diversity, equity, inclusion, and social justice—I am happy to be part of this very special celebration."
A portion of the proceeds from the event (and its counterpart, 100 Men of Color) will go to support scholarships for young people who graduate from area high schools and plan on attending college or becoming involved with major leadership and mentorship programs.
It is indeed a well-deserved honor, for in addition to the work she does for the University of Hartford, Grant has devoted much of her time to helping other organizations, such as a group that runs religious programs at York Correctional Institution in Niantic, Connecticut, and another that advocates for scholastic advancement in the West Indies. She has a master's degree from the University of Hartford, with a focus on organizational behavior, and worked in other departments at the school, including community and government relations, prior to being tapped for the diversity and community engagement role in 2018.
The 100 Women of Color Gala & Awards ceremony is sponsored by June Archer & Eleven28 Entertainment. The three-hour event, on June 24, will begin at 6 p.m. at the Simsbury Meadows Performing Arts Center at 22 Iron Horse Boulevard in Simsbury. Tickets can be purchased through eventbrite.com.