Zora Neal Hurston's Work: A Lecture By Her Niece
The Experiences of Zora Neale Hurston: The Complexities and Intricacies of Race, an Examination by Lucy Anne Hurston
The 2022–2023 DEI Lecture Series, Celebrating Literary Voices to Create an Inclusive Culture, is sponsored by the Rogow Distinguished Visiting Lecturer Program and presented by the Office of Diversity, Equity, and Community Engagement DEI Lecture Series Planning Committee.
What Zora Neale Hurston had to say about race almost 100 years ago is still strikingly relevant. Both as a fiction-writer and a trained ethnographer, she tackled head-on the injustices of her day. The University of Hartford invites you to join Hurston's niece, sociologist Lucy Anne Hurston, as she takes up this important conversation. Using her aunt's writings as a lens, Hurston will examine the complex dynamics that perpetuate racial inequality and discrimination in American society today. How do we move past our own history? To improve the lived experience of race for individuals, Hurston argues, we need to focus our fight on the racism of structures and systems that keep us bound.
Join us!
The Experiences of Zora Neale Hurston: The Complexities and Intricacies of Race, an Examination by Lucy Anne Hurston is on Tuesday, Oct., 11 from 6–7:30 p.m. in Wilde Auditorium; virtual via Zoom.
Our Guest Speaker: Lucy Anne Hurston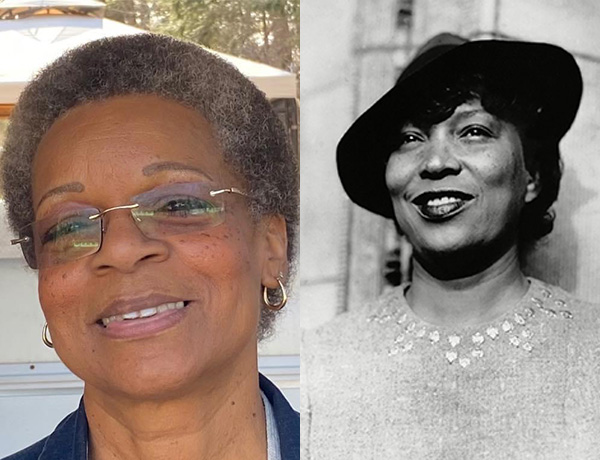 Lucy Anne Hurston, has spent her life as an educator and compiled a detailed knowledge of her aunt's life and work with a historian's observant eye. As the owner of Hurston Research LLC for over 22 years, Lucy has played a critical role in exploring and disseminating Hurston knowledge from her own research. She also continues to act as a voice for social change and equity in her volunteer work with Habitat for Humanity and Connecticut Foodshare, and as an advocate for literacy through events such as The Big Read sponsored by the National Endowment for the Arts (NEA). 
About Zora Neale Hurston
Zora Neale Hurson (1891–1960) is considered one of the preeminent writers of twentieth century African American literature. Hurston was closely associated with the Harlem Renaissance and influenced such writers as Ralph Ellison, Toni Morrison, Gayle Jones, Alice Walker and Toni Cade Bambara. She published four novels, including Their Eyes Were Watching God; two volumes of folklore; an autobiography; and several short stories and plays.
Rogow Distinguished Visiting Lecturer Program
The Rogow Distinguished Visiting Lecture Program brings celebrated authors, journalists, historians, academics, and artists to campus (in person or virtually) to enhance the knowledge base of both the campus community and the Greater Hartford area. The series is part of a wide array of public programming that the University of Hartford offers, fulfilling an important responsibility to serve the larger community of which it is a part.
Annual Diversity, Equity, and Inclusion Lecture Series
The University of Hartford's Annual Diversity, Equity, and Inclusion (DEI) Lecture Series provides a forum through which students, faculty, and staff can deepen their knowledge, increase their awareness, and inform both individual and institutional actions that promote diversity, equity, and inclusion on campus and in our communities. The academic-year-long DEI series also includes pre- and post-lecture activities, conversations, and/or readings for students.
Questions? 
Christine Grant
Assistant Vice President of Diversity, Equity, and Community Engagement
Lisa Coté
Assistant Director of Diversity, Equity, and Inclusion