Save the Date: 2023 UHart Annual MLK Observance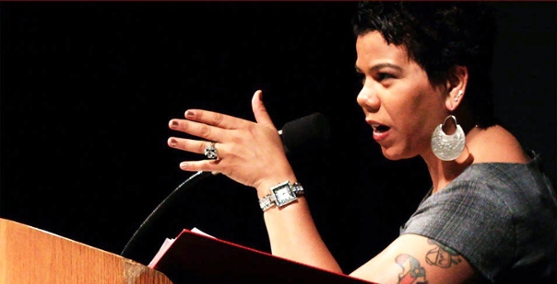 The University of Hartford will continue its annual tradition of honoring and celebrating the life and legacy of civil rights leader Dr. Martin Luther King Jr. on Wednesday, Feb. 1, 2023, at 12:45 p.m. We are pleased to announce that the 2023 MLK observance will once again be held in person at Lincoln Theatre and virtually via Zoom. Register here to join us.
The theme for this year's observance is "Let's Go: Building Community Through Social Change." As we celebrate the life, leadership, and legacy of Dr. Martin Luther King, Jr., we remember not only Dr. King's inspiring words, but also his courage and his sacrifice in the service of justice. Dr. King's genuine love for humankind inspires us today to denounce and oppose inequality, poverty, hate, prejudice, and violence wherever we encounter them in our society and in the world. There's much more to do…together, across generations. Progress requires action. Let's Go!
Rosa Alicia Clemente
Featured Keynote Speaker

Rosa Alicia Clemente is an award-winning activist, cultural commentator, independent journalist, and 2008 vice-presidential candidate of the United States on the Green Party ticket. According to Clemente's website, "Rosa has been a constant on-the-ground presence through the many political struggles facing Black and Latinx people in the 21st century." Clemente will focus on the next generation doing its part to be engaged in ongoing social activism and change. Clemente holds a bachelor's degree from the University of Albany and a master's degree from Cornell University. She is a current PhD candidate at the University of Massachusetts Amherst. She is the 2022 recipient of the UAlbany Alumni Association's Excellence in Diversity and Inclusion Award.
The observance will include performances by the Hartt Saxophone Ensemble, University of Hartford Magnet School, and UHart Gospel Choir; and the presentation of the 2023 MLK Beloved Community Awards.
The MLK Beloved Community Awards are presented to students, faculty, staff, alumni, or external community leaders and organizations who meet any of the following criteria by:
Working hard to improve their community, city, and the world
Making or having made a positive difference in the lives of others
Paying forward their work in various ways
Engaging in the work of educating themselves on topics of diversity, equity, inclusion, and social justice
2023 Honorees:
Deja George '24, a philosophy major with minors in paralegal studies and politics & government, values the UHart community and is dedicated to making it the best that it can be.
Manny Sanchez, senior development officer in the Development and Alumni Affairs Office, is a Connecticut state representative in the 24th Assembly District. 
Bilal Dabir Sekou, PhD, associate professor of political science, has research interests that include race and politics, urban politics, campaigns, elections, and voting behavior.
Leonard Epps '90 is a life member of Iota Phi Theta Fraternity, Inc., founder of The Society of Black Brotherhood, and is a recipient of both the University of Hartford Distinguished Alumni Award and the Connecticut Dr. Martin Luther King Jr. Holiday Commission Award.
Quentin "Q" Williams led a life of service as a legislator, a UHart adjunct professor, co-founder of a nonprofit for learning opportunities and equity, and a volunteer. His passing on Jan. 5th resonated far and wide throughout the region.
Pratt & Whitney, a world leader in the design, manufacture, and service of aircraft and helicopter engines, believes diversity of thought enables creativity and innovation—and establishes a foundation for inclusion.
The 2023 Annual University of Hartford MLK Observance Program is presented in collaboration with the Office of Diversity, Equity, and Community Engagement and the Alumni Board of Directors' Alumni of Color Task Force.
Let's work together towards ending food insecurity by donating to The Nosh. Donations can be dropped off to the Office of Student Engagement and Inclusion in GSU 207. To access food and other items at The Nosh, visit GSU 341 during GSU operating hours of Monday through Thursday, 7:30 a.m. – 10 p.m.; Friday, 7:30 a.m. – 7 p.m.; and Saturday and Sunday, noon – 5 p.m. Click below for more information about The Nosh.
The annual MLK observance program is free and open to the public.