CETA Students Recognized at Fall 2018 Design Expo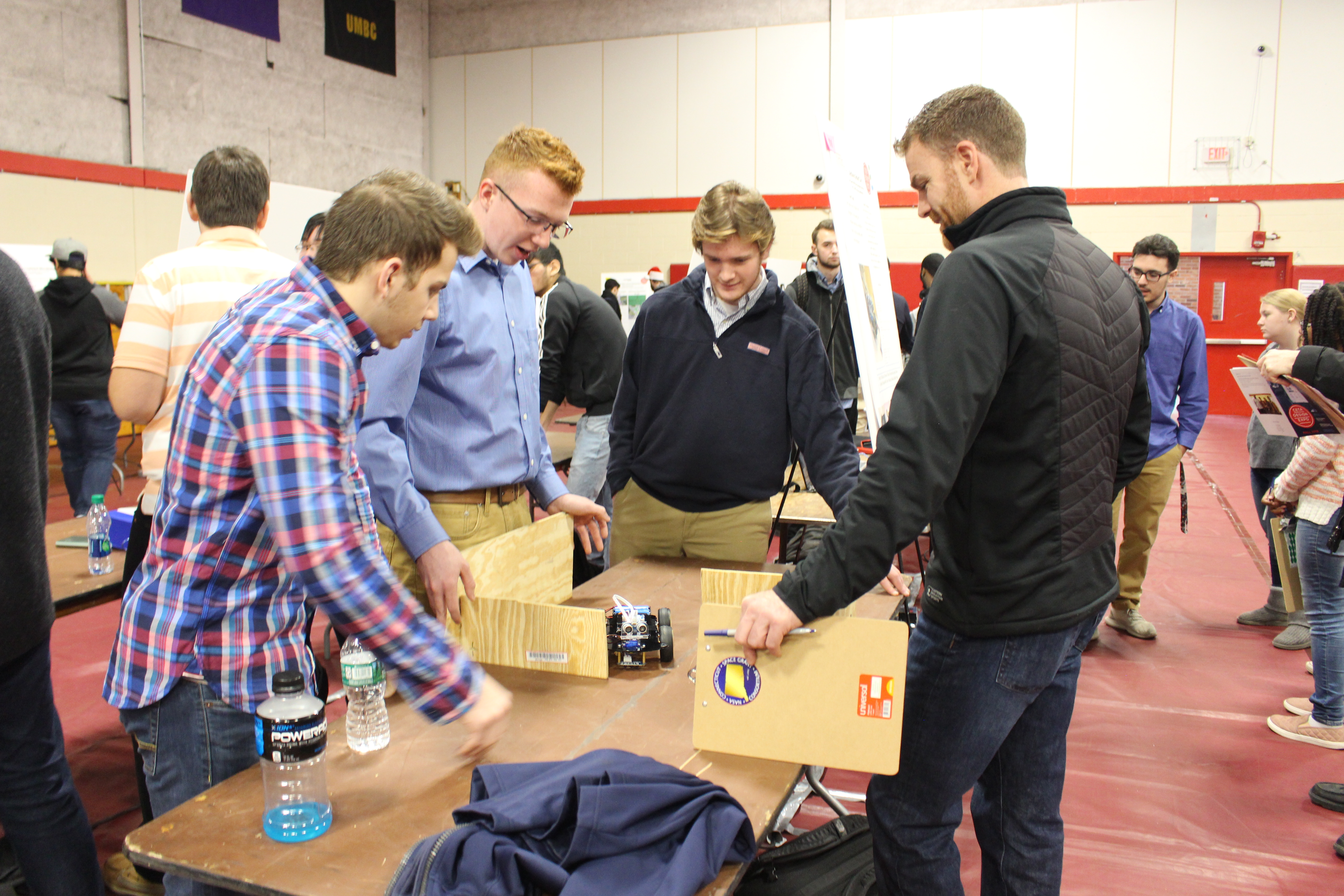 Nearly four years ago, Dean Alnajjar asked Professor Patricia Mellodge, Professor Mary Arico, and CETA Director of Collegiate Student Services Julie Spring to establish an exciting event at the end of each semester called the CETA Design Expo. Julie Spring recently shared how much the event has evolved over the past few years.
Our fall 2018 Expo was hosted on December 14, 2018, with a full room of talented students, enthusiastic faculty and staff, and visiting industry leaders—some of whom participated as judges during the event. We are excited to recognize eight winning projects that truly set the bar this semester.
"We began with the May 2015 Expo in Konover and the event grew from there—now scheduled to take place the last Friday of classes each fall and spring semester," says Spring. "Each year we [continue to] fine-tune the structure and happenings. During the spring CETA Design Expos, the seniors not only present during the poster sessions, but the top ten groups and/or individuals selected also participate in Shark Tank and have a three-minute presentation at the Expo to compete to win one of the top recognitions of the event."
Julie Spring, CETA Assistant Director, Center for Student Success
The First-Year student winners were:
"Etch-a-Sketch" by Jacob Fett, Nathanael Gonzalez, Ryan Levin, and Peyton Meissner, under Professor Phil Faraci. Watch the project in action in this video.
"Our project's objective was to design an Etch A Sketch®-type mechanism that could write a series of letters by a computer using an Arduino interface." —Ryan Levin '21, Audio Engineering Technology/Electrical Engineering
Professor Phil Faraci, who led the students behind Etch-a-Sketch to success, commented on how impressed he was with the work accomplished by many of the first-year students who showcased their projects at the event.
 "Many students at the Expo were given a design challenge in the first semester of their first year and met the challenge with enthusiasm, skill, and creativity. Hats off to all of the students, faculty, and staff who contributed to a great day." —Applied Assistant Professor of Engineering Phil Faraci
"The Fire Bot" by Sky Cheng, Tyler Tan, Maisha Maliha, and Bernard Balko, under Professor Eric James.
 The objective of this project, according to Maisha Maliha '22, Electrical Engineering, was "to demonstrate a smart fire truck programmed through Arduino that imitates the work of a real firefighter. The main target of this project is to introduce the model for the robot that can save the lives of people from numerous fire incidents."
Maliha also shared her thoughts about the Expo event overall:
"The Expo has been a real big platform to showcase, learn, explore, and probe through the innovative sides of engineering," says Maliha. "It was a great honor to present our ideas and projects to many other smart minds (judges and peers). The event prepares students to concentrate on their career, broadening their vision about engineering." Her teammate, Bernard Balko, was also proud to step away from the Expo with more insight into engineering after his first semester.
 "This was also a great experience for young engineers trying to figure out what engineering discipline to choose. Regardless of winning, the process of building our project was also the process of building a great friendship." —Bernard Balko '22, Mechanical Engineering
"Multiple Outlet Box for Automatic Heat, Cooling, and Lighting" by Joshua Cocuzzo, Tessa Kopec, Liz Roach, and Richard Miller, under Professor Claudio Campana.
"The objective of our project was to create a device in which the climate of a room could be changed automatically, depending on what a person has it set for. It can be done automatically using a photoresistor and thermostat, or manually with a Bluetooth module that is connected to a phone app. The Expo was a great way to see what people come up with and how different people think. It was an amazing opportunity to see how people work together to create new ideas." —Tessa Kopec '22, Mechanical Engineering
"Team 2" by Rayan Alsarran, Farah Jan, Shani Jonas, and Philip Melo, under Professor Todd Brown.
"Our project's objective was to use the sensors provided to make a garage that would open and close when sound was played. The Expo was extremely enjoyable and we had lots of fun!" —Shani Jonas '22, Biomedical Engineering
Additional winners were:
"ECT 110P Final Project" by Joseph Magnowski, Davi Wu, and Jaesung Yang, under Professor Johanna Raphael.
"ECT 110P Final Project" by Andrius Satas and Robert Seecharran, under Professor Johanna Raphael.
We also recognized two seniors who demonstrated their overall understanding of key engineering and design skills. These winners were:
"Motion Controlled Animatronic Arm" by Jesse Pezza, with technical advising from Kiwon Sohn.
The objective of this project was to design a motion-controlled animatronic arm capable of accurately mimicking the motions of the person wearing the controls. The system mimics the human shoulder, the elbow, and the hand.
"Structural Design of a Multistory Apartment Building" by Emina Hodzic.
The objective of this project was to design and optimize the steel framing for a 20-story building in the Hartford area using structural analysis software, SAP2000, as Emina Hodzic shared.
"I thought the Expo was a nice event, with a lot of fascinating and creative projects. The judges were interested in the projects and had very good feedback." —Emina Hodzic '19, Civil Engineering
Congratulations to all the students who participated in the semi-annual Expo, and we look forward to seeing your future projects in the spring. 
 "Another wonderful CETA Design Expo this fall, where first-year students and seniors in senior design and project-based courses were able to display their efforts and talents and to demonstrate how innovation lives in CETA," says Spring. "Thank you to all who participated and assisted. This is the day each semester when CETA students get to shine."