Experience UHart First Hand
We know the the best way to figure out if a university is the right fit for you is to experience it for yourself. That is why we have developed a number of ways for students to connect with us here at UHart. 
Through our virtual and in-person opportunities, you can get to know your way around our 350-acre campus. Our location offers the best of both worlds: we are surrounded by green spaces and wooded trails yet located alongside Connecticut's capital city and the vibrant towns of West Hartford and Bloomfield. Another big plus is that UHart is just a two hour drive from Boston and New York City. 
Your campus visit will give you a chance to talk with current students, faculty, and admission and financial aid counselors. Most importantly, you'll get the opportunity to see how well you'll fit in here. We look forward to meeting you!
Plan a UHart Visit
Group Tours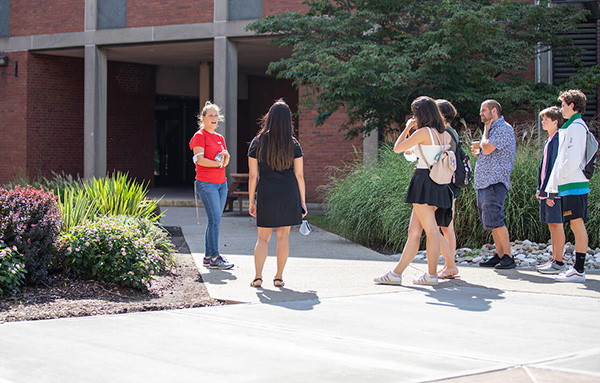 We welcome group tour requests for high school and college aged student groups!
Group tours offer a great introduction to the University of Hartford and last approximately 90 minutes.
Requests should be made three weeks in advance, so we can be well prepared for your group!
Group tours are contingent upon the availability of facility space, admission staff and tour guides.
We do not offer lunch on campus for any group tours at this time.
All groups must be accompanied by at least one adult chaperone per ten students. All chaperones must remain with the group at all times, and are responsible for the behavior of their students while they are guests on our campus.
Please complete the Request A Group Tour Form to schedule your visit to the University of Hartford!
If you have further questions contact the Undergraduate Admission Office at admission@hartford.edu or 860.768.4296.
We look forward to welcoming you to campus!
Explore the University of Hartford Video
Calendar of Events
Get the latest on open houses, tours and visits. We are excited to show you everything that's great about UHart. Check out the calendar of events and plan what works for you.