At a UHart open house, you will meet with faculty and students, and learn about innovative research projects and internships, clubs and activities, Division 1 athletics, scholarship opportunities, and so much more.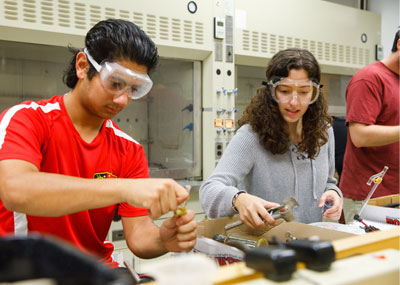 Customize Your Day
At our open houses, you can create your own schedule and choose sessions that you are interested in: Take in-depth tours, attend major specific workshops, hear from students and faculty, visit our TV studio, or take a mock-class — The choice is yours. 
2019 Fall Open House Dates:
October 6, 2019
October 27, 2019
November 3, 2019
More details will be available when Fall Open House Registration begins in September. Check back!
Interested in a specific program or area of study? UHart hosts program-specific open houses in November.
Psychology Visit Day: Monday, Nov. 18, 2019, noon–2:00 p.m.
Science Visit Day: Tuesday, Nov. 19, 2019, noon–2:00 p.m.
Communications Visit Day: Friday, Nov. 22, 2019, noon–2:00 p.m.
What to Expect at an Open House
Throughout the day, you are able to choose four sessions that peek your interest. Here are a few highlighted events: 
Built and Unbuilt Realties: Learn how architects use 3D printing technology and parametric design to create models for their projects

The Artist, the Employer, and the Creative Career: Understand how to leverage the importance, influence, and power of the arts

Networking Simulation: Learn how Barney School of Business students fine-tune their networking skills in a fun and interactive business setting.

Become an RN with our new Direct-entry BSN: Tour our simulation training lab and get all your questions answered from our nursing faculty

Thrive from the Start: Learn about beginning your UHart journey with dual admission to Hillyer College. Receive one-on-one academic support from dedicated professors while earning credits toward your major.

Music Industry and Studio Tours: Tour our newly renovated recording studio in The Hartt School and learn about music industry programs.

Going Live In 3-2-1: Learn crisis communication strategies and check out the TV production studio that features professional newsroom equipment.