Career and Professional Development
Career-Ready, Set, Go!
UHart helps you make smart career decisions.
In the Office of Career and Professional Development we don't just help you with your resume and job searches—We challenge you to explore career paths, learn new skills, and network with industry experts. Here, you will be part of career communities that will empower you to find a job that you will love.
Handshake Platform
We are continuing to use our Handshake platform to promote on-campus jobs as well as off-campus employment. Faculty and staff can post positions, and students can search for open positions. 
Please keep in mind as we still operate under Covid-19 guidelines, jobs on campus are limited. We recommend that you consider looking around campus for a part time job as well. 
If employers have posted jobs that have since been filled, or if you are having issues posting, please contact us at career@hartford.edu.
We are here to help you
Are you currently studying at UHart and looking for internships, jobs, career advice, or résumé feedback, UHart's Career and Professional Development Office can help guide you to make smart career decisions.
Are you looking to start an internship program, attend one of our career fairs, or meet with our students? A member of our career team will strategize ways we can work together to engage uhart students to meet your goals and objectives.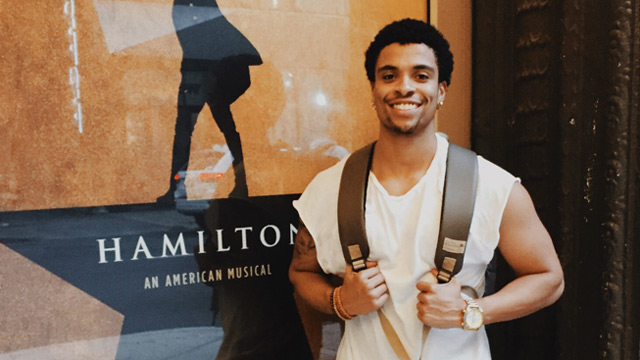 Our help and support doesn't stop at graduation. We are here for students throughout their lifetime to help them succeed in their careers. Learn more about our alumni resources.
Meet Our Student Team
The
career peers mentors and graduate students in the Office of Career and Professional Development each play an important role in helping students find their career passion—they meet with students, work on marketing materials, social media content, event planning, and more. Come by the Career Studio to meet them in person.
Kelly Chen-Ruan
Career Peer Mentor Kelly Chen-Ruan '21 is a pre-professional/health science major with a minor in business administration. She is aspiring to attend medical school after graduating from the University of Hartford. Her passion revolves around spreading inclusivity and promoting diversity in every aspect of her involvement. Kelly is currently an active leader on campus; she serves as a resident assistant for the Office of Residential Life, Women's Advancement Initiative, and President of the Asian Student Association.
Rayanne Mcfarlane
Career Peer Mentor Rayanne McFarlane 21' is Hartford, CT native majoring in biomedical engineering with a minor in mathematics. After graduation, she is looking forward to earning a master's degree in Biomechanics. She hopes to do cancer-based research as well as making orthotic devices for children with Cerebral Palsy.
Girik Nagpal
Lead Career Peer Mentor Girik Nagpal '20 is an accounting major with a minor in risk management and insurance. He is a young enterprising professional who strives to make the community a better place through volunteer work in Alpha Phi Omega, a community service fraternity. Girik is an active member of Barney Leadership Council who always steps ahead to lead by example and shares his perception through public speaking. Girik looks forward to being an intense learner by pursuing the MBA, CPA and PhD career path.
Andrea Rivera
Engagement Coordinator Andrea Rivera is an illustration major with a minor in panting. She is working towards becoming an independent illustrator. Additionally, she hopes to be an art teacher so that she can share her skills with new artists.
Stefon Hudson
Technology Systems Coordinator Stefon Hudson is a double major in Criminal Justice and Political Science. He is working towards becoming a congressmen. He would like to do a campaign on prison reform to help individuals get a second chance.
Meet Our Student Team
Sarah Gada
Career Peer Mentor Sarah Gada is a mathematics major with a minor in actuarial science. She strives to be a strong and well-rounded individual, and hopes to become a successful actuary. Sarah enjoys being a part of and growing the community around her, and she loves working with others. Sarah is currently part of multiple organizations to help her make as many connections as possible. Some of those organizations include the University's Equestrian Team, Math Club, and the National FFA Organization.
Ally Denno
Social Media Coordinator Ally Denno '21 is studying psychology in the College of Arts and Sciences with a minor in gender studies. Ally is also the Executive Vice President of the Student Government Association. After graduation, she will be completing her masters in organizational psychology at the University of Hartford.
Alexa Snyder
Career Peer Mentor Alexa Snyder '21 is a respiratory therapy major with a minor in gerontology. She is working to become an RRT (Registered Respiratory Therapist.) She is an ambitious hardworking student, dedicated to achieving her set goals. Alexa draws inspiration from her roots in New York, and her experiences include spending extensive time volunteering in the health care industry and enjoys helping anyone in need.
Travis Dessureau
Department Photographer Travis Dessureau is a double major in visual communication design and photography. He is working towards being a freelance branding specialist for companies.