HawkCard Student Identification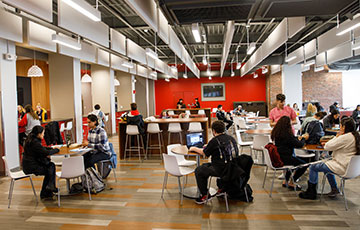 The HawkCard is an integral part of daily life at University of Hartford. The ID Card must be carried at all times and presented to University officials upon request.
Dorm Access
The HawkCard allows entrance into residence halls and academic buildings. Students are admitted into their own residence halls 24 hours a day. The residence halls always lock automatically; therefore students wishing to enter their residential complex must swipe their HawkCard into an access reader.
All academic buildings on campus are unlocked during the day and are accessible after hours with the HawkCard providing access has been approved and granted. See academic year 22/23 Guest Policy. 
Adult and Part-Time Students
The HawkCard ID Office is located in the Administrative Building CC117.
To obtain a student ID, you must present proof of registration and an additional form of ID such as a license.
Hours and Location
The University ID office is located exclusively at the ITS Helpdesk in the Computer Center, accessible via room 117.
Hours
Monday: 7:30 a.m. to 10 p.m.
Tuesday: 7:30 a.m. to 10 p.m.
Wednesday: 7:30 a.m. to 10 p.m.
Thursday: 7:30 a.m. to 10 p.m.
Friday: 7:30 a.m. to 7 p.m.
HawkCASH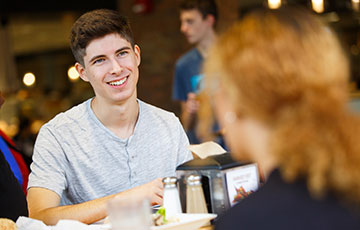 What is HawkCASH?
HawkCASH is a declining balance account that you can deposit into at anytime. Once funded, simply swipe your HawkCARD as a means of payment at participating locations both on and off campus! There's no need for cash or credit, just use your HawkCASH! The Meal Plan cannot be used at off-campus locations.
You can continue to use HawkCASH on campus as well for purchases at vending machines and copiers, the Campus Store (bookstore), Print Services, Health Services, all food store locations, and all on-campus dining locations.
Make A Deposit
Students, faculty, and staff may deposit funds into their HawkCASH account at anytime with the HawkCard ID Office in person or by mail. Checks are to be made payable to the University of Hartford. Funds can also be deposited online.
Balance and Transactions
View real-time account balances or transaction history on your card. Accounts include:
Dining Dollars
1st Semester Residential Dining Dollars
1st Semester Commuter Dining Dollars
Additional Dining Dollars
HawkCASH
Faculty/Staff
Parents and other guests can create a Guest Account to view their student's card balances and transactions. Once you create a guest account, a cardholder must grant you permission to view his or her account.
The Hawk ID Card allows student to access their prepaid meal plans, dining dollars and HawkCASH. Additional Dining Dollars can be added to the card providing the tuition account is in good standing. To add additional dining dollars please complete the Dining Dollar Request Form or stop by the ID office - GSU Rm 112
Off-Campus Locations
You can now use HawkCASH at the following off-campus merchants:
CVS / pharmacy
976 Farmington Ave , West Hartford, CT 06107.
860.521.0425
Jerrys Artarama of CT
1109 New Britain Ave, West Hartford, CT 06110.
860.232.0073
Jumbo Buffet
409 Cottage Grove Rd, Bloomfield, CT 06002.
860.243.3931
Wingstop
550 Farmington Avenue, Hartford, CT 06105
860.216.3936
HawkCASH is a declining balance account in which money is placed on the HawkCard to be used at participating locations off-campus as well as on-campus for purchases at Campus Vending Machines, University Bookstore, Copy Shoppe, Campus Copy Machines, Campus Massage Therapy, Health Services, University Physical Therapy, all food store locations, and all on-campus dining locations.
What is the difference between the Meal Plan account and the HawkCASH account?
The Meal Plan account is activated when a student has a Resident or Commuter meal plan and can be used on-campus at Dining Services only. HawkCASH can be used on and off-campus at participating locations. HawkCASH is the ONLY account that can be used off-campus.
How can I add funds to my HawkCASH account?
Students, Faculty and Staff may deposit funds onto their HawkCASH account anytime on-line using major credit card or Electronic Check. Please click here to put money on your account.
Where can I use HawkCASH on campus?
HawkCASH can be used for on-campus purchases at the Campus Vending Machines, University Bookstore, Print Services, Campus Copy Machines, Health Services, Mail Services, The Hungry Hawk, Sports Center Concessions, all food store locations, and all on-campus dining locations.
Where can I use HawkCASH off-campus?
See Dining Plans above for a list of participating locations.
How much should I deposit each semester?
There is not a certain amount that has to be deposited on the HawkCASH account. It is strictly at your discretion.
What happens if I lose my HawkCard?
Immediately report a lost or stolen HawkCard to the HawkCard ID Office over the phone at 860.768.4829, Monday–Friday 7:30 a.m.–3:30 p.m. or with Public Safety 24 hours seven days a week at 860.768.7985. You may also report your card lost or stolen to any location manager of ARAMARK Campus Dinning Services during normal operating hours where a manager will report your card as lost or stolen. Please note as the Cardholder you are responsible for any loss due to lost or stolen cards.
You must visit to the HawkCard ID Office during normal business hours to obtain a new HawkCard. There is a fee of $15 for replacing lost/stolen cards.
Can I get a refund of my HawkCASH?
Any balance on the HawkCASH account will carry over from semester to semester as long as you are affiliated with The University of Hartford. Any HawkCASH balance under $20.00 is non-refundable. The University of Hartford reserves the right to close any account that is inactive for an academic year. No funds may be transferred from HawkCASH to the Meal Plan or vice versa.
Are there any restrictions on what I can buy with HawkCASH?
Yes, you may not purchase alcohol or tobacco products using HawkCASH, no exceptions for those over 21 in age.