Do you need help with course content or a paper? The Center for Student Success offers free peer-to-peer content and writing tutoring with a focus on engaging students in active learning to help build academic strengths.
Content-Based Tutoring Services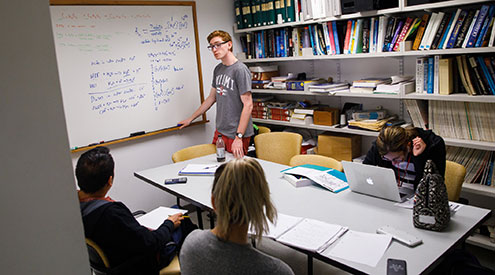 Our office includes 65 exemplary undergraduate and graduate tutors who tutor in writing, chemistry, biology, math, physics, social sciences, engineering, business, foreign languages, and the performing arts. Our tutors go through special training, including topics like student-centered tutorial dynamics, tutor rights and responsibilities, as well as department and institutional polices. They are also informed about mental health issues and athletic compliance guidelines.
Schedule an Appointment 
Tutors available Sunday – Friday for multiple subjects and courses!
To make a scheduled appointment:
Visit Compass

Step 1: Log into Compass (use your UHart email and password to login)
Step 2: Click the three horizontal lines in the top left corner
Step 3: Click "My Success Network" from the dropdown menu that appears
Step 4: Click "Academic Tutoring"
Step 5: Scroll through the list of tutors (you'll see them listed as "Team Members") and identify any who are tutoring for your class.
Step 6: Click the tutor's name, then click "Schedule Appointment," then "Tutoring," and then complete the scheduling process.

Email ctctutor@hartford.edu
Fill out the form below
Stop by the Center for Student Success (GSU 230)
Drop-in Tutoring Hours
We are able to offer drop-in tutoring hours for Math, Biology and Chemistry. Please see below for days and hours that drop-in tutoring is available.
Tuesdays, Wednesdays, and Thursdays: noon – 4 p.m. 
Mondays, Thursdays, and Fridays: noon – 4 p.m. 
Sundays only!: 2 – 6 p.m.
Writing Assistance
We also provide individualized assistance to anyone in the University community who wants to develop efficient strategies for writing across the disciplines. Undergraduate and graduate peer tutors help with various writing issues such as generating ideas for papers, writing research papers, and organizing and editing drafts. Writing tutoring can also include strategies for task-and-time management and note-taking.
Every semester, our tutors complete more than 1,500 tutoring sessions in 50+ different courses.
Tutoring Request Form
Students can schedule one-on-one appointments with a peer tutor by emailing us or completing the below form. 
Tutoring Meeting Location: Lower level of Harrison libraries
Phone: 860.768.4999
Email: ctctutor@hartford.edu