Well Rounded. Well Traveled.
Please note: University of Hartford has cancelled all fall 2020 study abroad programs.  All approved fall 2020 students have been notified of this decision and can contact the International Center regarding options for future travel.  
UHart offers more than 200 different study abroad programs around the world. Flexible options enable you to tailor your international experience to meet your goals and your schedule. You can spend a semester at sea, live with a host family for a year, or research alongside faculty all over the world.
Contact Us
Nicole Kurker-Stewart, Director of the International Center. Point person for short-term faculty-led programs. 860.768.5101.
Meaghan Murphy-Rennie, Assistant Director for Education Abroad. Point of contact for semester programs and external summer/winter programs. 860.768.5100.
Maritza Liu, International Program Coordinator. 860.768.4870.
We're holding a virtual Study Abroad Fair on Sept. 30!  We're highlighting study abroad programs the two weeks leading up to the fair on UNotes and social media, and we invite you to drop in to the Zoom room between 12:00-2:30pm on the 30th to speak with our providers.  Click here to access the virtual ballroom and/or scan the QR codes below to get to know our providers before the fair, get matched to programs based on your interests, and get the link to Zoom.
Visit the virtual study abroad office today!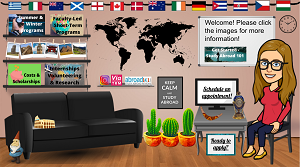 Taking students to Spain to visit social enterprise businesses and to experience the culture, languages, and food is one of the highlights of my year."
Daphne Berry, Associate Professor of Management