Global reach. Common purpose
The University of Hartford is home to approximately 500 International students and scholars from over 50 countries. We are a diverse community that values different perspectives. You will discover a campus composed of individuals who don't all see the world in the same way.
With seven distinct schools and colleges, a UHart education encourages a variety of viewpoints. Because of that, our graduates are well-equipped to succeed in a world that requires global awareness and understanding.
We look forward to assisting you throughout the application process and welcoming you to the UHart community.
Hours
Monday—Friday, 8:30 a.m. to 4:30 p.m. EST
Mailing address
International Admission 
University of Hartford
200 Bloomfield Avenue
Gengras Student Union, Room 345
West Hartford, CT 06117 USA
IDP's Middle East Virtual Fall Fair
Planning to come to the US for college in 2021? The University of Hartford is welcoming students in person! Please join us at IDP's Middle East Virtual Fair this fall to learn more about UHart.
Our degree programs are recognized and approved by your Ministry of Education (countries listed below). We offer fully accredited degree programs in Engineering, Business, Health Sciences, Computer Sciences, and Education.
Join us by registering online!
Fair dates and registration details available here:
Special Notification: Revised Admission Procedures – Covid 19/Corona Virus
Due to the impacts of Covid 19/Coronavirus the University of Hartford will make the follow accommodations for International students applying for Undergraduate programs for the September/Fall academic term:
Final year Academic Transcripts: *Select students will be considered without their final year results. **Final year results can be sent once schools reopen.  


English Testing for Fall 2020/Spring 2021  - S

tudents may submit results from the following online English tests:



TEST Optional: Students will be considered without SAT or ACT testing. 



Sending I-20's via Email:  

US Immigration and Customs Enforcement(ICE) has 

given permission to US Universities  

(

bottom page 3

) to send I-20's by email. For the Fall 2020 

academic term the University of Hartford will be sending I-20's 

by email.
I-20's sent by email as a scanned PDF's are
fully approved 
and considered as true and legitimate documents. You will use this scanned document to complete the steps necessary to apply for the F-1 student visa. Your I-20 will contain the scanned signature of the University's Designated School Official (DSO).  
You will be 
receiving an
alert email
24-48 hours prior to receiving your official I-20 
by email. As 
noted in this message 
please check your I-20 to insure that all information is correct.
Enrollment / Deposit confirmation will be extended to July 1st for all International Undergraduate Students.
Interviews available:  Skype/WeChat/Whatsapp Interviews are available for all accepted International Undergraduate students. Please send your request to

 

intlinfo@hartford.edu
*For students who have demonstrated above average performance in first years of High School.
** Three year systems need only first two years. Four year systems will require only three years. 
International Pathways Program
The International Pathway Program (IPP) is open to students who have proven their academic ability but need to strengthen their English skills to achieve positive results in the collegiate environment.
Read More
Graduate Studies
UHart offers more than 60 graduate degree programs across a wide range of disciplines, taught by faculty whose real-world experience prepares students for career success.
Read More
Take A Virtual Tour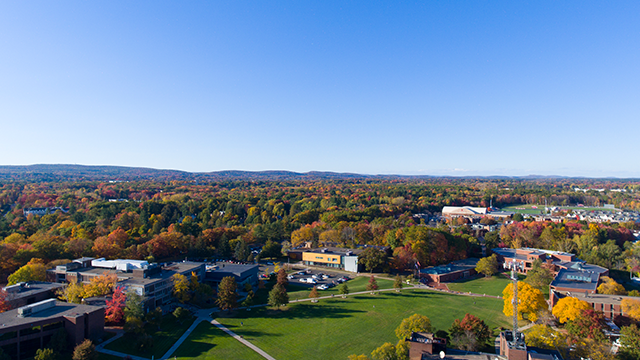 We know that you might not be able to visit in person, so check out our virtual tour. You'll be able to explore various parts of campus, and go into academic buildings.
Connecticut's Capital City
In addition to major cultural attractions, sports and award-winning restaurants, Hartford has all the diverse professional opportunities of a big city.
As an international student coming from Australia, I can say that UHart has made me feel right at home through consideration, care, and support."
Bianca Roos '21, Communication in the College of Arts and Sciences