Congratulations on your acceptance to the University of Hartford. This is such an exciting time for you, but what's next?
Reserve your spot for fall 2020 to secure your financial aid package, orientation, and a double room.
Why UHart?
We know that choosing a college is a difficult decision, but we are here for you. At the University of Hartford, we help you make your mark on the world. A unique combination of challenging academics, exceptional faculty, student life, and support will guide you through your college career. So, why UHart? Because we have it all!
Next Steps
We also encourage you to look into the many opportunities available to you at UHart.
Accepted Student Virtual Events
Our virtual Accepted Student Events have passed, but in case you missed them, you can watch all the recordings. Get a chance to learn about your program of interest, hear from faculty in your major, and learn about support services—all from the comfort of your home. 
Our events were divided into two parts; a panel series with interactive webinars, and a school/college session.
Your First Year & Academic Resources
April 13, 3–4:30 p.m.
In this webinar, UHart's Division of Student Success talked about our first-year advising program and seminar, honors, study abroad, tutoring, and more.
Student Life
April 15, 3–4:30 p.m. 
We know that college isn't all about academics. In this webinar, you can learn about student clubs and organizations, housing options, and health and wellness.
Hands-On Learning and Outcomes
April 16, 3–4:30 p.m. 

Meet the Director of the Office of Career and Professional Development and learn how UHart can help you find internships, explore career options, connect you to industry professionals, and more.
Part 2: School/College Sessions
#UHartBound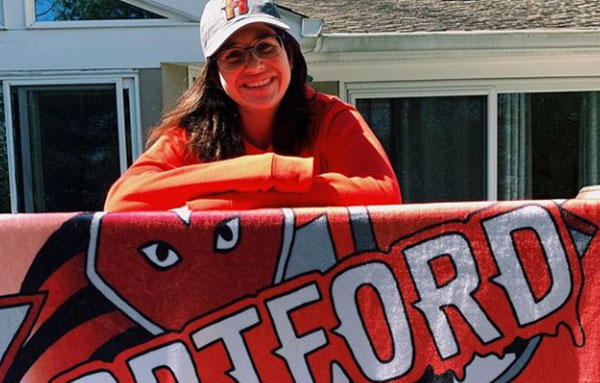 Share your excitement on social media using #UHartBound. We will be awarding prizes to the most creative photos! 
Don't have any UHart gear yet? Don't worry. 
Freshen up your UHart look and stock up on clothing and accessories with an exclusive 20 % online discount coupon to the Bookstore. Your official gear will ship directly to your home!
Visit 2ufrom.us/Hartford
Enter your email address 
Enter activation code: Admitted2020 
Use your unique code online for your discount!