Congratulations!
We are thrilled to welcome you to the UHart family.
In order to help you best prepare for your journey as a Hawk, each year we create many events that provide insight into both the University as a whole and your individual school or college.
Events for All Accepted Students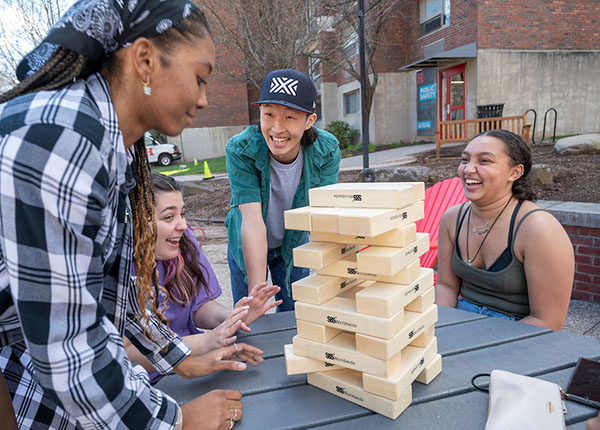 Throughout the spring and summer we will be hosting events for you to engage with your future classmates, talk to current students, and learn more about the UHart community.
This page will be updated often as new events are scheduled!
Admission Events 
Next Steps
These virtual events will discuss the ins and outs of starting your college career off on the right foot. From the admission process and the Center for Student Success to housing and Orientation, you'll leave feeling prepared to take on your college experience. Events will take place on Mar. 21, Mar. 29, April 3, April 13, April 18, April 26, and May 4. Register Now! 
Overnight Visits & Shadow Opportunities
Curious what it is like to be a UHart student? We have two great programs that help you to get an inside glimpse at student life. Our overnight and day visit programs are available during the spring semester from Wednesday, February 1 through Thursday, April 27. These programs are offered to admitted students only.  Sign up for a Visit! 
ZeeMee Events
Join us through the ZeeMee app on the Admits Class of 2027 Chat Channel for these events. Engage with your future classmates and have a little fun in the process!
Mar. 6: Word Unscramble
Mar. 22: Emoji Translation
April 12: Trivia
April 25: Trivia
Financial Aid Events
Financial Aid Next Steps: Understanding Your Costs and Financial Aid Award
If you weren't able to make the event on March 8, or want a refresher on what was covered, please see the event recording.
Completed your FAFSA and have questions for our Office of Student Financial Aid?
Register for a quick 1:1 virtual session with a financial aid counselor to check-in and get your questions answered! Registration is required for these sessions. Sessions run through April.
Accepted Student Days
We loved the opportunity to meet all of you for our Accepted Student Days this year—it is always one of our favorite events!
We look forward to doing it again with our Class of 2028 next spring. 
School & College Specific Events
Join us for visit days designed specifically for admitted students. Get to know more about your school or college; meet with faculty, staff, and students; and take a closer look at your major!
Barney School of Business
Feb. 17: Barney School of Business Visit Day 
March 8: Barney School of Business Visit Day 
College of Arts & Sciences
Feb. 6: Psychology Visit Day 
Feb. 20: Sciences Visit Day 
Feb. 23: College of Arts & Sciences Visit Day
March 3: School of Communication Visit Day
College of Engineering, Technology & Architecture
Feb. 8: Engineering Visit Day 
Feb. 15: Architecture and Engineering Technology Visit Day 
College of Education, Nursing and Health Professions
Feb. 9: Education Programs Visit Day 
Feb. 13: Health Professions Visit Day 
Feb. 21: Health Professions Visit Day
March 1: Nursing Visit Day 
Hillyer College
Feb. 27: Hillyer College Visit Day