Your challenge. Your achievement.
Are you a high-achieving student ready to continue this academic excellence in college? Our Honors Program includes exceptional courses, interdisciplinary seminars, faculty mentoring, and senior research projects.
The Honors Program at the University of Hartford is a unique program for students to push themselves academically. We've designed our Honors Program to align with each school and college so students are studying the topics that interest them while also working toward graduating with honors.
Honors Seminars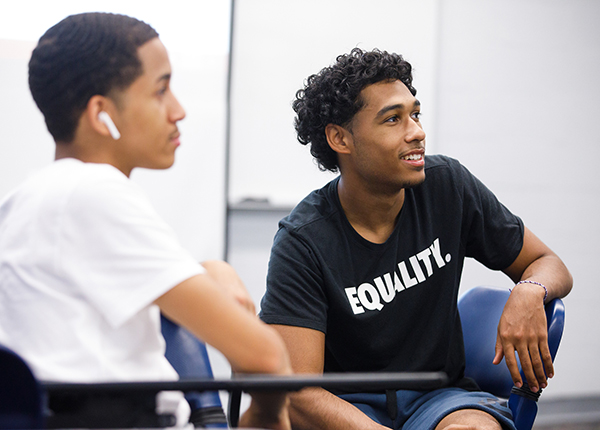 Fall 2023
These seminars provide students an opportunity to work closely with faculty members and think about complex problems and issues across disciplinary boundaries or outside of traditional disciplinary trajectories. They seek to cultivate the skills of critical thinking, cogent argumentation, and effective writing, all by attending to a particular subject matter.
What's Required
To graduate with Honors, students need to complete 18 credits of Honors coursework (9 credits in Hillyer College). Most of the Honors credits are integrated into the students' curriculum plan; depending on the College, students will complete 3–6 credits of work beyond what is required for the major. The specific requirements for each College can be found by visiting our College Requirements webpage.
If you have specific questions, please contact the Honors Coordinator for your College by going to our Coordinator webpage.
Graduate With Honors
6-9

Credits of honors general education courses

6

Credits of advanced honors courses

3-6

credits of an hours thesis or senior project
Benefits of the Honors Program
Our Honors Program includes exceptional courses, interdisciplinary seminars, faculty mentoring, and senior projects. In addition, you'll have the chance to grow within a dedicated residential community and participate in special honor societies, campus events, and colloquium presentations. 
Students who participate in the program have the benefit of:
The opportunity to challenge themselves.
An honors program designed to align with their school or college work.
Mentoring by dedicated professors.
Access to a residential learning community (by application).
Undergraduate colloquium to present their work.
Participation in enriching courses.
Priority class registration (GPA 3.5+).
Small class sizes (12-20 students).
Exposure to research projects and internships. 
The great thing about the program is you can make it what you want it to be; if you pick a research topic that thoroughly interests you, a lot of the final project won't feel like work. The honors program also helped me to prepare for the rigor of graduate school by forcing me to stay on top of my assignments and learn how to develop a healthy work-life balance. As tough as it can be at times, I feel like the program made me a stronger student overall and I am very glad I decided to stick with it."
Alyssa Clifford '20, Honors Student
Sydney Samele
Bachelor of Fine Arts, 2021
Sydney Samele received her Bachelor of Fine Arts in 2021 with a major in Printmaking and a doule minor in Illustration and Art History. As an Honors student in the Hartford Art School, Sydney had the opportunity to participate in valuable experiences that helped to prepare her for life after graduation. Sydney was selected to present with one of her peers at the NRHC Conference—her advisors picked a group of students who they felt would proudly represent the Hartford Art School. Through this experience, Sydney had the experience of proposing projects, critiquing work, and creating presentations. Sydney feels that the biggest benefits of the Honors Program included internships, job opportunities, and networking. In addition, she was able to freely explore her interests through the program and the Hartford Art School allowing her to produce the strongest artwork possible.
Don't let fear or doubt keep you from taking on the challenge of becoming an honors student. There is much more to be gained from joining the program and falling short, than from not trying at all. It is less about committing to the honors program, and more about investing in your own education and potential opportunities."