Your Starting Point for Graduate Study
Welcome to Graduate Admissions at the University of Hartford. We look forward to being your central resource as you begin your graduate career.
We invite you to explore our programs, events, and frequently asked questions. When you request information, you will receive in-depth information about your program of interest as well as general information about Graduate Studies at the University of Hartford. 
If you need any support during the application or admissions process, please reach out to us at gradstudy@hartford.edu so we can assist you. 
Application Instructions
Ready to apply? General application requirements are noted below. However, as application requirements vary by college and program, please refer to the individual program websites for more information.
All graduate applicants are required to submit the following:
Official transcripts from all undergraduate and graduate schools attended
Letter of intent detailing your interest in the program and goals
Non-refundable application fee of $50.  CAS applicants are required to pay a non-refundable processing fee in lieu of an application fee as designated by the CAS
Professional resume and/or curriculum vitae
Some graduate programs require the following:
Audition fee of $40 (Hartt School Applicants)
One to three letters of recommendation
Supplemental documents
International applicants are also required to submit the below materials:
Transcript evaluation: International transcripts must be evaluated with grades by a NACES member credential evaluation service. If the transcript is written in English, a course-by-course evaluation is still required, as grading systems vary from country to country. Visit NACES for a complete list of members. 
Students who are non-native speakers of the English language are required to submit scores from one of the following English-proficiency tests.
Admitted students will be required to submit a passport, and financial documents that indicate financial capability and responsibility for at least the first year of enrollment (tuition, fees, and living expenses). If you are not personally funding your tuition, your sponsor must submit a sponsor certification and submit official financial documentation.
Please view our Frequently Asked Questions to assist you with the application process.
Application Dates and Deadlines
Most of our graduate programs admit students on a rolling basis. Some programs have specific priority and/or application deadlines. Please refer to the individual program websites for more information. 
The application for spring, summer and fall 2022 opens August 1, 2021.
Connecticut's Capital City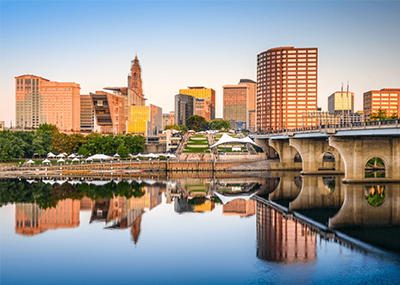 In addition to major cultural attractions, sports and award-winning restaurants, Hartford has all the diverse professional opportunities of a big city.
The friends you make at UHart last a lifetime. These people stick by your side through thick and thin and truly are friends for a lifetime.
Brian Monks, '14, M'15