Broaden Your Horizons. Travel the World. 
Are you looking to study abroad for an entire semester or two? The University of Hartford's Study Abroad programs offer you opportunities to travel and learn all over the World. With more than 200 programs to choose from in over 50 countries, there is a world waiting for you to explore.
Want to go abroad through one of our approved study abroad program providers but not sure which one or where to start? Did you know we have a virtual study abroad bookcase?  Visit the bookcase, "grab a brochure," and get to know each of our partners, watch videos, read blogs, explore various social media pages, connect with program alumni, see the approved locations for each of our partners, and more!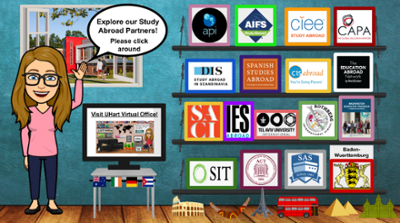 Hannah Moore '19
Psychology, College of Arts and Sciences,
Hannah had the amazing opportunity to study abroad at University College Cork in Cork, Ireland through API. "I could not have picked a more perfect place for me, especially because I love rain and ocean views," Hannah Says. She was also able to travel to multiple cities in Ireland and London. She quickly found friends and they travelled together.
I am so happy to have made lifelong memories with friends I will keep for the rest of my life."