CETA's Talented Seniors and Sophomores Recognized at Spring 2019 Design Expo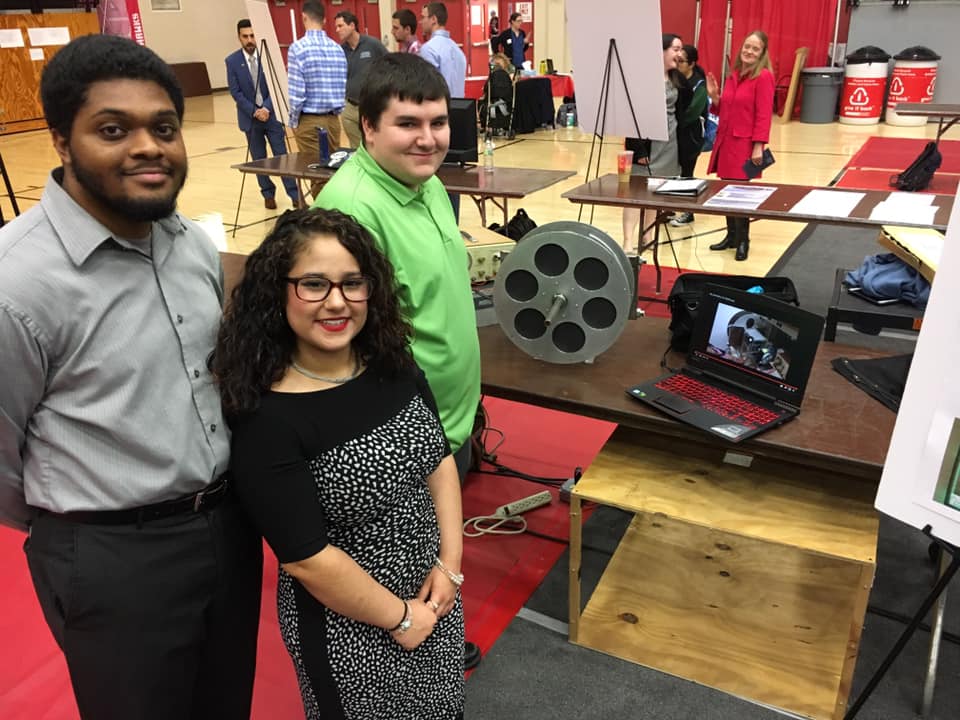 The College of Engineering, Technology, and Architecture's (CETA) hosted its spring CETA Design Expo on Friday, May 3, 2019. The event showcased projects of some of their talented sophomores enrolled in engineering design courses, as well as seniors presenting their capstone projects. Throughout the semester, students collaborated with each other and for some, industry sponsors, to develop and apply real-world solutions to design challenges. The College hosts the expo at the end of each semester where students showcase their innovative ideas, designs, and projects to various guests and judges—including CETA alumni, faculty, and Board of Visitors. Not only did students have an opportunity to present their ideas to those in attendance, but the all-day event included a design competition and senior "shark tank" presentations where the students chosen as finalists pitched their concepts to the judges.
The day kicked off with the ES 242: Engineering by Design course design challenge with CETA sophomores. This design challenge is focused on using engineering analysis and design principles to address global problems such as hunger, environment/pollution, and infrastructure. The Spring 2019 challenge focused on solutions that address global problems by addressing some aspect of a global problem with, whenever possible, simple, low-cost solutions that are easy to implement, operate, and maintain, particularly in areas that lack significant infrastructure to support more expensive, high-tech approaches.
Join us in congratulating the following sophomores on winning this year's design challenge:
First Place
Poster #5 – (Applied Assistant Professor Phil Faraci)
Swim Safe Water Safety System
Andrew Ackerman '21, Justin Aiken '21, Sam DeAngelis '21, Sean Doyle '21
Second Place
Poster #25 – (Applied Assistant Professor Todd Brown)
Improving Accessibility for the Blind
Nash Bradley '21, Serina Gelinas '21, Alexander Kobos '21, Michaela Manzi '21
Second Place
Poster #26 – (Applied Assistant Professor Todd Brown)
Workplace Overexertion
Taylor Dirscherl '21, Michael Gudeczauskas '21, Joel Lawes '21, Lillian Orelup '21
The CETA Design Expo presents a great opportunity for students to showcase their talents. It is immensely inspiring to see hard work and ambition manifest into reality.
Taylor Dirscherl '21, BSBE
The senior design/capstone challenge followed in the afternoon, showcasing the culminating experience of our graduating seniors. Students work on projects in their field of study with faculty mentors or external project sponsors to design, fabricate, and/or test a device, process, or system. This is a major design experience based on the knowledge and skills acquired in earlier course work and incorporating industry-appropriate standards and realistic constraints.
Join us in congratulating the following seniors on winning this year's senior design/capstone challenge:
First Place
Poster #S27 – (Technical Advisor: Associate Professor Patricia Mellodge)
Course: ECT 481P
Emergency Response Drone
Eric Daluz '19, Jordan Paradise '19, Brett Yoder '19
Second Place
Poster #S24 – (Technical Advisor: Assistant Professor Mary Arico)
Course: BE 461
PunchForceGo!
Myria Avery '19, Sabrina Ritosa '19
Second Place
Poster #S58 – (Technical Advisor: Associate Professor Jim Fuller)
Course: AET 489
Women's Shelter and Support Center, Roanoke, VA
Katurah Muhammad '19