CETA First-Year Students and Seniors Participate in Fall 2019 Design Expo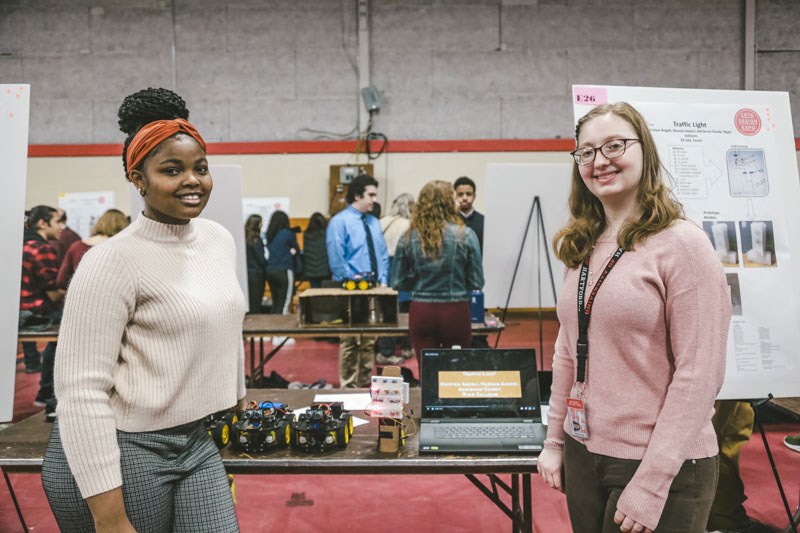 The College hosts the expo at the end of each semester where students showcase their innovative ideas, designs, and projects to various guests and judges—including CETA alumni, faculty, and Board of Visitors. 
The College of Engineering, Technology, and Architecture (CETA) hosted its fall CETA Design Expo on Friday, December 13, 2019. The event was the first opportunity for first-year students to showcase their final projects after their first semester, as well as feature seniors' design projects. 
The first-year final projects involved an expo design challenge for students in ES 143P – Engineering and Design. Teams were tasked to propose, build, and demonstrate a final project that shows new knowledge and skills pertaining to their Arduino controller. Other first-year students from ECT 110P – Practical Projects also participated in the event. Teams were tasked to choose an electronics kit that they must construct, troubleshoot, and demonstrate as a working final product. Teams were asked to consider several factors in choosing the kit, including components in the kit, tasks involved in construction, ability to customize, and evaluation of its performance.   
First-year winners included: 
Winners for ES 143P Course
Top Winning Team: Poster #E30 — Heavy Lifting by Jordaine Wisdom '23, Ryan Douglas '23, and Johann Strasser '23
Poster #E7 — Arduino Dream Team by Nico Ramirez-Ocone '23, Eve Steiger '23, Alba Marcelin '23, Kevin Oppong '23, and Madison Roe '23
Poster #E9— Team Gold by Natalia Salgado '23, Jacob Salas '23, Paul Campbell '23, and Cameron Dus '23
Poster #E10— The Hot Ones by Artenisa Dautllari '23, Alexandra Chabot '23, Cailin Hesketh '23, and Michaela McNutt '23
Poster #E38— A1 by David Ackerman '23, Nathanael Gonzalez '23, Leo Caserta '23, Matthew Sirois '23, and Irene Primo Calvo-Manzano '23 
Winners for ECT110P Course
Top Winning Team: Poster #T6— RC Crane by Mark Dennen '23 and Pierre Wright '23 
Poster #T1— Smart Watch by Nathan Colon '23, Steven Spencer '23, and Michael Witczak '23
Select seniors also participated in the expo. They were tasked to work on projects in their field of study with faculty mentors or external project sponsors to design, fabricate, and/or test a device, process, or system.
Senior winners included: 
Poster #S3 — AutoBar by Erik Kadikis '19
Poster #S4 — Sweetbyte Assistant by Rosie Ayala '19 
Please join the College of Engineering, Technology, and Architecture (CETA) in congratulating all students who participated in this semester's event. We hope you can save the date for our spring design expo on Friday, May 1, 2020. Any questions or comments, please contact us at cetacomm@hartford.edu. 
Featured Photos from Expo (Photos by Nasr Kamar '20)