Prosthetics & Orthotics Aids Its Tiniest Patient: A Dog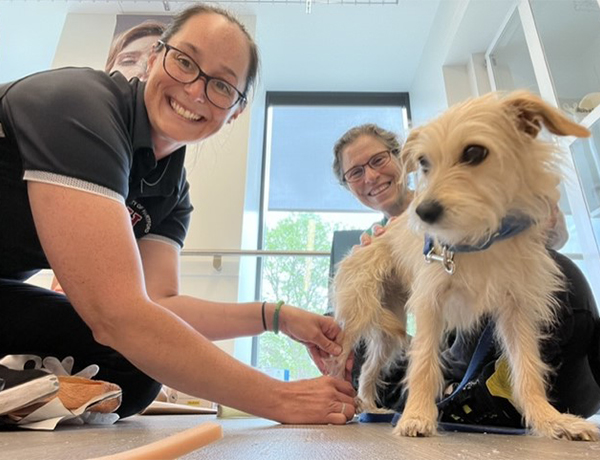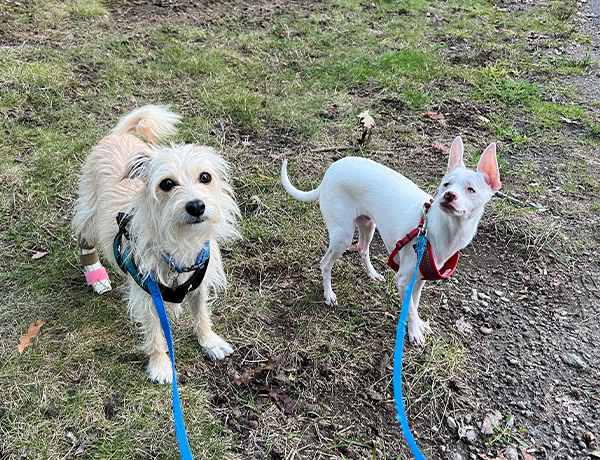 Dogs are infamous for biting bandages, kicking off protective booties, and, well, simply doing what they want.
So when the Prosthetics and Orthotics department at the University of Hartford was tasked with aiding a dog who needed a leg brace that truly helped her walk and would stay put, it was quite the challenge.
But there was more…the device needed to be teeny tiny because it was for a 12-pound canine.
Lucy the Chihuahua, rat terrier, and Dachshund mix, along with her owner, Melissa Shapiro, found UHart's P&O team this past spring after their own extensive course of research and trial and error.
"I'm so thankful. You have no idea of the value of this little brace for us," Shapiro says of the new device she received after working all summer with Abbey Downing, an adjunct professor with P&O.
Lucy was adopted by Shapiro in January 2022 after being rescued in California, where she was likely hit by a car. No one is sure what happened, but old injuries discovered upon her rescue indicated such trauma and had left multiple limbs in rough shape. One limb and paw were particularly complex—the paw had shrunk and was already experiencing atrophy, and Lucy was never willing to put weight on it.
"She came to Connecticut and got to our home and was so scared," recalls Shapiro, a veterinarian. "It took a while, but my other dogs started playing with her, and Piglet loved her right from the start. It worked out really well."
If Piglet the dog sounds familiar, that's because the pup is a bit famous. Piglet, a fellow rescue, is deaf, blind, and a light pink color. The pooch inspired Shapiro to write multiple books about his adoption journey.
So, you can say pups with special challenges are right in Shapiro's wheelhouse. As she evaluated options for Lucy and her leg issues, amputating didn't seem right (her other legs are too weak to fully support her), surgeries didn't help, and brace after brace with various providers didn't work out. Then, she wondered what a local university could offer and turned to UHart.
"I got a good understanding of what Lucy's needs were, what our goals were, and what features of her past devices worked well," Downing says. "Previous devices were working well for stabilization but caused skin irritation and were made of disposable materials."
Downing had many visits with Lucy over the summer, and the pooch is now successfully using a new orthosis. Now that students are back for the semester, they've joined the project and are working on a second design with softer material to wear inside her home. Plus, Lucy needs a few extras in case her device gets dirty while she's playing outside—because this pup is ready to go, go, go.
"She goes for two miles with the brace on. I would say she uses her foot 60 percent of the time now," Shapiro says. "It's really been lifechanging."