Mohammad Manzur Murshid, M'18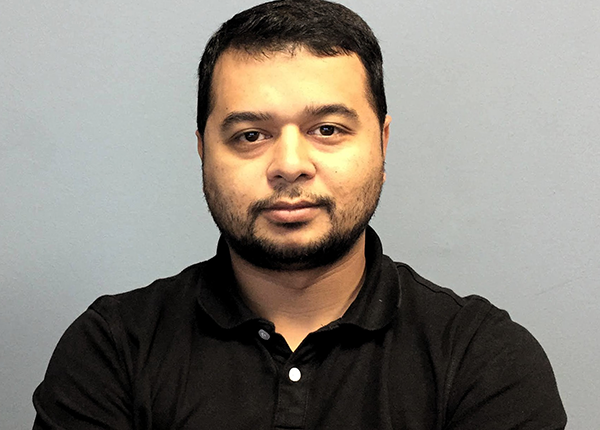 Mohammad Manzur Murshid (M'18) earned his Master of Science in Electrical and Computer Engineering and is now working as a senior robotics and software engineer at SubUAS LLC. The company was founded in 2016 and is known for creating the first unmanned aerial and underwater vehicle, the Naviator.
 
Murshid chose to study electrical and computer engineering because he has always wanted to become a researcher and an engineer working on electronics, computer systems, and most importantly, robotics. Murshid discovered UHart while searching for universities in the United States that had a graduate program in electrical and computer engineering to match his career goals. He wanted to stay relatively close to New York and saw UHart at the top of the lists. He also received many recommendations from fellow classmates at his undergraduate school about UHart.
 
UHart was the first university to accept his application and had a reasonable cost of tuition and fees for him as an international student. But one interaction with a potential faculty member made the decision to attend UHart so much easier for Murshid. "While I was applying to UHart, I was contacted by one of the senior professors who was excited to speak to me about some of my personal projects with robotics, drones, and my interest in future research and career development in the field," Murshid explains. "He showed interest in my projects and assured me that this was the right school to attend based on my goals." Murshid says UHart became his second home after moving to the United States.
 
Murshid credits many of his faculty for helping him grow while he was a graduate student. Some include Assistant Professor Hassan Salehi, Assistant Professor Kiwon Sohn, Associate Professor Ying Yu, and Associate Professor Krista Hill. He says Salehi was one of the first professors who stepped up and offered him, along with some other students, the opportunity to do research. "He always encouraged students to go for research and beyond," Murshid says. "Without him as a committee chair, it was impossible to think about my journey at UHart and my ability to complete my master's thesis. Together, we also published a few papers and he still serves as a mentor to me in any technical challenge I face in my professional career."
 
Murshid was extremely appreciative of Sohn for giving him the opportunity to explore robotics at UHart. "Without him, it would have been difficult to imagine a career in robotics," he states. Sohn, one of the committee members for Murshid's master's thesis, was supportive of the grad student's research throughout the entire process. Since graduating from UHart, Murshid has been working in the robotics field, specifically in the UAV sector, and appreciates the help Sohn provided every step of the way.
 
"Yu is the kind of faculty member always cheering on students," Murshid continues. "She motivated me throughout my time at UHart. Whenever I had an issue with a course, results, or any topic, she took the time to discuss it with me. Hill was also there to motivate him through some of his most challenging courses. "She helped me overcome these struggles and was always there to talk about new technology ideas I had," Murshid recalls.
 
With the combination of these inspiring faculty, as well as the advanced coursework to expand his skills in robotics, Murshid says his experience at UHart was extremely valuable and rewarding.
My experience as an international student was positive from day one of Orientation, when I received a warm welcome from the University faculty and staff, all the way through graduation where many of these same individuals were there to celebrate my achievements. THE combination of the broad academic curriculum offered within a high-quality education system with great professors made the experience as an international student even more meaningful.
Mohammad Manzur Murshid M'18, , Electrical and Computer Engineering