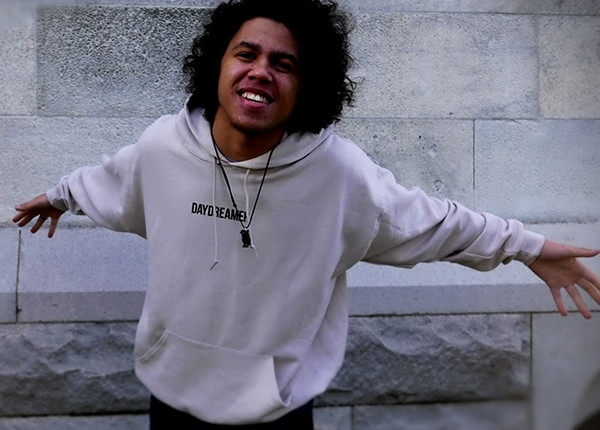 Jahvon Fox '20, a graduate of the audio engineering technology program in the College of Engineering, Technology, and Architecture (CETA), is working on freelance work related to the skills he acquired in the program while pursuing an exciting music career.
Some of his freelance services include audio mixing and mastering, as well as photo and video editing. While building his résumé and network through these services, Fox will also continue to pursue his passion for music under his stage name "KNoWTe" through his continual music releases and performances, once performances become commonplace again. 
The opportunity for freelance work became possible once Fox realized the network he built through pursuing his own music. "Throughout my music career, I would come across a number of artists and content creators who were struggling to create that professional looking and sounding audio and video for their content," he explains. "By implementing what I learned in school into my personal pursuits, I began to realize I unintentionally created a portfolio through my numerous musical and video releases."
Fox's connections, including fellow artists and content creators, were intrigued to know how he had such professional looking and sounding music and videos. He collaborated with fellow audio engineering alumnus Will Stenson '19 who helped mix, produce, and master a handful of tracks on his most recent project. "I also learned how to mix and master a majority of my own music, and edit all my own photos and video," Fox says. "After sharing this with my connections, they began asking for help with theirs. These efforts essentially began my work as a freelance multimedia editor, helping other artists and content creators make their visions come to life."
Both the University of Hartford and CETA had a positive impact on Fox's time as a student. "UHart provided the hands-on classes I needed in order to learn the skills that are necessary for my field," Fox says. "The University also provided me a space to meet other creative students on campus, allowing me to cultivate personal and working relationships that have helped me get to where I am today." In particular, Fox believes the audio engineering program in CETA is one of the most diverse programs when it comes to the number of focus areas students can pursue.
I was able to learn skills in musical recording, foley, live sound, mixing and mastering, audio for video, computer networking, as well as being able to troubleshoot equipment from even a component level. Some advice I would share is do not let your specific major limit your learning experience. Just because you declare a specific major doesn't mean you can't learn skills that another major or area of focus may provide. By joining clubs or getting involved with the community, you are able to learn certain skills you don't get in your day-to-day classes. Personally, I was involved in RedTail Records, the on-campus record label, the entirety of my college career. Although I was chief engineer and spent most of my time in the recording studios, I learned skills in artist relations, management, content creation, event planning, and release scheduling, which are all skills I use in my day to day."
Jahvon Fox '20, audio engineering technology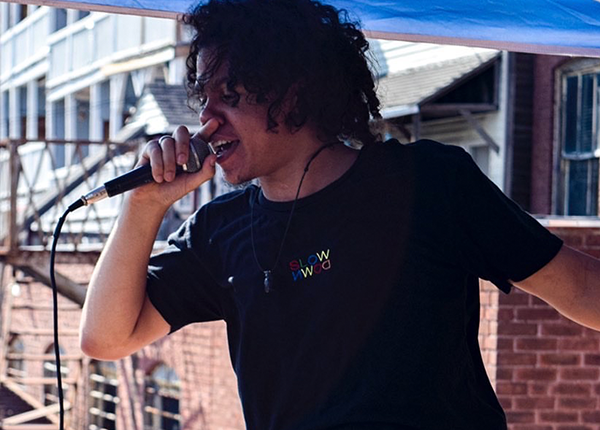 Through his involvement with RedTail Records and the skills learned in the classroom, Fox was able to spend a majority of his time recording and mixing other people's music as well as his own. "Each track becoming better than the last and helping me create the 'KNoWTe' sound people have come to enjoy today," he proudly says.
Fox also credits the audio engineering technology faculty who have helped him along the way. He worked closely with Dave Shuman,  assistant professor and program director for audio engineering technology, and Mike deAlmeida, applied assistant professor, throughout his four years. "They were my anchors and I always had such a high respect for them as professors, industry professionals, and as people," Fox says. "I found myself working hard in my classes and my extracurriculars because I wanted to make them proud—which is a feeling I never had towards any other teaching professionals in the past," he says.
Fox's favorite aspect about UHart is the community. "There is a community for everyone," he says. Joining the University his first year, Fox didn't think he would find people who thought like him and shared similar interests. "But by the first few weeks, I was able to make friends with people I now consider family," He says. "I even met the love of my life on my third day there and I'm still with her to this day. Most important, I am thankful I found people who didn't think like me, because it challenged me to grow and learn from my own trials and tribulations."
When asked what advice he would share for incoming students, Fox says, "enjoy your time while you have it because it truly does go by in a blink of an eye. Search for understanding, search for gaining experience, don't be afraid to make mistakes, and admit when you don't know something—and of course, have fun. Once I started doing that, good grades started to follow."
Fox is incredibly grateful for the experiences he had at UHart and far better off for having been a CETA student. "I wouldn't be who I am today if it wasn't for this university," he says.