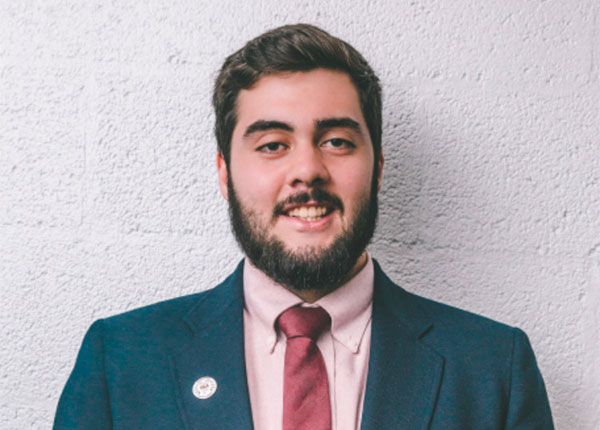 Liam Bernier is graduating from UHart's College of Engineering, Technology, and Architecture (CETA) with two BS degrees in civil engineering and architectural design + technology. He was hired before graduation and will begin working in the fall at Dietz and Company, Inc., an architectural firm, in Springfield, MA as an architectural associate/draftsperson. Liam's success involved hard work in the classroom, coupled with utilization of his on-campus resources and supports, to establish a connection with potential employers and secure future success in his field.
 
According to Liam, the CETA Career Fair and UHart's Career and Professional Development Office provided him the opportunities to explore employment in his area of study. He says of these experiences, "I learned to develop myself, interview skills, and elevator pitch, professionally." He connected with Dietz and Company Architects twice, at a CETA Career Fair and through a recommendation from a previous internship at an engineering firm. 
Bernier also says he applied his classroom knowledge to networking opportunities, conferences, class projects, building his portfolio, software experience, and critical thinking throughout his academic career.
 
In addition to making use of the support available on campus, Liam utilized CETA's acclaimed faculty as resources for his studies.  He says that "the faculty really cares about their students. They are always willing to help and very understanding." Bernier acknowledges that "it was stressful with two majors but enriching. I wouldn't trade it for the world."
 
What advice does Liam have for incoming students? He urges them to get involved. "Don't be afraid to join clubs and make friends. Immerse yourself in UHart," he says. This is exactly what Liam did and it was his utilization of his supports that lead to his success upon graduation.
He was a part of the Student Government Association (SGA) all four years, as well as AIAS (American Institute of Architecture Students) and ASCE (American Society of Civil Engineers). Liam's work in the Environmental and Sustainability Committee helped him develop key leadership skills. Furthermore, his fundraising efforts for the Ultimate Frisbee Club Team fundraising committee helped developed his teamwork skills.

"Start building your network. Take every opportunity you can to make new connections," he says.
I learned to develop myself, interview skills, and elevator pitch, professionally.
Liam Bernier '20, Civil Engineering and Architectural Engineering Technology