Iyanuoluwa Slemale Fwa '21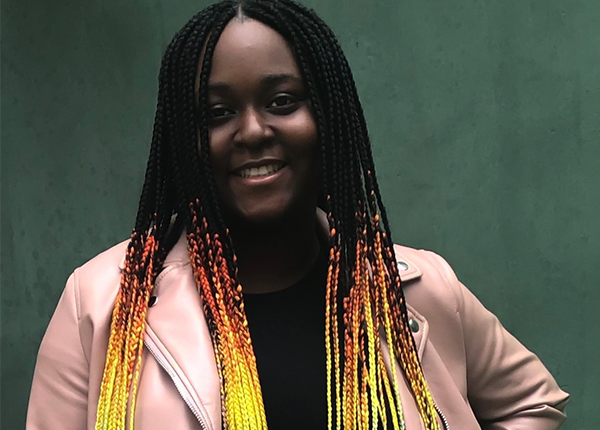 Iyanuoluwa (Iyanu) Slemale Fwa '21, an architectural design + technology major from Nigeria, was drawn to UHart's architecture program because of the hands-on experience, accelerated program to earn her master's, and the advantages of a small campus. As an international student, she discovered UHart while attending an EF Education First international school in New York after graduating high school in her home country. She thought it was important to attend a small, private school to have a personalized learning experience.
 
The architectural design + technology program was the perfect fit for Fwa, who has enjoyed drawing since she was young. Fwa says she started with fashion illustration, but found a connection between fashion and architecture;  the latter helps individuals better understand form and structure, which in turn, can translate to fashion. She also commented on her desire to create new and innovative spaces to help improve the interaction between humans and nature.
 
Fwa recalls her first year in design class with Professor of Architecture Daniel Davis when she realized just how supportive the faculty at UHart are. Since she grew up learning the metric system in Nigeria, it was difficult trying to make use or understand the imperial system taught in her architecture classes. She says Davis was very helpful in providing ways to always remember how to do the conversions—something that may seem like such a small act—but made a huge difference in her classes.
 
Fwa says UHart has helped her develop many skills, including leadership, confidence, and communication. Serving as the vice president of the International Student Association, as well as being a member of various clubs over the course of her undergraduate career, Fwa has gained additional experience she plans to incorporate into her career. She looks forward to the opportunity of continuing her education here at UHart to pursue her Master of Architecture (MArch). She explains how seamless and easy UHart makes it for architecture students to earn their master's through the accelerated program, allowing students to start taking graduate level courses in their senior year that can apply to both their undergraduate and graduate program. Current architecture students at UHart can earn their MArch one year after completing their undergraduate degree.
Being an international student at UHart has made me feel very comfortable and included within the community because people are welcoming and there is faculty and staff available to support me," Fwa says. "UHart does a wonderful job celebrating international students, diversity, and inclusion through activities like the International Cultural Fair—an event I look forward to year after year. I enjoy learning about other cultures, dressing in my traditional attire, and watching the impressive performances from other students.
Iyanuoluwa Slemale Fwa '21, Architectural Design + Technology