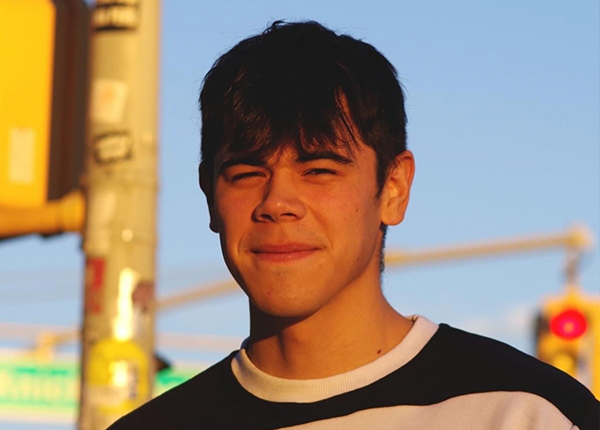 Sean Bradley '21, a mechanical engineering major with concentration in acoustics in the College of Engineering, Technology, and Architecture (CETA), landed an exciting internship this summer related to his dream field. He is working as a sound and vibration intern at Carrier HVAC in Indianapolis, Ind. This being his first internship, Bradley says it is really exciting but also really nerve-racking at the same time. "While I am nervous being out on the field, I feel safe knowing that the University of Hartford prepared me for moments like this," he says.
Bradley works with the sound and vibration engineering team. They are responsible for making sure that newly developed HVAC (heating, ventilation, air conditioning) units surpass regulatory tests for sound and vibration. As students learn in classes on acoustics, sound and vibration can cause mechanical failure and lowered product efficiency, along with customer annoyance and dissatisfaction. Bradley's role as an intern resides primarily in the sound/acoustics realm as he develops new processes for wave file recording/collection and digital jury methodization. These two go hand in hand as high-quality wave files are necessary in digital juries, he says. These digital juries are to judge the sound quality of the HVAC unit and decide if the noise generated is acceptable by a customer's standards. Bradley is also helping develop troubleshooting procedures for noisy HVAC units—both in the laboratory environment and out in the field in a customer's home. The goal is to identify the sound source using sound and vibration analysis and figure out what is wrong with the unit without having to take it apart. "Ultimately, I am to create, document, and train technicians on these procedures," he explains.
Bradley chose to attend the University of Hartford because of "its super unique acoustic engineering program." Coming from a technical high school and loving math and science, he felt destined to become an engineer. But then coming from a musical family, he has always had a deep passion for music and sound. "I did research on what the perfect crossover might be," Bradley recalls, "and one lucky afternoon, I discovered the acoustic engineering program at the University of Hartford. Greatest day of my life!"
The Acoustical Engineering and Music program and Mechanical Engineering program with acoustics concentration respectfully are nationally recognized and unique. Bradley admits he chose mechanical engineering with a concentration in acoustics as his major because "every day I get a healthy dose of everything I love." His interest in sound stems from growing up in New York City, one of the loudest cities in the world. This is his driving passion in pursuing a career in environmental acoustics.
Noise is an invisible factor that people don't consider in their daily life but does affect them greatly. Recently, the University of Hartford chapter of the Acoustical Society of America hosted a presentation from an acoustic engineer from the infrastructure firm AECOM. The presentation was about his work in environmental acoustics and the vast considerations that must be made to those affected by noise. His work was fascinating and seemed very close to a realistic 'dream job' for me. The definition of my dream job is any job that I can work towards the betterment of environmental noise control and improve the quality of life for both humans and animals."
Sean Bradley '21, mechanical engineering with acoustics concentration
Bradley credits the faculty who teach in the acoustics program for much of his success. He says Bob Celmer, professor and program director of the Acoustical Engineering and Music program; Associate Professor Eoin King; and Assistant Professor Christopher Jasinski are consistently available and helpful. "They have granted me awesome opportunities and answer all of my questions," he says. "They always support and do whatever they can to help me succeed and I am eternally grateful for it." Bradley also credits Kamau Wright, assistant professor of mechanical engineering, for granting him with a great scholarship opportunity with Pratt & Whitney, along with guiding him through the toughest courses over the last few years.
Along with being dedicated to his program, Bradley is highly involved in CETA and at the University. Along with being a member of UHart's acoustical society of America student chapter, giving him the opportunity to attend conferences and meet industry professionals, he is also the president of the Hartford powerlifting club and a student ambassador in the CETA Leadership Society.
When asked what advice he would share with incoming students, Bradley says it would be to get excited about college. "I spent a lot of my first year in my dorm on my computer because I was scared and nervous," he recalls. "It took me a long time to realize that so was everyone else. College is the time to really understand who you are and to get new experiences. The best way to do this is by joining clubs, where you meet people with similar interests as you and get access to unique opportunities. Try new things and discover a new interest or passion. Being open-minded and staying positive is the best thing you can do as a new student in my mind!"