Unity Events and Initiatives
The University of Hartford is Committed to CommUNITY.

To advance and promote our commitment to an inclusive and diverse campus community, the University invests in a wide range of programming and initiatives for students, faculty, and staff. Here, you can find details on all of our upcoming events, from guest speakers to professional development opportunities and more.
UHart is Celebrating Pride Month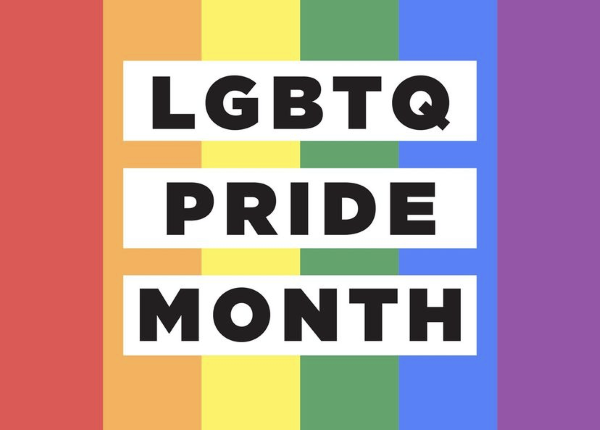 At UHart, we are committed to fostering a community centered on equality for all of our students, faculty, and staff. The University of Hartford recognizes and highlights the significance of equality and increased visibility of lesbian, gay, bisexual, transgender, queer, intersex, asexual, and all other identities that fall under the gender and sexuality umbrella. Pride month originated in June to honor the 1969 Stonewall Uprising in Manhattan. The Stonewall Uprising was a tipping point for the Gay Liberation Movement in the United States. 
Summer Reading
We aim to continue to foster an inclusive and equitable environment through programs, initiatives, and education. We have compiled a summer reading list made up of book recommendations from the UHart faculty and staff that are focused in the DEI space!
Video Gallery
Featured below are video recordings from several of our 20-21 events. You can also access the following transcripts in PDF format:
UHart's Heritage Month Celebrations
September 15-October 15
Hispanic Heritage Month first began in 1968 as Hispanic Heritage Week under President Lyndon Johnson. It was expanded to cover a 30- day period by President Ronald Reagan in 1988 and is now officially September 15 to October 15. Mid-September was chosen because it is the anniversary of independence for Latin American countries Costa Rica, El Salvador, Guatemala, Honduras, and Nicaragua. In addition, Mexico and Chile celebrate their independence days on September 16 and September 18, respectively. Also, Día de la Raza, which is October 12, falls within this 30-day period.
Thank you to Dr. Anthony De Jesús who helped us to celebrate this month with his discussion on October 9, 2020: From Spanish Speaking to Latinx - Three Afro Puerto Ricans who Championed Inclusion.
ResourceS FOR FURTHER LEARNING
October
Queer & Trans Empowerment Month (nationally known as LGBT History Month) is celebrated every October at the University of Hartford and recognizes the lesbian, bisexual, gay, transgender, and queer community. University wide programs and events aim to educate on LGBTQ issues and build community on campus.
Thank you to Kim Adamski, HIV Prevention Specialist at the Hartford Gay & Lesbian Health Collective, who helped us to celebrate this month with her discussion on October 27, 2020: LGBTQ+ Cultural Competence. You can find resources at the link above as well.
October
The history of National Disability Employment Awareness Month traces back to 1945, when Congress enacted a law declaring the first week in October each year "National Employ the Physically Handicapped Week." In 1962, the word "physically" was removed to acknowledge the employment needs and contributions of individuals with all types of disabilities. In 1988, Congress expanded the week to a month and changed the name to National Disability Employment Awareness Month. 
November
UHart highlights Native American culture through a variety of events. NAHM is an opportunity to recognize and honor the rich history, culture, and contributions of American Indians and Alaska Natives. The Native American Heritage Month celebration originated in 1915 as American Indian Day and was celebrated on the second day of May. In 1990, President George H.W. Bush expanded the celebration to a month.
RESOURCES FOR FURTHER LEARNING
An Indigenous Peoples' History of the United States by Roxanne Dunbar-Ortiz
American Indian Stories, Legends, and Other Writings by Zitkala-Sa
Thank you to the UIS office for co-sponsoring the virtual screening of the award-winning Dawnland followed by Q&A with former UIS instructor and Passamaquoddy citizen, Chris Newell, on November 10.
February
The UHart community highlights African and African American culture through a variety of events including guest speakers, panel discussions, films, social gatherings, theatrical performances, and literary forums–just to name a few.
Martin Luther King Jr. Day is observed on the third Monday of January each year. Dr. King is remembered as an important historical figure in the Civil Rights Movement which protested racial discrimination. The King Holiday was signed into law in 1983 and for the first time in 2000 was officially observed in all 50 states. 
The University of Hartford Celebrates Martin Luther King Jr. in February. UHart's annual on-campus observance organized by the MLK Celebration Committee and The President's Office for Diversity and Community Engagement will take place virtually this year on February 10, 2021.
March
Celebrated in March, Women's History Month highlights the many contributions women have made in the history of our nation. The Center for Women's and Gender Studies is a strong partner in arranging events for Women's History Month.
May
Jewish American Heritage Month (JAHM) is an annual recognition and celebration of Jewish American achievements in and contributions to the United States of America during the month of May.
June
Juneteenth, also known as Freedom Day, marks the day in 1865 that enslaved black people in Texas learned of their freedom–two years after the signing of the Emancipation Proclamation.
Previous UHart Unity Experiences
Ellsworth Lecture by Hayley Foster BSBA '94 on Passion+Creativity=Success


Humanities Lecture Series: Ines Rivera Prosdocimi, Assistant Professor of English, presented a lecture entitled "On and Off the Island: The Modern-Day, Time-Traveling, Transnational Maroon" in which she explored the formation of perceived "truths" regarding the national identities of Haiti and the Dominican Republic


2019 Rogow Distinguished Visiting Lecturer Program: Zachary R. Wood, author of Uncensored: My Life and Uncomfortable Conversations at the Intersection of Black and White America, discussed why it is important to listen to people you disagree with


Some Jazz, Some Blues, Some Soul Food: Hartt alumnus Haneef Nelson spoke on the history of jazz


Avinoam Patt, Associate Professor of Judaic Studies and Humanities Center Faculty Fellow, discussed confronting holocaust denial in the 21st century


A conversation with Michael Eric Dyson: Michael Eric Dyson is a Georgetown University sociology professor, New York Times contributing opinion writer, contributing editor of The New Republic and ESPN's The Undefeated, and author of 19 books. He has won many prestigious honors, including an American Book Award and two NAACP Image Awards


Ending the division- teaching strategies for becoming instruments of change: University of Hartford professors from diverse backgrounds and disciplines discussed how to best address the polarization and divisiveness that appears to be so pervasive in our times


Our annual "Keeping the Dream Alive" event to celebrate the life and legacy of Dr. Martin Luther Kings featured Angela Y. Davis, who also received an honorary degree. Davis is an icon of black politics and social activism worldwide dating back to the 1960s when Dr. King led many civil rights battles


Poet, writer, commentator, activist, and educator Nikki Giovanni spoke at the University's annual Martin Luther King observance and received an honorary Doctor of Humane Letters.


A series of conversations about the life experiences of diverse students, staff, and community members, titled Diversity Speaks: Belonging and Being Seen, were held to provide understanding that not all life experiences are the same


Special presentations and lectures were presented to enhance learning and understanding of diverse populations. Topics included "Everything You Wanted to Know about Native Americans…But Were Afraid to Ask", "Equity and Culturally Relevant Practice in a Montessori Classroom", "An International Human Rights Day Celebration: the Southern Migration and the Transformation of Black Connecticut, 1915-1970", "Black Love//Black Power – The Films of Fitzgerald", and "Juneteenth: Celebrate Freedom"


Organizer, political commentator, and independent journalist Rose Clemente, democracy reform activist Karen Hobert Flynn, Senator Douglas McCrory, and Rock the Vote's Michelle Stockwell spoke to UHart students, faculty, and staff as a part of the 2020 Rogow Distinguished Visiting Lecturer Series. 


Our 2020 Fall Community Book Read was 

facilitated by Cynthia Martin, president and CEO of the Hartford-based 

National Conference for Community and Justice (NCCJ). The book was White Fragility: Why It's So Hard for White People to Talk About Racism.


Our Spring 2021 Community Book Read was facilitated Joelle Murchison, Diversity and Inclusion Strategic Consultant Practitioner. The book was So You Want to Talk About Race?


We were honored to welcome Dr. Yusef Salaam of the Exonerated Five as our featured speaker for the 2021 Dr. Martin Luther King Annual Observance. 


A virtual presentation by distinguished healthcare leaders took place on Thursday, Feb. 11, 2021 from 6:30-7:30 p.m. The topic of this Rogow Distinguished Visiting Lecturer Series panel was Health Equity and Communities of Color. 


Adrienne Billings-Smith, co-founder of Concerned Parents of Color West Hartford, lawyer, mom, spouse, and athlete, spoke about the intersectionality of human rights, LGBTQIA rights, women's rights, and race in her virtual conversation entitled, The Whiteness of Human Rights: Queer Women of Color and the Horizon of Humanity.
FEM FEST:WSAM Alternative Radio in cooperation with the Campus Activities Team hold the University's first ever FEM FEST, a night of live performances to raise awareness for women's rights


A concert of Christian, Jewish, and Islamic music performed by Ian Pomerantz of The Hartt School accompanied by Aaron Larget-Caplan. Hartford Seminary President Joel N. Lohr spoke on "The Great Mission of the Hartford Seminary: Jews, Christians, and Muslims in Dialogue." 
34th Annual International Festival: The UHart community had the chance to enjoy cultural performances and dine on wonderful cuisine from different countries around the world


Umbrella for peace: On International Women's Day, Women for Change, an on-campus organization concerned with social justice and activism, painted umbrellas to protest sexual and domestic violence


Welcome Wednesdays: Welcome Wednesdays is an initiative to start a new campus tradition of visiting common campus spaces and making new acquaintances. On select Wednesdays the Welcome Wednesday mat will be outside a host location, inviting you to come in, meet some people, and stay as little or as long as you like. The events are free and open to all


National Girls and Women in Sports Day: Hartford women's basketball celebrated National Girls and Women in Sports Day with a game versus Stony Brook


Spread Respect Hartford Hawks Men's Basketball Game: The Spread Respect project supports and encourages participation by LGBTQ athletes and the community

BSU Fashion Show: The theme of the BSU (Brothers and Sisters United) Fashion Show was "The World in One Night." The annual Fashion Show is a fundraiser and proceeds go to the Book Fund, a program that assists students in need of textbooks


Black History Month movie series: Throughout the month of February, the University of Hartford shows several free movies. Past features have included Green Book, Marshall, Dear White People, and Selma


A vigil to remember victims of Pittsburgh Synagogue shooting: students, faculty, staff, and community members gathered on the Harry Jack Gray lawn in front of Harrison Libraries to remember the victims of the Pittsburgh synagogue shooting on Oct. 27 that resulted in 11 people killed and six injured


During February, Black History Month, daily social media posts focused on a UHart moment in Black history

Professional development days take place in August and January for faculty and staff on diversity topics


Multiple professional development training sessions on unconscious bias and avoiding micro-aggressions throughout the year for faculty, staff, and students who lead and work with other students


Six faculty grants presented to faculty to promote teaching innovations in support of DEI in the classroom. The projects will improve classroom climate, increase diversity content in course offerings, and build student intercultural competence skills