We'll help you find the answer here.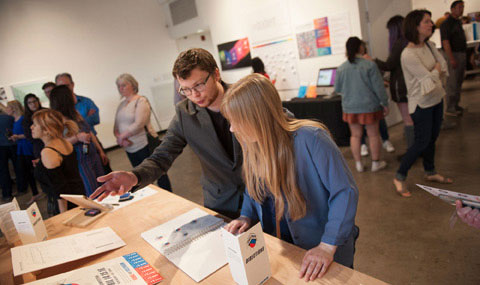 The Hartford Art School offers nine studio majors leading to the Bachelor of Fine Arts (BFA), one Bachelor of Arts (BA) program in Art History. Programs may also be taken as an 18-credit minor.
Your foundation year introduces you to the fundamental processes and principles of art-making and design, and will help you determine your major. You will explore specific areas of interest and develop at a professional level from your very first day.
All our programs are accredited by the National Association of Schools of Art and Design (NASAD). Please see a specific major for more detailed information on each area's curriculum requirements.
Students select and plan their programs in consultation with faculty advisors and are encouraged to pursue their interests and the development of skills necessary to project them in their own directions. In addition to the studio majors, the college also offers students minors within these areas.
A minimum of 120 credits is required for the Bachelor of Fine Arts degree. The program may be completed on a full-time or part-time basis. Requirements include 72 to 78 credits in studio areas and 43 to 49 credits in academic subjects.
Foundation Year
Small Classes
Foundation studio classes sizes are intentionally small. Our professors, sensitive to the transition between high school and college, direct the content of your projects toward specific skill development.
Creative Growth
In our first-year foundation program, you will learn to analyze your work, and to show sensitivity and perception in your response to other students' efforts and issues in art making.
Skill Development
Your mind develops along with your eyes and hands, so that your ideas better translate into form and material. You will learn the art of classroom critique and discussion, as well as learn about the profession of being a contemporary artist in the 21st century.
Nine Undergraduate Programs