Engineers Without Borders Student Chapter's Winter Break in India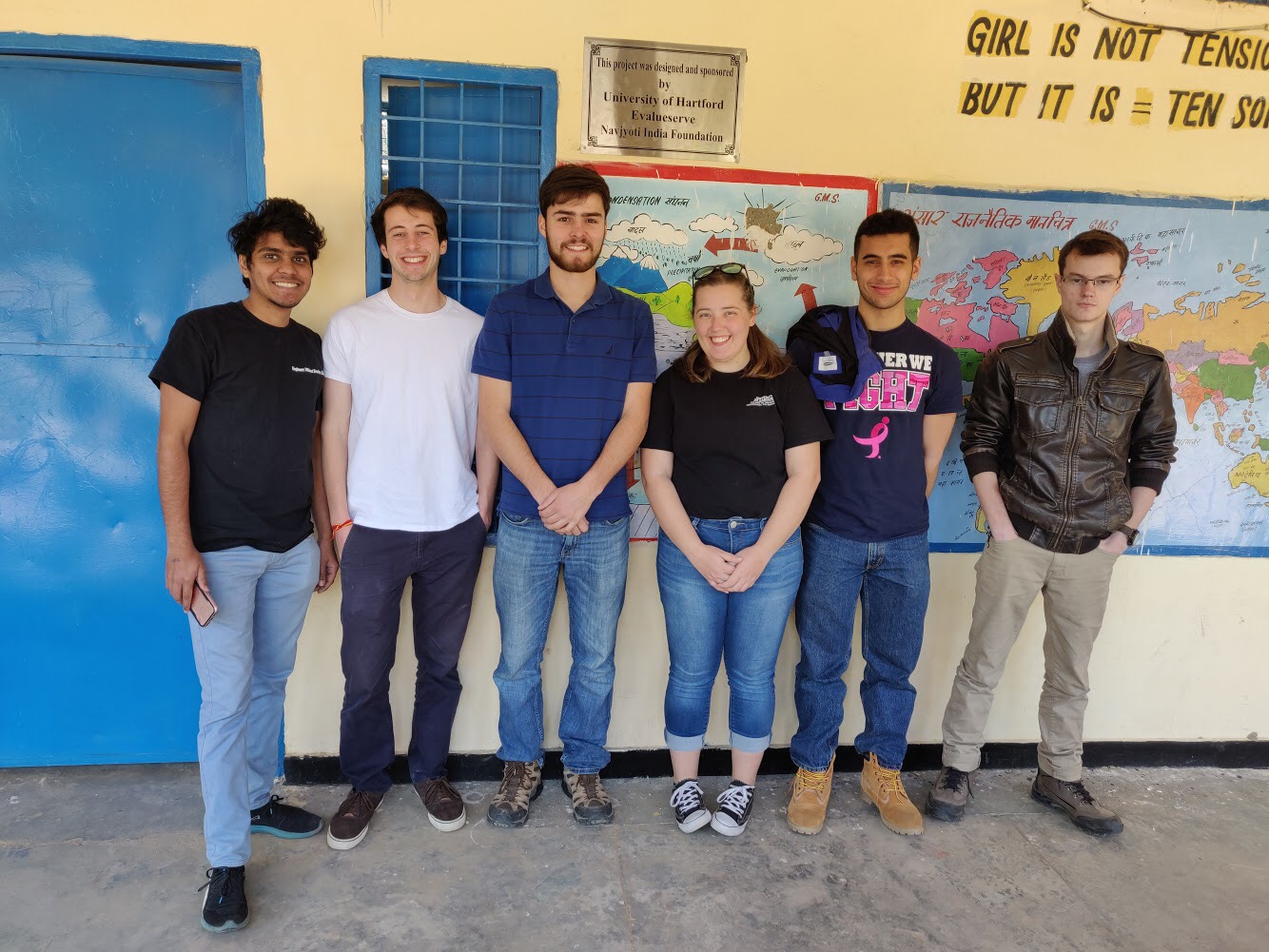 The University of Hartford's Engineers Without Borders (EWB) student chapter comprises students from various backgrounds and majors who volunteer their time to help others by impacting engineering projects. Students have an opportunity every year to travel across the country and the world for various community efforts, discover new hands-on skills related to their interests, participate in annual conferences, and network with other inspiring engineers.
Over the winter break for about two weeks, six members of EWB traveled to India—as the organization does every winter break—to contribute toward humanitarian aid in local communities through engineering projects for government schools in the villages. The students who attended included Basel Alnajjar '20, Mechanical Engineering; Matt Farrelly '21, Mechanical Engineering; Matt Garneau '19, Civil Engineering with Environmental Engineering Concentration, who serves as the president of EWB; Kaleigh McGuirl '19, Computer Engineering, who serves as the secretary of EWB; Kaustubh Sanjay Bhasme '20, MEng Environmental Engineering, and Dan Weitsman '19, Mechanical Engineering with Acoustics Concentration, who serves as the vice president of EWB. 
According to EWB's faculty advisor, David Pines, the organization was granted a generous donation from Kleinfelder, one of the first companies selected as part of EWB's fundraising effort. Ultimately, EWB's financial supporters provide all funding for student travel and projects costs, to make these trips possible year after year.
On October 23, 2019, Matt Garneau and Dan Weitsman presented the projects that our EWB team completed in India last winter break to Kleinfelder. These projects included implementing a reverse osmosis system for treating drinking water and an uninterruptible power supply (UPS) system for two different public schools," says Pines. "The purpose of this UPS system is to provide schools reliable electricity for lighting and fans during the school day, so these projects proved to have significant measures. At the conclusion of the presentation, Kleinfelder's area manager expressed interest in supporting our EWB student chapter. Matt and Dan put the donation towards this year's trip to India to assist public schools and their access to clean water and reliable electrical supply.
David Pines, Associate Dean for Student Support, CETA
Also, EWB couldn't have made the trip possible this year without the continued support from Pratt & Whitney, which has been a consistent EWB supporter since its origin in 2006 with annual donations of ten thousand dollars, as well as support from University of Hartford's Student Government Association over the last several years.
Members from EWB's eBoard—Garneau, McGuirl, and Weitsman—shared their experience from the trip. Their work involved ensuring students and schools had an adequate supply of clean water and electricity. EWB has worked with the Navjyoti India Foundation to help them connect with village schools that lack these basic necessities. Chandni Bedi, director of the Rural Management and Training Institute for the Navjyoti India Foundation, provides the critical role of helping to make sure that the schools are committed to the maintenance and upkeep required to make these projects sustainable.
"The experience of working with Kaleigh, Matt, and Dan has been inspiring as they work with amalgamation of 'head, heart, and hands' while planning, designing, and executing their projects in village communities in India, a culture reflected in the education of University of Hartford and Engineers Without Borders," says Chandni. "What is truly encouraging about EWB and University of Hartford is the continuity and constant support in transforming lives over the years." 
During the academic year, students in EWB exercise their engineering knowledge for different design projects. However, during trips abroad like their recent one, they are able to get hands-on experience on tasks they don't do every day. According to EWB President Matt Garneau, trips like this are a great chance to apply the skills learned within the classroom, but also to learn new skills. "These projects are rewarding because we are able to help a lot of people along the way," says Garneau. "When we're in the field, we're gaining more practical skills for the workforce through skills like project management. I have already begun receiving job offers because of my EWB experience."
McGuirl sees experiences like this as rewarding, even though she's a Computer Engineering major. "I just love the fact that I am able to be part of these projects, interact with other individuals across the world, and better their lives."
Weitsman and McGuirl mirrored similar thoughts on how these trips offer a unique opportunity for members in EWB to work on real-world projects. "These projects also require skills in planning and communication, especially when there is a language barrier involved," says Weitsman. "These are the types of skills that are important for any industry that are better learned through experiences like this, not in the classroom."
After completing the projects, the students notify local individuals how to use the systems they've set up in case there are any complications when they are not there. Though there are language barriers and challenges when working abroad, according to EWB's eBoard members Garneau, McGuirl, and Weitsman, EWB has been working with a company called Evalueserve to streamline their efforts in India. Members from Evalueserve act as the translators and ambassadors on the projects for EWB to work on, to ensure the projects run smoothly and efficiently.
Ashish Sharma, Manager for Evalueserve IP and R&D Solutions, shares how beneficial this partnership has been over the past ten years: 
"It's always a pleasure for us to work in collaboration with the University of Hartford EWB team. These students are brilliant in their work and are making a difference in the lives of many unprivileged villagers here in India," says Sharma. "We really enjoy working with them and appreciate their efforts. We look forward to continuous collaboration with University of Hartford, CETA, and EWB for this noble cause."
According to the eBoard, now is the perfect time to join EWB as most of the leadership is graduating and there is plenty of opportunity to make an impact within the organization. According to EWB President Matt Garneau, "The field experience is very valuable when combined with theories students learn in the classroom. The type of experience you'll have in EWB will help you throughout your college experience and career to the point where many employers may consider your work as relevant experience."
Kaleigh McGuirl echoed similar benefits of joining EWB. "The experience you'll have in this organization will set you as an ideal candidate for many engineering jobs. To get you career ready, you will have a chance to network with other EWB student organizations and professionals around the world. I've made great connections while being in EWB with whom I plan to stay in touch post-graduation."
Dan Weitsman has taken full advantage of the hands-on experience he's found through EWB projects. "Many demanding projects tend to get pushed to senior year, but in this case, I was able to get a head start and jump into advanced work after my first year that I couldn't get anywhere else."
If you're interested in learning more about the EWB student chapter at the University of Hartford, please contact Professor David Pines at pines@hartford.edu.