Hillyer College Opened Doors
Silver Marbiah A'19 Reflects on Hillyer Success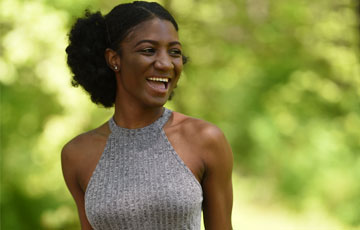 Silver Marbiah A'19
calls herself "a girl who dreams big and who aspires to the best she can be." She showed this to be true during her two years at Hillyer, during which she won some of the school's top awards. Her dream continues this fall when she becomes a criminal justice major in the College of Arts and Sciences. As she prepared to graduate with her associate's degree on Sunday, May 19, we asked her to reflect on her education so far.
What was your time at Hillyer like?
"Truly amazing and humbling. Hillyer College opened doors beyond my imagination; it taught me about self-awareness, self-determination and self-love. Not only was I introduced to incredible friends for life, I also had the pleasure of meeting wonderful professors. I can proudly say I made the Dean's list, was part of the honors programs, and presented at the creativity colloquium."
What does your success mean to you?
"It was a very overwhelming and humbling experience to receive the Marilyn S. Smith Humanities Award, the Academic Strategies Award, and the Social Science Award. Not only as a black female, but as a first generation-student, these awards meant more to my family. I was beyond ecstatic."
Did you have a professor who had a big impact on you?
"Associate Professor of Sociology Melinda Miceli taught me a lifelong lesson about using my voice for the greater good; not being afraid to speak up, despite my shyness. Her class challenged me to not only think rationally, but emotionally as well. She and my other professors saw my potential from the very beginning; they believed in me even when I didn't believe in myself. I'm forever grateful because they made me realize my love for writing and my love for speaking up about social issues within our community."
What are your plans for the future?
I'm excited to enter into the College of Arts and Sciences next year. I am eager to start my major and my criminal justice class. In addition, I'm ready to seek internships with the Hartford's Police Department or even the FBI."