Professor Michele Troy Awarded Highly Prestigious U.S. Fulbright Grant to Germany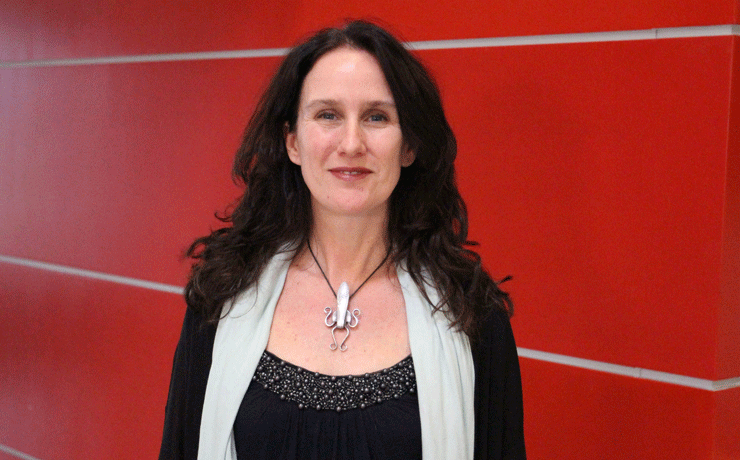 University of Hartford Professor of English Michele Troy has been awarded a Fulbright U.S. Scholar Grant, one of the country's most prestigious educational honors. Troy is in Germany conducting research and writing an article which can become the seed for her next book: a biography of the feisty socialist, Gertrude Gelbin, who left the United States in the early 1950s to publish English-language paperbacks behind the Iron Curtain. From the heart of East Berlin, Gelbin's press, Seven Seas Books, sold its titles, some banned in the West, in bookstores and kiosks from Hanoi to London.
Troy explains that with authoritarian regimes such as Russia and China using social media platforms to promote specific geopolitical agendas, Gelbin's story sheds light on how ideas circulate in these regimes.
"While the global media environment of the 1950s was very different from that of today, there are important ways in which this period–and specifically the story of Gelbin and her press–speaks to modern-day issues."
Michelle Troy, Professor of English
Troy, who teaches English in the University's Hillyer College, has spent years researching English-language books in Europe. Her work in nearly 30 archives in six countries resulted in her book Strange Bird: The Albatross Press and the Third Reich (Yale University Press, 2017). It tells the story of how Albatross printed and sold its books in English from the heart of Hitler's Reich.

As the recipient of a Fulbright award, Troy was selected on the basis of her academic and professional achievement, as well as her record of service and demonstrated leadership in her field. At the University of Hartford, she teaches the two-course sequence of first-year composition, as well as Contemporary British Literature, and a new University Interdisciplinary Studies course, Poets and Painters, which encourages students to translate their ideas about literature into visual art. Troy is also director of Hillyer's Honors Program, and in the past year has received both the Walter Harrison Faculty Development Grant and the University's Humphrey R. Tonkin Award for Scholarly and/or Artistic Creativity.

Troy earned a BA in Philosophy and an MA in English from Boston College, and a PhD in   English from Loyola University in Chicago. 

The Fulbright Program is the U.S. government's flagship international educational exchange program and is designed to build lasting connections between the people of the United States and the people of other countries. The Fulbright Program is funded through an annual appropriation made by the U.S. Congress to the U.S. Department of State. Participating governments and host institutions, corporations, and foundations around the world also provide direct and indirect support to the Program, which operates in over 160 countries worldwide.