Professors and Students are Researching the Role of Recovery Residences in the Opioid Problem in Northwest Connecticut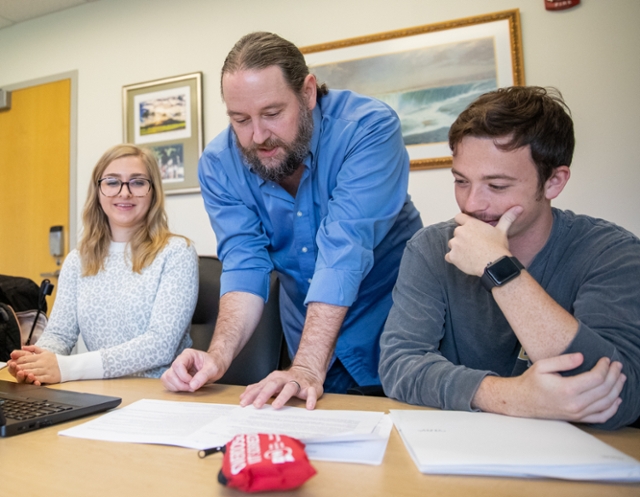 Through the University of Hartford's Center for Social Research, students and faculty are studying the best practices for operating recovery houses in Litchfield County, located in northwest Connecticut. Department of Sociology and Criminal Justice Assistant Professor Kelly McGeever, Associate Professor and Center Director Wesley Younts, and researcher Marcia Hughes, PhD, along with criminal justice students Mason Brooks '20 and Kylie Roosa '20, are working with the Litchfield County Opiate Task Force (LCOTF) to identify and implement best practices for recovery and sober homes, which are places where people can live while they are in recovery.
"Recovery homes can be a bridge between substance use treatment and sustained independent living. I am very hopeful that our research will help create safer and healthier environments for people recovering from substance use disorders, which ultimately benefits the entire community."
Kelly McGeever, Assistant Professor of Sociology and Criminal Justice
The professors have contracted with the LCOTF for the project, which has given them a broad set of tasks and goals, and the flexibility to determine the best methods to conduct the research. This includes the team organizing and facilitating multiple community conversations throughout Litchfield County, with a heavy concentration on Torrington, to solicit input from a broad range of stakeholders. These include recovery home operators, clients, others in recovery, family and community members, criminal justice and town officials, and substance abuse treatment and other health professionals. "The community seems to be very energized about this issue and is committed to the project," says Younts.

Another large goal of the research is to assist with the planning, design, and implementation of pilot programs that test the best practices. This includes training recovery residence housing owners and operators, measuring the effectiveness of the practice, and capturing issues and barriers in real time so that modifications can be quickly formulated.

Students Mason and Kylie are taking on the task of assisting with facilitating the community conversations, taking field notes, compiling data on recovery residences and the opioid problem in Litchfield County, and conducting interviews with stakeholders. They are also using the experience as an opportunity to complete their Honors thesis projects. Mason is studying how sober living environments can best serve veterans, and Kylie is focusing on the stigma associated with sober homes. 

Once the work is completed in approximately two years, a full report will be provided to LCOTF, and the professors will work to present the findings at national conferences and to have the results published in professional journals. 

The project complements other research endeavors that McGeever and Younts are overseeing. They are also investigating the effectiveness of drug treatment programs in Connecticut's prisons and how recovery coaching and peer support can help those recovering from substance abuse.