The Barney School of Business Hosted the 17th Annual University of Hartford Business Plan Competition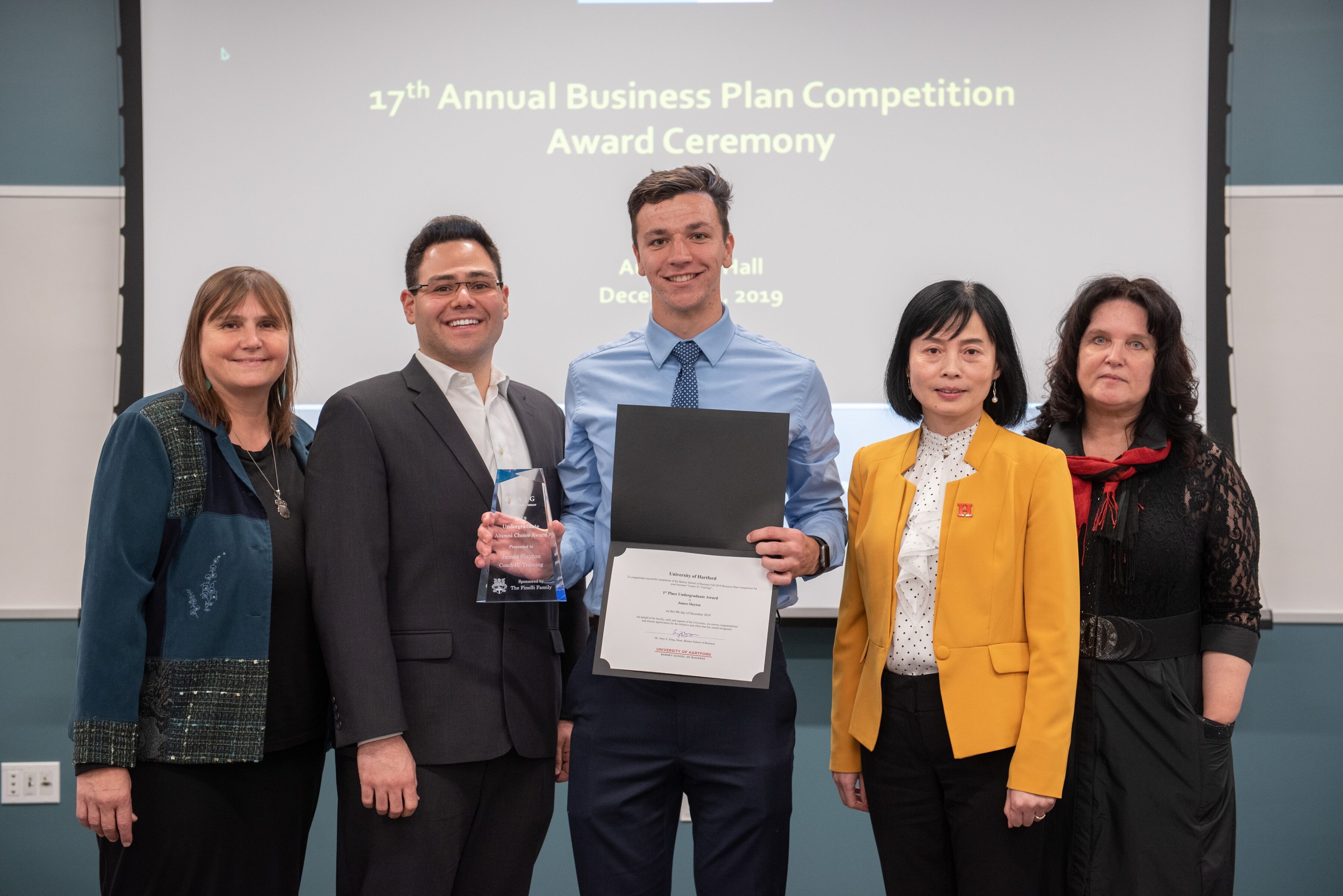 The Barney School of Business hosted the 17th annual University of Hartford Business Plan Competition in December 2019. This year the first official pitch contest was also included, and an award ceremony took place on December 9, 2019.
The competition was open to undergraduate and graduate students across the university, and the Barney School of Business awarded $6,000 in prize money, earmarked to help the students start their entrepreneurial ideas.
Staying in touch with university alumni that participated in previous competitions, the Barney School of Business invited them to judge the competition along with its leading professors and Connecticut entrepreneurs. The competition has become a signature event for the university over the years. This was the second year of the Alumni Group involvement. It is also known as T | A | G. It gives the Alumni Choice Award to recognize relevant ideas that have the best commercialization and implementation potential in real-world applications. The award was sponsored by the Finelli Family, who strongly encourages higher education, a strong work ethic, and an entrepreneurial spirit.
"The Business Plan Competition is one of the Barney School's longstanding events. I'm very grateful to the entrepreneurship faculty leadership team for their dedication and persistence. This event has allowed hundreds of students to pursue and showcase their amazing business ideas and provided a valuable channel to enrich students' learning experience and to invigorate campus life," said Dr. Amy Zeng, Dean of the Barney School of Business. "The Barney Dean's Office will continue seeking ways to increase the support for this event and will join TAG's effort in offering mentoring and coaching services to business plan winners in the near future."
Around 30  students across the campus with various backgrounds were competing for the awards. They were from the Barney School of Business, the Hartford Art School, the College of Arts and Sciences and the College of Engineering, Technology and Architecture. Some of them were student athletes and international students.
"I ran the University of Hartford Business Plan Competition starting in 2008. It became an incredible opportunity for students to showcase their ideas. Over the years, we had winners from each and every college! The best results are usually achieved when students work in cross-college teams. Here in Barney, we consider the competition to be a mezzanine level for the state of Connecticut venture and business model competition typically held in April. Every year we have several finalists and prize winners there," said Dr. Irina Naoumova, the Department Chair of Management, Marketing and Entrepreneurship. "Historically, the Entrepreneurial Center and Women's Business Center were a great support in judging the competition. Recently, Milena Erwin, the WBC program director, stepped in in teaching business planning courses at graduate and undergraduate levels and joined the team of business plan competition organizers. With the courage and support of the entire Barney School of Business, we would grow it further, involving more students from different colleges and majors." 
James Slayton, a senior and a student athlete majoring in BSBA Entrepreneurial Studies won first place in the Undergraduate Business Plan Competition for Coach 4U Training, an online business matching soccer coaches and players. Matthew Murray, MBA, won first place in the Graduate Business Plan competition for Blue Maple Marketing, providing marketing services for small businesses. Two students tied to win the one-minute business pitch competition: Sacha Chouraqui, a senior majoring in BSBA Marketing & minoring in Economics and Finance, received the first place for a parking space sharing app idea and Scott Stephenson, majoring in Mechanical Engineering and minoring in Entrepreneurial Studies for a homemade bread business idea. 
It was inspiring to see how many great ideas students had to start their own businesses. Their passion for helping solve different problems for people was clear.
Valerie Moffatt, MBA student, Barney School of Business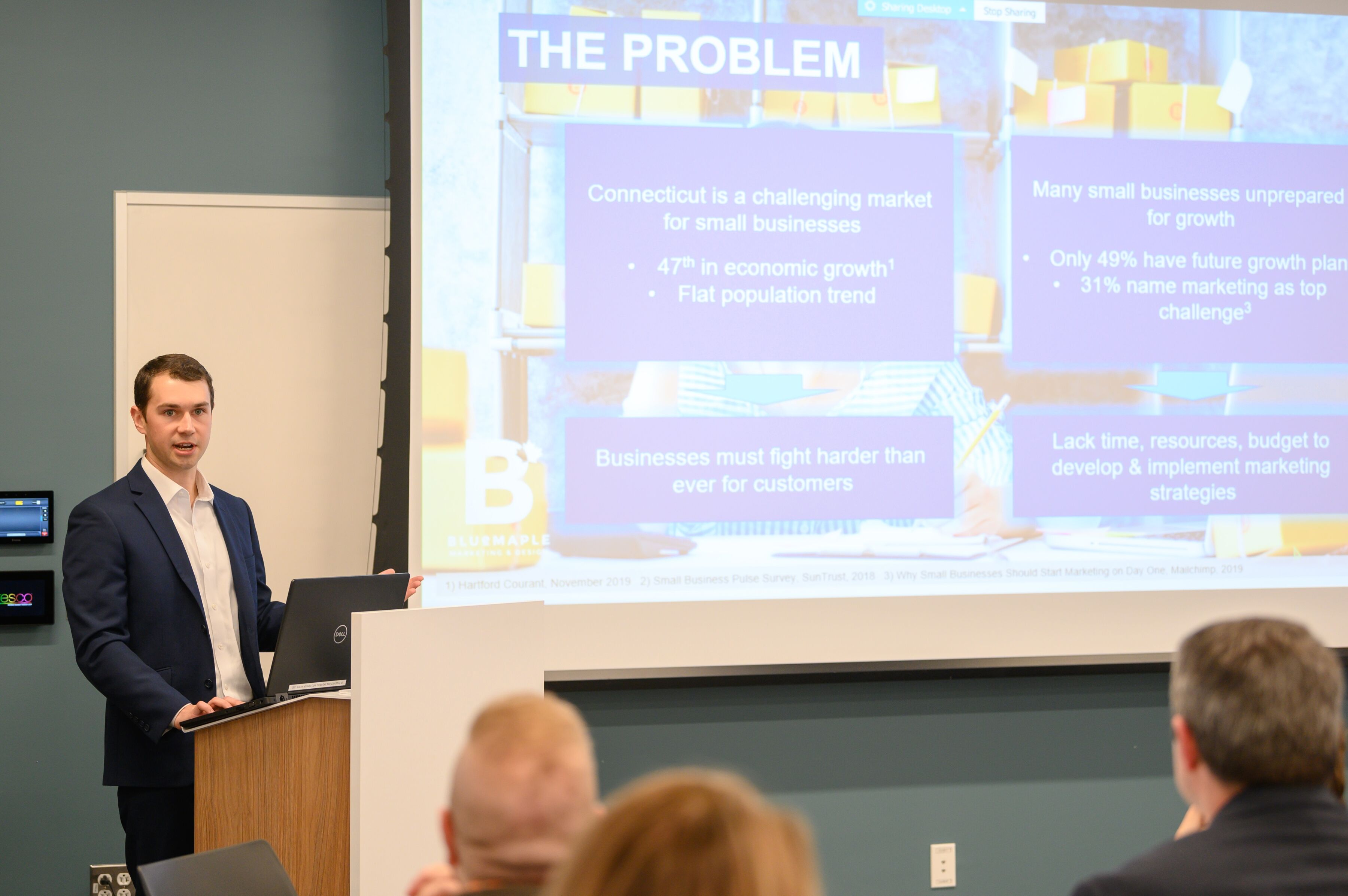 "I hadn't planned on presenting yesterday, but I figured why not, a little practice can't hurt. Though we're not exclusively active with the bakery at the moment, we're planning a comeback and every little bit helps," said Scott Stephenson." For those thinking about starting a business, the most important steps are the first one and the one after that. Be clear and passionate in who you are and what you're looking to do, devour the knowledge and experience available to you, and show potential clients why they should choose you."
Both James Slayton and Valerie Moffatt received the Alumni Choice Award. Valerie Moffatt's business plan is about NextGen Training Partners, focusing on corporate training.
As a part of both The Alumni Group and The Finelli Family, Frank Finelli believes that Cross-campus collaboration will strengthen students' ability to view problems from multiple perspectives, ultimately leading to the development of long-lasting solutions.
University of Hartford 17th annual Business Plan Competition Winners:
Winners for Undergraduate Business Plan Competition
1st Place: James Slayton – Entrepreneurial Studies Major, Barney School, Coach 4U Training
2nd Place Tie: Casey Lynch – Visual Communications Design Major & Entrepreneurial Studies Minor, Art School / Barney School, XY Dance Center
2nd Place Tie: Elias Gross - Entrepreneurial Studies Major, Barney School, Tipped Out
Winners for Graduate Business Plan Competition
1st Place: Matthew Murray - MBA, Barney School, Blue Maple Marketing
2nd Place: David Bereza - MBA, Barney School, Turnkey
3rd Place Tie: Rachel Conboy - MBA, Barney School, RevGov
3rd Place Tie: Wayne Anthony - MBA, Barney School, Lebanon Libations
Winners for 1-minute Pitch Competition
1st Place Tie: Sacha Chouraqui -Marketing Major & Economics and Finance Minor, Barney School, Parking Sharing App
1st Place Tie: Scott Stephenson - Mechanical Engineering  Major & Entrepreneurial Studies Minor, CETA / Barney School, Homemade Bread
2nd Place Tie: Pankaj (PJ) Paneru – MBA, Barney School, Craft Beer - Nepal
2nd Place Tie: Donald Boermeester – Management Major, Barney School, Automotive Services
 Winners for the Alumni Choice Award
Undergraduate: James Slayton – Entrepreneurial Studies Major, Barney School, Coach 4U Training
Graduate: Valerie Moffatt - MBA, Barney School, NextGen Training Partners
Featured Photos from the Award Ceremony