Audio Engineering Technology Students Tour Telefunken's HQ Through Growing Partnership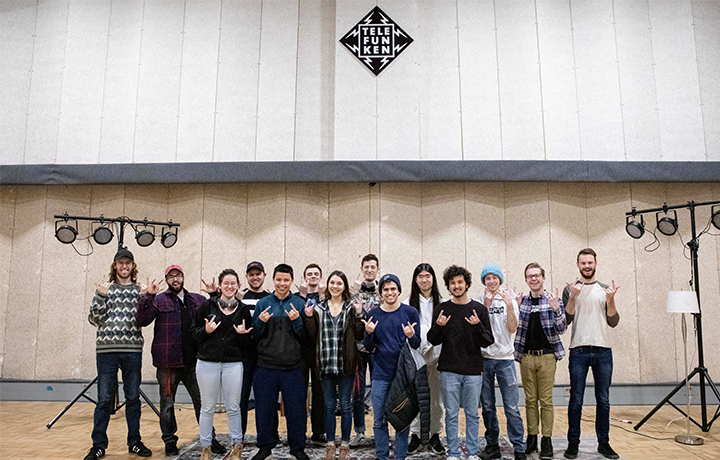 The College's partnership with the company, for nearly 20 years, has led to many opportunities for our students to visit, intern, and eventually work there.
The College of Engineering, Technology, and Architecture (CETA) at the University of Hartford is a place where students have many opportunities to get real-world industry experience in their desired field. At the beginning of this semester, members of the Audio Engineering Society (AES) UHart chapter toured a well-known audio technology manufacturer near campus, Telefunken, headquartered in South Windsor, Connecticut. Erica Petersen '22, president, and Christopher DeVinney '22, treasurer of AES, shared how impactful this experience was as they both pursue careers in the audio engineering technology field. Students had a chance to get an inside look into different areas of the company and discuss future internship opportunities with employees.
The trip was made possible due to the long-time partnership between Telefunken and CETA, which has led to many opportunities for our students to visit, intern and eventually work there. A conversation with former AES president Ryan Levin '20, who worked as an intern at Telefunken during the summer of 2019, sparked the idea of planning this most recent tour. He connected with the company's Director of Operations Alan Venitosh to arrange the tour for January, once the students returned for the spring semester. Venitosh began their tour with a brief history of the company and showed students some of the products they make.
Students first visited the assembly floor and research and development (R&D) areas. The assembly floor, a highlight of the day for DeVinney, allowed students to see how Telefunken's famous microphones are put together. Members from the R&D sector of the company walked students through the process of designing, testing, and producing a microphone. They showed the computer program they use to design the microphone, the station where they make the circuitry, and some prototypes they were working on.
Telefunken has different assembly sections for each type of microphone. We got to hold and examine each step of the assembly process for each station. What surprised me was that each mic is made by hand, so the really complex ones can take around 10 hours to make. Seeing R&D gave me a lot more insight into the process which a product is made while the assembly room gave us an idea of the care that goes into each product. Their studio was really cool to see because that is the type of environment I (along with several of my peers) hope to work in one day.
Christopher DeVinney '22, BS
The tour concluded at the soundstage area, where Telefunken actually holds events and concerts, including their popular "Live from the Lab" YouTube series. Students then got a look inside one of the recording studios where microphones are tested by engineers and technicians at the company to make sure each was assembled correctly. The studio is also used for recording artists for the previously mentioned series. The students who got to attend the tour all agreed it was a valuable and great experience. Not only did they see how engineers and technicians in their field develop, produce, and sell products, but they also discovered valuable information on future jobs and work environments in the field.
Later in the semester, students in the Audio Engineering Society (AES) returned to Telefunken for a live demo of their Dolby Atmos 7.1.4 speaker system on Feb. 26. Adam Wilson '22, an audio engineering technology major and public relations manager for AES, spoke about the experience. The speakers used in the demo were all Genelec, who has partnered with Dolby to create the Atmos system. The system consisted of seven speakers all around the students at ear level, three on the left three on the right and one in the center, it also featured (in this case) two subwoofers and four speakers above the students. The system allows audio engineers to pinpoint exactly where they want the sound to be so they can also make it seem like a sound is coming from a point in the room clearly or more broadly. "This was very cool to hear as it made listening to music a more exciting experience for me," says Adam. Students also had an opportunity to understand the manufacturing side of their facility again. "It was very interesting to see the process of how they build their microphones to be field stripped, just like how they were designed to so many years ago," says Adam.
These visits come full circle as CETA continues to grow a strong partnership with Telefunken. The connection with the company is thanks to David Shuman, the program director for the audio engineering technology program and assistant professor. Shuman connected with Telefunken owner Toni Fishman back in the nineties when he had a recording studio. Eventually, Shuman went on to work for him in a number of capacities including developing a high-end recording studio, pro audio retail, and finally the startup of Telefunken. "The initial idea of Telefunken becoming a microphone manufacturer was mine, as at the time the business was primarily retail and Toni was considering manufacturing replacement parts for a very valuable microphone that was long out of production," says Shuman. Eventually he would leave Telefunken to begin his role as an adjunct professor at the University of Hartford and Ward College (before merging with the College of Engineering). Once he was part of the College, Shuman encouraged students and recent graduates to work at Telefunken as they were being taught key technical skills here that would benefit the company. Shuman says at least two to three students have an internship at Telefunken each year now because of this initiative. He also recognizes Telefunken and Toni Fishman who donated valuable equipment, including high-level microphones, for the programs for students to learn with. These contributions and this partnership continue to allow many students in the audio engineering program industry-related experience inside and outside the classroom for their future success.
UHart audio engineering technology students with Telefunken engineers and staff.
Inside Telefunken studio.
UHart audio engineering technology students listening to Telefunken engineer.
Inside Telefunken studio.
Inside Telefunken studio.