Two Barney Students' Analysis Report was Included in the February Issue of Captive Insurance Company Reports, Published by the International Risk Management Institute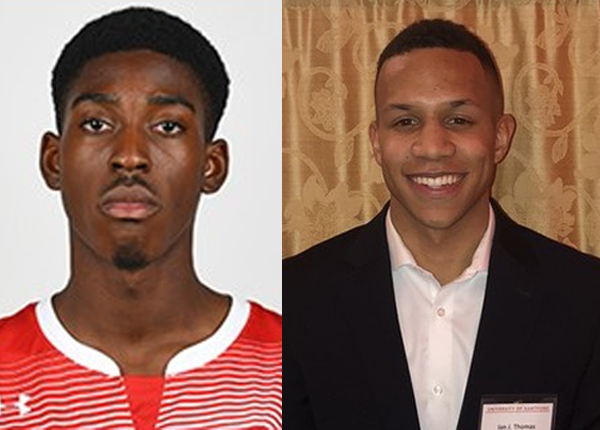 In the spring of 2020, as the severity of COVID-19 became more apparent, many Barney School students were faced with the cancellation of internship programs in which they were planning to participate over the summer break. This is a very popular time for rising seniors to complete their required internship programs for graduation the following spring. In support of these students, the Barney School leadership pivoted to provide alternative internship programs that could be completed in a new, remote world.
One alternative that was created for two students, Jordan Koduah '21, a finance major, and Ian Thomas '21, an accounting major, involved an internship research project. These students identified supply chain as a very timely and relevant research topic. John Thomson, executive in residence at the Barney School, served as the sponsor and coach for this research project, providing the students with guidance and support, and facilitating the external subject matter expert connections and introductions. The students' research project was developed on key aspects of supply chain, supply chain management/risk management, and utilizing a captive insurance entity to finance the related financial exposures. The health-care industry was particularly impacted by supply chain disruptions, specifically in acquiring personal protective equipment for its clinical staff and patients. To understand the current situation, the students engaged and interviewed select Barney School faculty and industry leaders as part of their research. With the traditional research and interviews completed, the students completed a research paper, discussing the supply chain issues and opportunities that challenge organizations, particularly health-care organizations. 
The completed report was quite comprehensive and informative, and well received by Barney faculty advisors and others. Subsequently, the research was transformed into an article titled "Supply Chain in Health Care: Life or Death Decisions" for publication in Captive Insurance Company Reports (CICR), published by the International Risk Management Institute (IRMI).  When the article was published, there was significant interest and feedback provided by readers of the article.
Marcus Schmalbach, based in Berlin, Germany, and one of the subject matter experts consulted in this research, commented on LinkedIn,"RYSKEX Inc congratulates…Ian Thomas and Jordan Koduah University of Hartford on this great paper published in the February issue of CICR International Risk Management Institute, Inc. (IRMI). It turned out great and absolutely worth reading! I would like to thank you very much for letting me have my say.  …. you have a great future ahead of you in the risk & insurance industry!" Truly great commentary on this high-quality research report, from an international expert in risk management and alternative capital solutions for financing systemic risks. These two students should be very proud of their work and are great examples of Barney School student leaders.
Jordan Koduah '21 commented, "I would like to thank Professor Thomson and the Barney School of Business for the opportunity to research this topic. It was a wonderful experience; I loved the research process and working with Ian and learning from the many experts we spoke with to get our research as potent as possible. Thank you."
It was a unique experience that allowed for a lot of connection to the creation of our end piece due to the fact that we got to derive meaning and importance from our interviews. We were able to conduct three very meaningful interviews that helped to supplement our paper, and ultimately it helped us to learn a lot more about things we did not expect to learn more about. As an example, Dr. Schmalbach's alternative to traditional risk solutions, parametric risk solutions, was a topic that we delved much deeper into after the fact.
Ian Thomas '21, an accounting major
About the Research Background
Supply chain management/risk management has a key impact associated with COVID-19 (pandemic risk). Many organizations and entities are experiencing supply chain disruption, with significant financial impacts. These impacts are both direct (decline in revenue and earnings, as well as lost markets/customers) and indirect (derivative suits filed by investors).  
Many of these organizations and entities have formed their own risk management and risk financing vehicles, known as captive insurance companies. These entities are either wholly owned subsidiaries or group/industry owned. These captive entities are utilized to assume the financial impacts of risk events like property damage or injury to third parties. They are also used for financing the financial impacts of risks like cyber security and directors' and officers' liability (derivative actions, mentioned above).
Of the top emerging global risks, 8 of the 10 can have both direct and indirect impacts on an organization's supply chain, with the noted financial impacts. A recent survey revealed these top emerging risks (Source: "Top Emerging Risks in 2020," Business Insurance. Special Issue [2020]: Axa & Eurasia Group, Future Risk Report, 2019 Survey. March 1, 2020): 
Climate Change
Cyber Security
Geopolitical Instability
Social Discontent and Local Conflicts
Natural Resources Management
Artificial Intelligence and Big Data
Pollution
Pandemics and Infectious Diseases
New Threats to Security
Macroeconomic Risks
These emerging risks can impact a number of key operational and financial risk management exposures, such as supply chain, cost of capital, and reputation. They are also informative for the organization's governance processes and practices.
About the Risk Management Institute, Inc.
The Risk Management Institute, Inc., is a provider of risk management information and insights, offering content, conferences, and certifications to professionals in the areas of risk management and insurance. They also own and publish Captive Insurance Company Reports, a monthly publication for the owners of captive insurance entities, their service providers, and finance and risk management professionals. [Note: Captive insurance entities are gaining new interest as a platform for the formation of capital for financing the risks associated with systemic risk, often avoided by traditional insurance coverages.