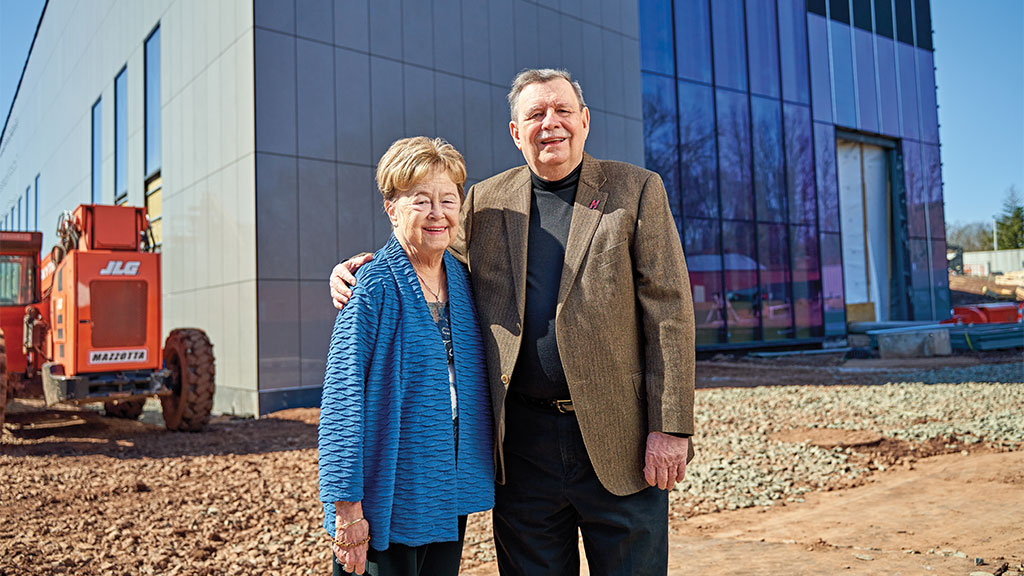 Back in the 1960s, when Frank Hursey (A'73, '77) was a young man living and working in engineering in East Hartford, Connecticut, he had no idea that a party he threw would have such an impact on his future. But when Nancy, a student from the St. Francis Hospital School of Nursing, showed up that night, Frank noticed her beautiful smile immediately. It turns out Frank had the same effect on Nancy—according to her, it was love at first sight.
Today, the couple has been married 53 years. Throughout that time, both have had successful careers—Nancy as a nurse; Frank as an engineer, inventor, and business owner—that have touched the lives of countless others. Now in semiretirement, the Hurseys are proving their careers are lifelong passions— and so is their desire to give back.

Both Frank and Nancy's interest in their respective career fields began in childhood. As a kid growing up in West Hartford, Nancy was diagnosed with diabetes when she was 10 and spent many hours in the hospital. She says the kind nurses inspired her, and she went on to study at St. Francis before working as a nurse for 40 years. She served in many different areas, including the ICU and as a discharge nurse, where she helped coordinate follow-up care for patients, a job which often required her to visit eight different hospitals. Nancy later volunteered her services for a local church, helping provide care for those who could not afford a regular doctor.
As for Frank, who grew up in South Carolina, his curiosity as a kid eventually led to his interest in engineering. But one day, when he saw that his father was forced to punch a clock at the end of each shift, his dream became even bigger. 
"I knew at that moment I never wanted to work for someone else, in a job that would require me to punch in and out," he says.

From then on, Frank's goal was to have his own business. But it took time. At 19, soon after his father passed away, he moved to Connecticut to find work. At the time, he didn't know what kind of job he was looking for, but he ended up with a gig at aerospace company Pratt & Whitney. There, he contributed to NASA's Apollo program, working alongside other Pratt & Whitney engineers to develop a fuel cell that would provide electricity and water on board the Apollo command module.
"I liked the fact that we were creating something that was going to the moon," Frank says of the project. "And I was excited that one day I would be able to tell my kids that I worked on that program."

Frank's projects at Pratt & Whitney inspired him to pursue a degree in engineering, and he began studying at the University of Hartford part time. It took 12 years of attending classes at night for him to earn his degree from the University's College of Engineering, Technology, and Architecture (CETA). During this time, he started a new job at Hartford Hospital in the respiratory therapy department, sold home insulation part time, and completed major renovations (everything from woodworking to plumbing and electrical) at the West Hartford home he shared with Nancy. "At my age now, I have no idea how I possibly did this so easily years ago," Frank says.
He went on to earn his master's degree in business management from Rensselaer Polytechnic Institute (he jokes that degree only took him five years), and in 1987, Frank's dream of owning his own business came true. He formed On Site Gas Systems, which manufactures portable oxygen and nitrogen generating systems, mainly for industrial uses and the military. The company's oxygen systems, known as POGS, allow medical oxygen generation even in the most remote locations. Unlike oxygen tanks and cylinders, which are cumbersome to haul and need to be refilled or delivered regularly, POGS can continually produce oxygen with no wait time—they have been used by the military, first responders, emergency disaster relief operations, and hospitals to save lives. When the pandemic swept across the country last spring, On Site Gas Systems began building these POGS for the temporary medical centers that popped up around cities hit hard by the coronavirus.
It was these POGS that inspired Frank to invent another life-saving device a couple years after founding On Site Gas Systems. The POGS remove moisture from the air using a clay-based product called zeolite, which works as a sort of water magnet. Frank wondered if the product would work the same with blood, which is 90 percent water. Would he be able stop a cut from bleeding using zeolite? He brought some home, as well as a few mice to test his theory. Frank retreated to the basement to experiment, while Nancy stayed upstairs screaming, "Don't hurt the mice!" But it worked out. The bleeding stopped instantly when Frank poured zeolite on the mouse's cut. Frank's QuikClot products, like the POGS, are now used by the military, first responders, and hospitals to save lives around the world.
Our interests in engineering and the health professions are a perfect match. My education here was key. Now I'm in a position to give back.
Frank Hursey,
Today, Frank and Nancy's time is occupied by their three children and nine grandchildren, as well as a recent real estate investment—Cape Cod's fist rooftop bar and restaurant. Frank has also recently started a limo livery service out of Newington, Connecticut. But no matter their success or how busy they get, the University of Hartford is still close to Frank and Nancy's hearts. Frank joined the CETA Board of Visitors in 2009 and has been an honorary member since 2015. He is also a former University Regent. While he enjoys the people he works with in those positions, he jokes it's not in him to sit in meetings for three hours. "My meetings have never been more than half an hour," he says.

And despite attending the St. Francis Hospital School of Nursing, Nancy has become sort of an honorary alumna through her husband. 
"I'm so proud of what Frank has done at the University that I feel like I'm part of it," she says. "And everyone is so kind here. They treat me like I'm a graduate."

Now the Hurseys are combining their two lifelong passions— nursing and engineering—to help future UHart students succeed. In recognition of a significant gift from the Hurseys, the University recently announced that its newest academic building, scheduled to open this fall, will be named the Francis X. and Nancy Hursey Center for Advanced Engineering and Health Professions.
"Our interests in engineering and the health professions are a perfect match," Frank says. "(UHart President) Gregory Woodward could foresee the growth of these jobs and that these two entities are keys to the University's future. Nancy and I are extremely proud and fortunate to be a part of the construction of a structure that, with great teaching professionals, will produce world-class health professionals and engineers. We have that potential." Frank says the gift is a perfect way to say thank you to the University of Hartford.

"My education here was key," he says. "I never would have gotten to where I am today without it. I was able to start a company, keep that company going, and make it very successful. I took several years to complete my engineering degree and had several years of working for others, but I didn't have to punch a clock, and once I owned my own business, I never looked back. Now I'm in a position to give back."
BRINGING A BUILDING TO LIFE
When Michael Mishriky '08 found out that his firm was going to be working on UHart's new building for advanced engineering and health professions, recently named the Hursey Center, he said to his supervisor, "There is no way I'm not going to be on that job."

A dozen years into his career, Mishriky is working as a superintendent on the new building at his alma mater, sitting no more than 30 feet from the spot on campus where he spent most of his academic career as a student in the College of Engineering, Technology, and Architecture (CETA). The fact that the facility will house programs and students from CETA makes this opportunity even more special for Mishriky.
"I never really outgrew the sandbox," he explains. "As a kid, I was always interested in construction and materials, and I knew I would find a job working in construction—I just didn't know what exactly that job would be."

When he was looking at colleges, Mishriky wanted something with a construction program, something close to home (Portland, Connecticut), and somewhere where he could live on campus and have the full college experience. His dad, Nabil Mishriky '93, also graduated from CETA. The younger Mishriky was never a student who loved school, but when he joined the architecture program, he really found his stride.

Mishriky had the chance to regularly visit construction sites around the Hartford area during a class he had with Associate Professor of Architecture James Fuller. This experience had a significant impact on Mishriky's academic experience—and also opened him up to the world of construction management, which he hadn't fully considered before. On a site visit to the Connecticut Science Center, Mishriky started to really think about the people working on the site and what their careers looked like. He left that day with the project manager's business card and decided to reach out after the visit. Mishriky landed an internship with the firm that led to a full-time position the day after he graduated.
Shortly after starting his internship in the field of construction management, Mishriky realized that it was a perfect fit for him. He loved being on construction sites and working on each stage of a project—seeing a building go from design to reality and contemplating how the functions of a building will impact the community. For the past 10 years, Mishriky has been working on projects in the higher education space that truly make a difference for people. Two of the buildings he worked on as superintendent at the University of Massachusetts are primarily lab and research buildings designed to support cancer research. So not only is the construction fulfilling for him, so, too, is the output and potential from these spaces.
Mishriky started his career as a field engineer and has worked his way up to superintendent—he appreciates the investment his firm has made in him and, in turn, enjoys mentoring the young professionals on his projects. He understands how precarious the work-life balance can be when you're first starting out and giving your career all of your attention. Mishriky tries to pass along the lessons he learned as a young professional—practicing self-care and nurturing life outside of your work—to the next generation of construction management professionals.
But these days, it's hard to get his mind far from the Hursey Center—and its opening this fall. "It still blows my mind to get somewhere, see a grassy hill, and turn that into a building that will stand for the next century," Mishriky says.
ADVANCING ENGINEERING AND HEALTH IN CONNECTICUT AND BEYOND
The University of Hartford's Francis X. and Nancy Hursey Center for Advanced Engineering and Health Professions is on track to open this fall. 
The 60,000-square-foot academic building, situated at the center of campus, will house new, specialized, and technology-rich facilities for UHart's growing programs in the College of Engineering, Technology, and Architecture; and the College of Education, Nursing and Health Professions. The placement of the Hursey Center intentionally creates a series of gathering spaces around the building and across the quad. A green roof will aesthetically blend the building with the surrounding environment, while showcasing the many environmentally friendly features contained within.
Along with active learning classrooms, research labs, and teaching labs for hands-on learning, the Hursey Center will include:
Human Performance Lab
Kinesiology Lab
3D Printing Lab
Immersive Simulation Suite
Outpatient Exam Skills Suite
Occupational Therapy Skills/Integration Lab
Makerspace
High-Bay Structural Engineering Lab
Robotics Lab
Mechatronics Lab
Aerospace and Turbomachinery Labs
Cybersecurity Lab
Internet of Things Lab
Concrete and Surveying Lab
3D Printing Lab
CNC Machine Lab