Barney School of Business Introduces First Student Club Q² Project in Quantitative and Qualitative Research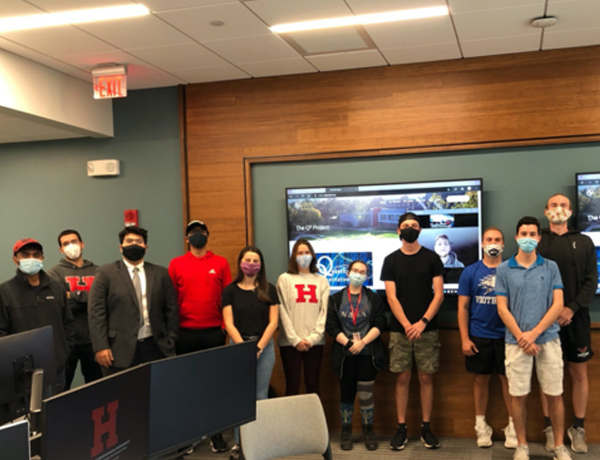 Barney School of Business has its first-ever student-research organization, The Q² Project. This is an innovative student organization that participates in quantitative and qualitative research surrounding quantitative finance, business analytics, and other similar fields, thanks to founding members Alec Boyd '23 (double major in finance and business analytics) and Anthony Seneseman '23 (double major in finance and mathematics).
Alec and Anthony oversee the organization's quantitative research and interdepartmental integration, lead and manage the organizational strategy together. Alec previously interned at CarpeData (an InsurTech firm based in Santa Barbara, California) as a financial analyst intern while Anthony interned at The Hartford as a market risk intern within Enterprise Risk Management. They both believe that these opportunities wouldn't have come to fruition without the experiences gained from Q².
Currently, Anthony is participating in an independent study with a faculty member, where he is studying financial markets and volatility. This independent study is a bi-product of Q²—and the inherent willingness of professors in the Barney School to work with students. Meanwhile, Alec had the privilege to work with The Town of Wethersfield on the Kycia Farms project, a consulting opportunity that saw a team of students from the University of Hartford build a proposal for the development of land on a former family farm.
Both Alec and Anthony are dedicated problem solvers and founded Q² as a platform for students to engage in applied learning, interdepartmental collaboration, and student-led research. Q² members meet weekly to learn and collaborate on meaningful research projects, competitions, and startup initiatives across campus. According to Alec and Anthony, the best part about Q² is the diverse and inclusive environment where members are free to collaborate, innovate, and challenge the status quo. They also believe that working in the club helps students to learn how to simplify, break down, and conquer challenging topics; adapt to diverse work culture; and become adept at using data and technology to quantify and understand problems and come up with innovative solutions.
We strive to make this organization one of the first bricks laid in the foundation of the world-class quantitative finance and business analytics programs at the Barney School of Business.
Alec Boyd '23 and Anthony Senseman '23, The Q² Project Founders, Barney School of Business
Recently, Q² participated in the Bloomberg 2021 Trading Challenge, where students were competing with 495 teams from around the globe, buying and selling equities to try to outperform the Bloomberg World Large-, Mid-, and Small-Cap Price Return Index (WLS). They were placed in the top 35% of teams with a total return of $65,545 (or 6.5%), outperforming the WLS by $19,484 (1.94%) over the time period. Concurrently, Anthony and the organization also participated in the CME University Trading Challenge. The Q² team outperformed 79% of teams by placing 81st out of 386, achieving a monthly net gain of over 6%. The team plans on competing again next year, but this time with a portfolio of automated trade signals to be managed algorithmically.
Anthony and Alec feel that the Barney School has helped build an integral foundation to their success as a student and future leader. The relevant classes, experiential learning, and abundant opportunity for growth and leadership have provided them with the necessary tools to combat any qualitative or quantitative problem they might encounter in the professional world. The small class sizes, intimate learning experience, and dedicated faculty are the keystone to their academic journey.
As for advice to incoming students, Alec and Anthony recommend that students say "yes" when opportunities arise. They also encourage students to take advantage of experiential learning opportunities, as there is no better way to truly learn a topic than by applying it in real-world scenarios.
If you are interested in diving deeper into your learning and working with a great group of students (and building your resume) please reach out to Anthony Senseman (SENSEMAN@hartford.edu) or Alec Boyd (aboyd@hartford.edu) about joining Q².